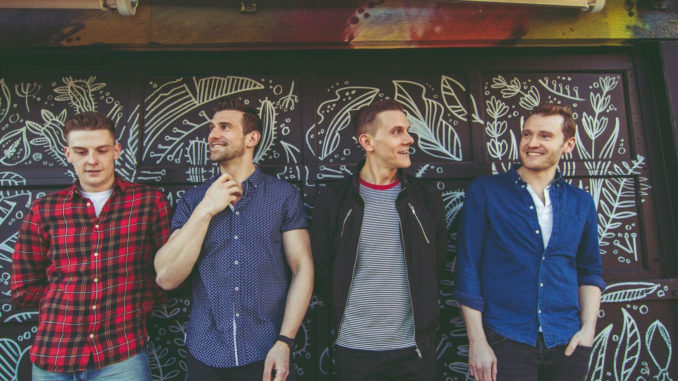 Review Fix chats with Mushy Callahan's Lucas McCann, who discusses the band's origin, creative process and EP, Revelations.
About the Band:
Mushy Callahan is an indie, alternative rock band consisting of four brothers Noah, Joel, Jacob and Lucas. Originally hailing from Northern Alberta the siblings have been writing and performing together since 2013. In their short time the D.I.Y. band has released an E.P. ("Man on The Run") and an Ontario Arts Council funded full length record ("Makings of a Man") and have toured the U.K. and Canada numerous times while showcasing at notable festivals such as NXNE, CMW, Edgefest and FOCUS Wales. The band has garnered positive responses from industry professionals including indie88 DJ Dave "Bookie" Bookman, who commented on their music as possessing "technical prowess, with a real passion".
Review Fix: How did the band get together?


Lucas McCann: Well since we're four brothers, we've gotten to know each other well. We all played music together as a family when we were kids. Our parents gifted us instruments as presents when we were little so we all eventually even took a liking to it. We had a piano, guitars, and drums in the house so we all gravitated towards music beginning by ended starting our own bands with our friends from school. After Jacob, the youngest graduated, we all ended up in the same city, a thousand miles from where we grew up and we put Mushy Callahan together. It seemed to just make a lot of sense, we liked the same music, and we all knew each other. Getting along in a band took a while longer and a bit more understanding.

I think the music our parents listened to definitely rubbed off on us, bands like Grand Funk, The Doors and Supertramp were introduced to us as kids so I think that era of music reminds us of being kids. We eventually all found our own favourite band but at the root of it all, I think it's the classics that we can most relate to.
Review Fix: How did you get involved in music?
McCann: Our father is a musician and the opportunity was always there to play, and get free lessons from him. Its been centric for our family. When we have holidays, we get the whole family in the studio and play until the early morning. It's a great to bond, share laughs and connect with everyone. Mom has since picked up the base and learned a few tunes so she also gets in to jam with the guys in the family. We like to get everyone involved.


Review Fix: What's your creative process like?
McCann: The process depends on everyone more or less pulling their own weight to collaborate. It starts with an idea, usually a riff or a progression with a verse and chorus, sound or melody that someone brings to the table. It could be anyone bringing that base in. Then we each take turns adding our own fresh paint. Lastly, we trim for radio friendliness and likeability. Although Noah, our lead singer does most of the vocal work (he was born ith the Golden voice) we have all taken lyric writing turns and have been able to share our feelings that way. That's been great and very very satisfying as a writer and an artist. Then the last step is making sure that it doesn't sound like anything else we can recognize! If it does, we have to scrap and start again.
Review Fix: What inspires you?
McCann: The message in the words and the sound that carries them. There is a lot of noise in the music industry with people making great music with no message or vice versa. When we combine a great sound that evokes emotion, by reminding someone of a moment in time that they felt so strongly it marked them we have done our job. Its hard to measure when that happens, so we look for that feeling in us while we're playing and when we've done the best possible job of distilling a song to something that's easy to get, we test that out on family (our dad has been a great producer and ideas guy) and our friends and then, if it passes, our fans and listeners.
Review Fix: What makes "Deep Meadow" a special track?
McCann: Deep Meadow, besides evoking emotion in me has a lot going on! There are several music layers that play off of each other creating more than a full sound, it's song that requires every instrument on stage to play its part. We do our best to move away from putting an instrument in a song because there is someone standing there to strum – each sound has to earn its space in the sound landscape, and we've been very careful to the pieces together in spaces where there is room for each sound and the ear doesn't get tired.
Review Fix: How would you describe your sound to someone who has never heard you?
McCann: Probably the hardest question for a musician to answer is the one that is above. Where we fit into the rock category is debatable – even the word rock music is probably too ambiguous to use since we have invoked sounds from rock, classic rock and even country in our sound. We have used the term neo-vintage arena rock when we've been forced to because it brings in elements of 60s music with a modern spin by young men that never lived that era. Plus no one else we know uses that category, so why not?
Review Fix: How are your live shows different from your studio work?
McCann: Studio work is more like studio fun in our space, we really let loose and try new ideas we wouldn't in front of a crowd. The studio space is reserved for experimenting, trying that new vocal part you can hear in your head, or that hot guitar lick.
The Live show is like the exam and reaping the benefits of our hard work crafting our tunes. The fingers and feet are on autopilot and we can play without us critiquing the song and connect with whomever has turned their heads to us. It's the most selfish experience I have ever experienced and having to share that with my brothers is a very cool feeling. We've been playing on stage for years and years, we don't get nervous or get butterflies, but I'll still turn around and see my brothers there next to me and think "Hey! We're actually doing this! And people are moving to it!"
…At least until we get off stage and then we go back to making fun of each other. That's the one part of being in a band of brothers we haven't been able to shake, the irresistible urge to throw the next guy under the bus (in a friendly way) for the foreseeable future.
Review Fix: What are your goals for 2018?
McCann: Hey, 2018 is off to a great start for us! We've got some great accomplishments, accolades that we are proud of, from commercial radio, to festivals we've been invited to one of our last shows was at a 2000 person venue – we've come along way from some of the small stages we've stuffed ourselves on… But we are most excited about getting the next album edited and mastered. We love writing and making new music and we've got a great flow going on – and we want to get more of our work out.
We have two music videos in the works – but if you're gonna make it in the music "business" you got to stay fresh, because you'll collect weeds if you're sitting. That largely surrounds us creating more shareable media that promotes itself.
Review Fix: What's next?
McCann: Next up watching the waves we make on this EP, while we write, record and play. With the summer months nearly here, the touring months are here Canada and the US. But our commitment is to never stop writing.