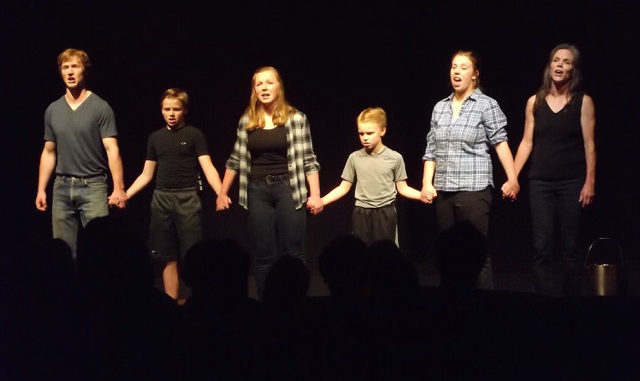 Review Fix chats with Kimerer LaMothe who discusses 'Happy If Happy When: A Family Musical' and what's like to be a part of the 10th anniversary season of Planet Connections Theatre Festivity at the Theaters at the Clemente.
About the Production:
This is the story of Kimerer LaMothe & Geoffrey Gee. A family of seven who moved to the country to follow their dreams. While mom & dad needed a place to grow their art … the kids wanted to grow other things. However, their impression of handling a farm and actually doing it showed itself to be two very different things. As each person goes through their own journey, they, like the farm itself – blossom into stronger people. They all come to a deeper realization of how much they need one another to create their own works of art.
The LaMothe family is played by [wait for it] THE ACTUAL LAMOTHE FAMILY.
Review Fix: What was the inspiration for this project?
Kimerer LaMothe: Happy If Happy When is based on a true story – my own! In 1990, when I first met Geoffrey Gee, we were both tied to life in the city, and longing for more. We began dreaming of a place in the country – some kind of center for arts and ideas. Fifteen years later, we were still in the city, and our daughter, age seven, decided she had waited long enough for the animals we promised her we would have when we moved. She googled "Vermont farm" and found a "Vermont-border" listing that we could not ignore. In July 2005, Geoff, our three young children, and I moved to a farm in upstate New York; and within three months, our kids had decided they wanted to be farmers. So we got a cat. Our first cow. A horse. Hens. Happy If Happy When tells this story, with some license. I shifted the ages of the children, so that all five are with us in the city, and we move together to the farm. I changed names and adjusted personalities. Even so, while the characters we all play are not (exactly) us, nearly everything that happens in the musical really did.
Review Fix: What's your creative process like?
LaMothe: I am the writer and choreographer for the show. Ironically enough, the creative process for each medium draws on the other. When it is time to write a scene or a song, I have to move. I go for a run, or I walk through the fields. As I move, I breathe. I open the sensory range of my bodily self and use it as a net to catch wisps of inspiration floating through the air. Only then can I sit with pen and paper or at my computer and write something down. On the other hand, when it is time to choreograph, I have to stay still. I lie down, flat on my back on a hard floor, and watch and feel images of movement swirling through my mind. Only after I have some kinetic ideas can I stand up and try them out, to see if they will work. I write to dance and dance to write, and making a musical lets me do both!
Review Fix: What makes this different or special?
LaMothe: When was the last time you heard of a family of seven – two parents and their five biological children – singing, dancing, and acting together in a musical of their own creation that tells the story of their own life? And doing so because they all can and love to sing and dance and act together? We are a completely normal abnormal family.
Review Fix: What did you learn about yourself through this process?
LaMothe: I love writing musicals! This piece of information came as a complete surprise. I am a scholar and a dancer. I write serious non-fiction books and articles about religion for academics. I study and practice serious forms of modern dance. Yet, as I now know, I also love writing funny, poignant scenes and songs that take all this serious knowledge, distill the implications for real living, and enact them on stage. One of my favorite songs to write was one called: "Everything I Need to Know is in a Book." Ha!
Review Fix: What are your ultimate goals for this production and for the future?
LaMothe: Music theater has the power to bring people together and to communicate across differences, so that we can affirm our common participation in creating the world we share. My goal is that Happy If Happy When will do so. Its message is not just "follow your dream." But rather, that dreams are collaborative events; that we help ourselves when we help one another. In the story is also clear that not everyone has a dream, or yet knows what it is, and that that is OK. By supporting others in realizing their dreams, we learn more about our own.
Review Fix: What's next?
LaMothe: I am writing another musical! One based on the life of a famous philosopher. Stay tuned.