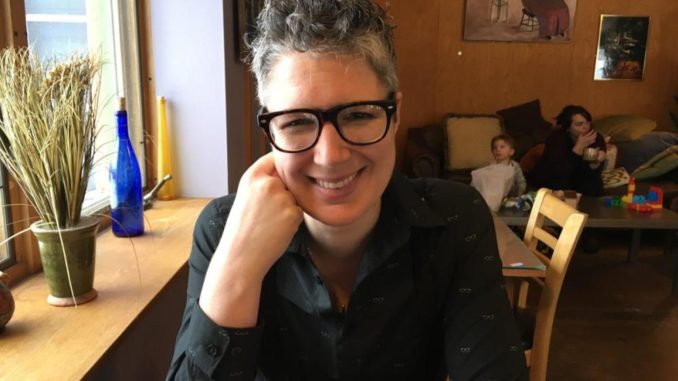 Review Fix chats with Abigail Swetz, who discusses her production at this year's Fresh Fruit Festival in New York City, detailing the creative process and letting us know what to expect.

About An UnCommon Core:
7/11   8:30 pm, 7/15  1:30 pm    Regional Premiere    1-Person Show
The 2018 Fresh Fruit Festival MainStage, Our 16th Season at The Wild Project, 195 East 3rd Street
Meet Abigail Swetz, shepherding her 8th-grade students safely through a heartbreaking year. Racism, police brutality, homophobic violence: all processed and exorcised by the magic and power of her students' in-class poetry. Featuring poems written by the students themselves, this solo show embodies a sensitivity and raw honesty that will cut you to the quick—and give you hope for the future.
Review Fix: What was the inspiration for this project?
Abigail Swetz: In 2015, Tony Robinson, a young, unarmed black man, was shot and killed by a police officer down the street from my middle school.  His younger brother had been in my class two years before.  As my student, he had been a loveable goofball who struggled to turn in his work on time.  As Tony's brother, he gave the eulogy at his service.  I sat there realizing that he knew how to do that – how to give a eulogy – because I had taught him how to give a speech in 8th grade.  I process the world through writing, so I wrote a poem called "Teaching Eulogies through the Common Core, or what it means to be ready."  Over the course of the next year, that poem became this play.
Review Fix: What's your creative process like?
Swetz: I write to understand the world.  So do my students,   When something rocks the world, like police brutality, I write.  So do my students.  When something rocks my world, like loss, I write.  So do my students.  When I have a transformative experience, like this school year, I write.  So do my students.  Then we all perform, and each story informs each other.
Review Fix: What makes this different or special?
Swetz: Teachers understand the power of student voice because we hear it every day, but the population at large does not.  Which makes it far too easy to dismiss these young people as impatient, technology-obsessed, and self-centered.  And you know what?  Yes, they are a little of all of these things.  They are also bright and kind and insightful and powerful.  They are also our future.  This play make it possible for you to listen to them now.
Review Fix: What did you learn about yourself through this process?
Swetz: Teaching can be activism.  I teach my students to be kind human beings and active citizens in this world.  If that's having an agenda, then hell yeah, I have one.
Shouldn't we all?
Art can be activism, too, and stories can change the world.
Review Fix: What are your ultimate goals for this production and for the future?
Swetz: I don't know specifics about what the future holds, but I do know I want this story and these student voices to reach a wider audience.  Maybe that means pursuing publication, or maybe other festivals or productions.  One thing is for certain; I want to perform in Madison so my students can see themselves on stage.
Review Fix: What's next?
Swetz: I finish my Masters in Public Affairs and take my students' stories with me as I pursue a career in public policy.