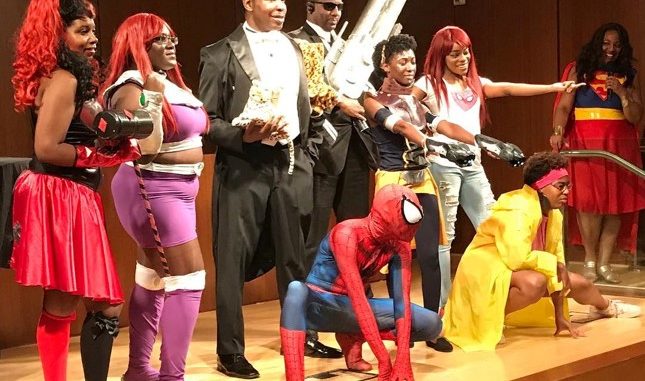 Libraries are a special place, the Brooklyn Public Library at Grand Army Plaza in particular. Outside, with its gold leaf-like figures and rotunda of steps leads to a space within the building, buzzing with information, and ready to give up its wonders. It's where the annual Women in Comics convention otherwise known as WINC Con was held on Saturday June, 30 2018.
A diverse fandom came to celebrate comics, see the creative cosplay, get educated and learn to fight like a Jedi or a Sith. Panels began at 10:00am. Highlights of the convention included 'Feminism and Fandom' where women and non-binary writers and artists discussed their experiences and what it means to be a fan in a sometimes toxic environment. Highlights of the panel included the idea of "fandom tends to call for people of color to overlook being mistreated" and "how does torturing someone define your existence" Equally as important is the question of "when is Wonder Woman going to get her period?" This opened the audience to realize that even our fictional icons are being forced to live up to impossible standards because they are women. Dr. Shamika Mitchell discussed the importance of utilizing comics in the classroom from elementary school to colleges and universities. Her lecture was informative and the educators left with resources as to how to continue or start using comics and graphic novels in their respective courses.
Another major highlight was the discussion of women in 'Star Wars' where the knowledgeable panel discussed not only the films, but the animations that helped flesh out the storylines of episodes 1 through 3, specifically 'The Clone Wars.' In major agreement with the panel and the attendees was the desire to have an Ahsoka Tano film. At the WINC EDU panel 'Exploring the Forum and Format of Comics' featured Glyph award winner Greg Anderson Elysee, creator, artist Micheline Hess, creator, illustrator, Shawn Martinborough ('The Walking Dead'), cartoonist Marguerite Dabaie and others dropped knowledge on what it takes to be creators and balance the love of their work and the need to eat and pay bills. There is a challenging balance to work in the field you love, self-care, and working on your own projects. Then there were the cosplayers.
Throughout the event you saw how innovative they were. The ingenuity and respect to detail showed a dedication to a sometimes maligned craft. The panel that dealt with cosplayers spoke to the need to create and maintain safe spaces to cosplay. For many an amazing treat was Rogue Alliance where they demonstrated how to fight as if you were in a battle with Darth Vader. Volunteers from the audience also learned some light saber techniques. It was a fun time had by everyone.
What's more there were a plethora of vendors with amazing artwork and independent comics. You may wonder where all these people have been. That seems to be a significant factor in this convention. Bringing awareness of such talent that's been grinding for years is necessary in the comic-book world. We get caught up in the sometimes mediocrity of Marvel and DC that we may not believe there is anything else out there. But at WINC Con that's not the case.
Overall, WINC Con with Regine Sawyer at the helm created a welcoming environment for all ages to enjoy and explore their fandom. And people could eat from the food trucks sponsored by the event. Ethiopian cuisine and the Taco food truck (that served more than just tacos) was a welcoming addition to a comic-book convention. Located right outside the library, you could grab a bite and go back into the coolness of the comic-con. This is the type of event you should circling on your calendar for next year.