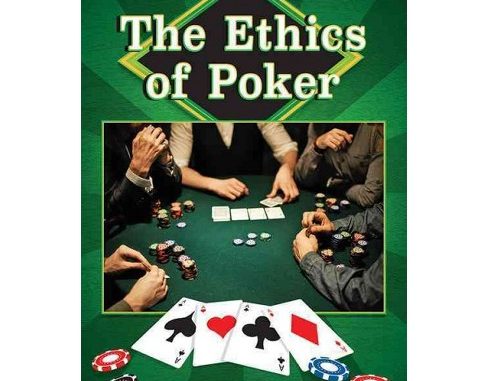 Review Fix chats with "The Ethics of Poker" author Todd Furman, who details the inspiration behind the book and what he'd like reads to take away from the experience.
About the Book:
Is it morally permissible to plunder a drunken player at the poker table? In a game of bluffing, are all deceits acceptable? Is it wrong to play against a pathological gambler? Are there any real right and wrongs within poker other than violations of the rules?
The first of its kind, this book explores the moral dimensions of playing poker for money in a detailed discussion of applied ethics.
Topics include the moral standing of bluffing, collusion versus "soft play," the problem of players staked by backers, and "Why Kant Kan't Play Poker."
Review Fix: What inspired this book?
Todd Furman: Mental illness; I kid, I kid, kind of. I am a philosopher by trade and I usually describe philosophers as people suffering from some sort of OCD –myself included. Most people think about philosophical questions now and again: What is the meaning of life? Does God exist? Is capital punishment morally permissible? etcetera. But then they move on to regular things such as deciding what to have for dinner or what movie to watch next. But not philosophers, they fixate and dwell on the former type of questions ad nauseam. So here I am playing 1/3 No Limit Texas Hold'em in a local casino when a drunk Texan joins the table. Instead of wondering how much money can be made off of the drunk like the other players are thinking, I'm asking myself whether it's morally permissible to take advantage of the drunkard. And when I was thinking about this question it also occurred to me that there were countless other moral questions that arise in and surrounding the game of poker. And since I can't let questions like these go, the book had to be written.
Review Fix: Why does Poker matter?
Furman: I find poker inherently interesting for numerous reasons and the world of poker is a microcosm of the world at large, replete with moral questions people usually pass over without notice. Hence, a book on the ethics of poker is a perfect vehicle to get people talking about issues, issues that have great import at the poker table and the world beyond the poker table.
Review Fix: Do you think films like Rounders and The World Series of Poker being televised have helped keep it sexy in pop culture?
Furman: I do think that television coverage of high-stakes cash games and mega tournaments such as the WSOP along with movies such as Molly's Game and Rounders have helped keep poker in pop culture's spotlight. That being said, the sex appeal of poker has faded a bit since its peak following Chris Moneymaker's win in the 2003 main event of the WSOP. Moneymaker, an amateur poker player at the time, won his $10K seat in the WSOP main event by winning an online satellite event that cost him just $86 to enter. He then turned that opportunity into $2.5 million dollars by winning the main event. That gave every rank amateur hope that he or she could hit it big playing poker too. Hence, the poker craze was on for the next few years. But reality eventually came crashing down on most of the newbies. Consistently making money playing poker is tough. And as this realization has set in, the sex appeal for poker has dwindled some. We need another Chris Moneymaker to really spice things up again, but such a possibility is unlikely because poker is primarily a game of skill with an element of luck thrown in that keeps things interesting.
Review Fix: What was the initial goal of the book? Do you think you succeeded?
Furman: There were a couple of goals with the book. The first goal was to show that playing poker for money was replete with interesting moral questions. Second, I wanted to provide tentative answers to those questions; I wanted to get important conversations going.
Reviewers have looked favorably on my efforts and have listed the book as "highly recommended" to a "must read," so I must have been able to keep their attention throughout the project. And when I give lectures based on various case studies from the book, passionate discussions always ensue. So I think I can consider the project to have successfully accomplished its goals.
Review Fix: What was the research process like?
Furman: Although I have been playing live cash games and tournaments in casinos for some 15 years now, the research process was very educational. I learned a lot more about poker than I knew there was to know.
Learning about the history of poker came straight from books. But my deeper understanding of many of the issues discussed in the book came through interviews of friends and acquaintances that I have acquired over the years while playing poker: a VP of Player Relations, poker-room managers, a cage manager, poker dealers, and several grinders (i.e., full-time players).
The area I knew least about before writing concerned the economic impact of casinos and tax-related issues. There I did a bunch of reading but was still a bit unsure of myself to begin writing that section until I noticed one of the authors/economists I was reading was at a university just across the border so I looked up his university phone number and placed a call. The professor was very gracious and spent several hours talking me through the issues over the course of several phone calls. Oh, I can't forget to mention that a colleague in the psychology department at my home university helped me a great deal concerning the nature of addiction and gambling addiction.
Review Fix: What has the reception been like so far?
Furman: Reviews have been very positive but sales have yet to catch up with the positive reviews. I think, however, the sales will come given more time. Poker players are not big readers (unless it's a book telling them how to win more) and aren't necessarily interested in being lectured –told that many of their standard practices aren't on the moral up and up. In fact, one grinder posted a positive review of the book online but duly warned other players that they were likely to be morally chastised in the course of reading the book. On the other hand, persons on the other side of the felt –dealers, poker-room managers, and casino management have management— have felt that the book was very important as it highlighted several issues that the gaming industry needs to address with more rigor.
Review Fix: Who do you think will enjoy this book the most?
Furman: All those that are philosophically-minded should find the book very enjoyable even if they are not poker players; that would be all of those that enjoyed reading titles from Blackwell's Philosophy and Pop Culture series or Open Court's Popular Culture and Philosophy series (e.g., The Simpsons' and Philosophy). And, as already mentioned, all of those in the gaming industry find the book informative and thought-provoking.
Review Fix: How do you want this book to be remembered?
Furman: The Ethics of Poker will be remembered as the first of its kind –the first title to investigate ethical issues in and surrounding the playing of poker. But I would like the book to be remembered as interesting, thought-provoking, and even-handed –giving both sides of each issue a fair shake.
Review Fix: What's next?
Furman: I have so much on my plate right now it hard to know where to begin. I'm currently finishing an MA degree in psychology with an emphasis on Applied Behavior Analysis -the sort of therapy that rescued my son from the grips of autism. And I'm publishing journal articles in this area as I go. But my next book size project is probably the most important thing I may ever write. The tentative title is: Good Shoot, Bad Shoot?: A Legal and Ethical Analysis of Shootings By Law Enforcement. This project is a couple of years away from completion but I expect it to cause a serious rethinking of the use of lethal force by civilians and/or law enforcement.
Review Fix: Anything else you'd like to add?
Furman: The Ethics of Poker is not just for poker players, it is for the inquisitive, especially those concerned with ethics and justice in general. To aid the non-poker player following along, there are two appendices. One explains the basics of Texas Hold'em and another explains the hand rankings –which hand beats the other. Finally, there is an extensive glossary of poker terms to translate poker lingo into ordinary English.