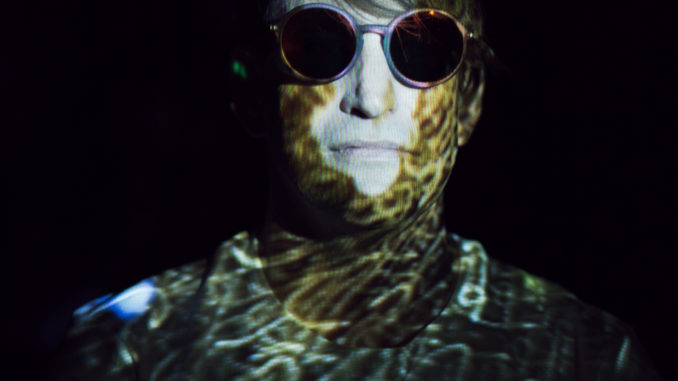 The voice behind gloryBots, Jalal Andre, describes the sound as, "aliens land while listening to OK Computer, meet Nine Inch Nails and Muse in a back alley, a fight breaks out, and it's all captured on video." It's the perfect amalgamation of late nineties industrial mixed with synthpop with a dash of extra-terrestrial themes and an ethereal vocal delivery a-la Matt Bellamy.
Capturing a sound that can't quite fit into the mold of any one genre, Dark Alien Pop is wonderfully chaotic. Andre's otherworldly vocals tie together the spacy nature of the music, bringing to Earth and giving it focus. gloryBots is his brainchild, and it's his echoing vocal delivery and poignant, and sometimes cynical lyricism that forges a truly unique sound.
Andre created his alter-ego gloryBots because of his desire to strike out on his own and satiate his need to do something more, something weirder with his music. While fronting for the Seattle based band Echo Texture, Andre started this side project with a focus on honing his craft, staying true to his sound, and creating the most genuine music he could. What resulted was Dark Alien Pop.
It's easy to imagine Dark Alien Pop as a soundtrack to some high-tech dystopian future. Where everything is neon, it's always night time, and everyone and everything is on drugs. That's not to say that's a bad thing though. This intense psychedelic cadence of the music makes listening to the album a trip, both literally and figuratively. The synth and echo of the record give it an audio-hallucinogenic quality that makes the listener feel like they're in a dream.
The first song on the album, "Entanglement," begins as if you were slipping into that dream. Heavy distortion, bouncy rhythm, and Andre's ethereal vocal delivery all play off of each other seamlessly to leave you almost in a trance. Like you're being assimilated into that dystopian reality.
As a whole, the album almost tells a story. While the songs don't relate to each other in the sense that it is a singular narrative, from one track to the next, it feels like another layer of Andre's mind is unfolding right in front of the listener's face. gloryBots began as a pure post-rock/industrial project, but as Andre wrote the songs, these extra-terrestrial themes began to take shape. Listening to "Entanglement" and then the rest of the record is like watching an idea come to fruition. As the album goes on the sound evolves. "Dark Alien Pop" is not just the title of the album, but a description of the music. It's "gloryBots' trademark style."
What began as a side project for an artist who wanted to flex their musical chops and see what magic they could create on their own, "Dark Alien Pop," by gloryBots evolved into so much more. It's genuinely refreshing to see an artist hone such a unique sound for themselves in a day and age where main-stream music has become stagnant; and artists have saturated the charts with songs that are just rehashing of the same few themes, the same four chords, and are more concerned about lining their wallets than focusing on their music. gloryBots' freshman effort is fresh, it pushes boundaries, and most of all, and most importantly, it's different in the best way possible.