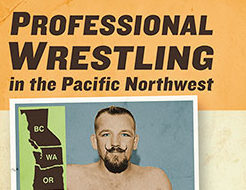 Review Fix chats with "Professional Wrestling in the Pacific Northwest: A History, 1883 to the Present" author Steven Verrier to find out why the region is one of the most important in the history of the industry.
About the Author:
Steven Verrier has previously written works of short drama, fiction, and nonfiction published in the United States, Canada, and Japan. He lives in Bonney Lake, Washington.
For More on the Book, Click Here.
Review Fix: What inspired this book?
Steven Verrier: There seemed to be a void. I moved to the Seattle-Vancouver area in 2014 and noticed that, while plenty of wrestling history in the Northwest had been recorded, no one had put it all together in a sweeping narrative covering professional wrestling's entire lifetime in the region. 
Review Fix: How is the Pacific Northwest territory different than others?
Verrier: The Portland territory in the early decades showcased smaller, athletic wrestlers and catered to the likes of miners, loggers, and others who tended to take their wrestling pretty seriously. Maybe Vancouver didn't have quite as distinct a flavor as far as wrestling went in the first half of the twentieth century, but wrestling there went through a lot of transitions that seemed to reflect changes in the city and region. Both territories had a lot of success particularly from the 1950s through the seventies. Washington had its successes too; and as far as providing material for a compelling story or historical narrative goes, I'd say the Pacific Northwest has been one of the more generous regions. 
Review Fix: Why is it important today?
Verrier: Placing wrestling in the bigger picture, as I've sought to do, serves wrestling but also serves anyone who wants to examine history from a new perspective. Developments in wrestling over the course of history have tended to reflect developments in the territories outside of wrestling. In a lot of ways a serious study of a region's wrestling history can double as, for example, a study of the region's social and economic history—though I wouldn't stop at studying wrestling.
Review Fix: Who do you think is the biggest star to come out of the territory? 
Verrier: In Oregon, in the days before televised wrestling, George Wagner became Gorgeous George. He was a huge attraction in the Northwest and went on to become a mainstream phenomenon in the early years of network television. As far as wrestlers who permanently settled in the Pacific Northwest are concerned, Gene Kiniski and Don Leo Jonathan stand alone at the top.
Review Fix: What was the initial goal of the book? Do you think you succeeded?
Verrier: My aim was to tell, in context, the story of the entire history of wrestling in the Pacific Northwest from 1883, when the first show was held in Portland, until 2017, when the book was published. Of course, I didn't intend to cover every detail, but I wanted to do justice to the story. I wanted the book to appeal to a general readership, so I didn't want to get bogged down in wrestling details that most readers wouldn't find interesting, and I didn't want to go longer than about 85,000 words. As to whether I succeeded, I will say the finished product pretty much reflects the vision I had for the book.  
Review Fix: What was the research process like?
Verrier: I had a general knowledge of wrestling in the Northwest before I started, but there were a lot of gaps to fill in. I read everything I could in the time I was able and willing to give this project, but I didn't want to overwhelm the story with details that wouldn't move it forward. And I have to acknowledge the help of people like Vance Nevada, Dean Silverstone, Matt Farmer, Mike Rodgers, J Michael Kenyon, Ed Moretti, and others who provided a lot of valuable information. 
Review Fix: What has the reception been like so far?
Verrier: It's been gratifying to hear kind words from people who played key parts in wrestling in the Northwest. Overall, the reception has been very satisfying.  
Review Fix: Any plans on continuing your research?
Verrier: Actually, I went straight from this book to a biography of Gene Kiniski—in many ways the top name ever based over a long period in the region. That book will be out later this year.
Review Fix: Who do you think will enjoy this book the most?
Verrier: There's a lot of interest in wrestling history nowadays, and in the US it appears to be primarily wrestling fans who notice or buy the book. There seems to be a broader readership in Canada, and the cheaper Kindle edition has done especially well there, sometimes getting up to #1 not only in the wrestling books category but in the wider sports history category. I attribute that largely to the popularity of the Vancouver promotion's All-Star Wrestling show on television across Canada for many years, and I think quite a few people who remember watching All-Star Wrestling—whether they're generally wrestling fans or not—have been attracted to the book.
Review Fix: How do you want this book to be remembered?
Verrier: As a very good and significant story. It all begins there.
Review Fix: What's next?
Verrier: Wrestling-wise, I'll sit on the Kiniski book for a while. But I'm looking at getting into another wrestler biography sometime next year.
Review Fix: Anything else you'd like to add?
Verrier: As far as wrestling goes, you can't beat the territorial days. I think there was a lot more believable, compelling action and drama in most territories' hour-long television shows from the 1950s to 1970s than in just about any wrestling product you see on TV today—at least if you take New Japan Pro Wrestling out of the equation. I know a lot of fans who record and watch two- and three-hour shows nowadays like to keep a finger on the fast-forward button.