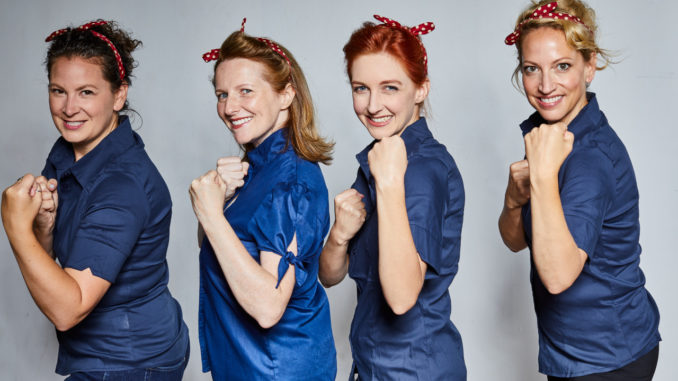 Review Fix chats with Jake Lipman (producer, director, and playwright), who discusses her new production, Relentlessly Pleasant, detailing its creative process, goals and more.
About the Production:
Relentlessly Pleasant written & directed by Jake Lipman
A comedy about women at work, and knowing when to lean in.
Tickets:Â https://relentlesslypleasant.brownpapertickets.com/
14 performances:Â October 10-27, 2018
Theatre 54 @ Shetler Studios, 244 W. 54th Street, 12th Floor, NYC
More here:Â www.tictheater.com
Review Fix: What was the inspiration for this project?
Jake Lipman: When Hillary Clinton lost the 2016 election, I was so demoralized. If she, with all her experience and education and public service  couldn't achieve her goal, who could?
I wrote RELENTLESSLY PLEASANT to explore what ambitious women, succeeding looks like — and it evolved into a workplace comedy about the many power dynamics and ways in which women have to "be" to get ahead.
Review Fix: What's your creative process like?
Lipman: I had this idea to write a play with driven, dynamic women, and I wanted it to be comedic but also thought-provoking.  
But I also had only my own personal work experience to draw from, so I called up a group of talented women artists who I admire and asked them to tell me their experiences with ambition and getting ahead. We improvised, I wrote drafts, I had them read the drafts aloud, and with time, the play took shape.
It's been about 10 months in the making, and I can't believe it's going to premiere on October 10!
Review Fix: What makes this different or special from other plays of this subject matter?
Lipman: RELENTLESSLY PLEASANT delves into the gray areas of women, sexuality, money, ambition, and how we interact with people to get what we want out of our lives. 
I want to show a spectrum of kinds of women at work, and I hope everyone who sees it identifies with one of their stories.
Review Fix: What did I learn about myself through this process?
Lipman: That I am a prolific writer! I worked closely with Jessica Ammirati, a dramaturg, on shaping the play.
Every time we spoke or met, I was surprised by and happy to see that I was capable of going back to the drawing board and write a lot, very quickly. And there was always something good and new in those subsequent drafts. 
Review Fix: What are my goals for this production?
Lipman: First and foremost: for people to come see our 14-show run of RELENTLESSLY PLEASANT, Oct. 10-27, 2018 at Theatre 54 @ Shetler Studios. And then, I hope that people see it and love it and tell their friends and co-workers about it. 
I am working on adapting the play into a TV script and would like to shoot a pilot in the months following the fall production, and then of course, have it turned into a TV series.
And, I want to take RELENTLESSLY PLEASANT into the workplace, as an engaging alternative to  people instead of the boring "anti-harassment" training videos and presentations. 
Because it's a story about a workplace, a lot of real-life conflicts arise and I think a corporate audience would be able to talk about the issues in the play with a bit more comfort than their own particulars.
Review Fix: What's next?
Lipman: We open October 10 and run for 14 performances — get your tickets at www.tictheater.com.
And then, TV script development, and shooting a pilot!