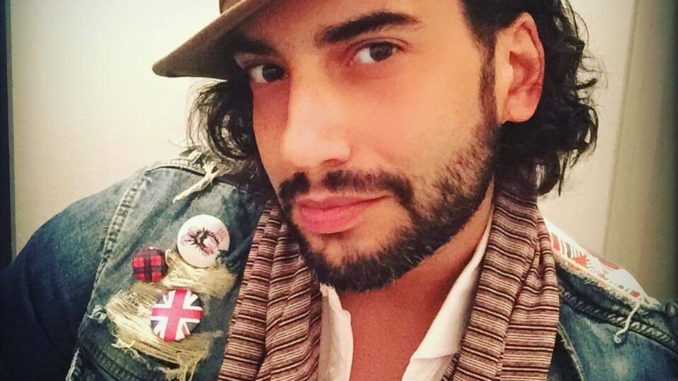 Review Fix chats with "The Baby Monitor" Antonio Miniño, who discusses the production and who will enjoy it most.
About the Production:
Different Translation and The Theater at the 14th Street Y, are pleased to present a workshop production of The Baby Monitor by award-winning husband-and-husband team playwright David Stallings (Associate Artistic Director of Arts and Culture at the 14th Street Y; NY IT Awards for Outstanding Original Full-Length Script for Dark Water) and director Antonio Miniño (Anaïs Nin Goes to Hell; Assistant Director Jesus Hopped the 'A' Train – Signature Theatre). The Baby Monitor will play three weeks from Thursday, November 29th through Sunday, December 16th, 2018 at The Theater at the 14th Street Y (344 East 14th Street at 1st Avenue, New York, NY 10003).
Review Fix: What was the inspiration for this project?
Antonio Miniño: David Stallings wrote this play out of fear.  Several years ago I told him about a special on CNN about a single gay parent whose two daughters were taken from him by social services for multiple days, when he shared pictures considered questionable amongst his family.  He couldn't watch it because the thought was so terrifying to him, so he wrote a play instead. It wasn't until Tom Slot of Original Binding Productions asked him to write a short play on the theme of "Naked", that he considered writing a play about falsely accused gay parents.  The piece was also produced as a fifteen-minute play in Planet Connection's Playwrights for a Cause benefit in 2017.  However the audience always wanted to know more and the play we are presenting now is a full-length two act play. As a full length, The Baby Monitor was a finalist for the National New Play Network and has had developmental readings at the Duo Theater in Manhattan and the Blank Theater in Hollywood. 
Review Fix: What's your creative process like?  
Miniño: I like to think I'm a very collaborative director who takes input from the playwright, cast and creative team as we create a play together. Doesn't mean it's directing by committee, I always have a starting point, a clear vision of what the play is to me. If I can't see the play when I read it the first couple of times then I don't take on the challenge. If what I'm seeing is completely alien than what the playwright is seeing then I shouldn't be the human for the job either. However I allow my vision to grow, morph, be influenced by the humans involved in the production, and then my job is to curate, edit, and make sure it serves the story in a focused and exciting way. It's always about the story. Always. I also love playwrights and collaborating with playwrights, which is why I'm drawn to new work. Visual arts are a great inspiration in my process and a starting point I use, especially when it comes to collaborating with designers. For The Baby Monitor, John Walker and his coastal paintings inspired me. Did I mention table-work? I'm a big fan of table-work and talking about the play, dissecting the spine of it before we get it on our feet and start blocking. We were lucky enough to have four days of just talking about the play, the characters, the relationships, the events… it's a luxury in a short rehearsal process like this one.
Review Fix: What makes you a special director?
Miniño: You would have to ask the humans I collaborate with that question. Lately I keep hearing that I'm very patient in the room. My acting background gives me an advantage in understanding the process the actors are going through, and how to communicate what is required of the play. I can also tell when an actor is not doing their homework, I got your number! Playwrights enjoy that I'm not intimidated by their presence in the room, quite the opposite. What else… I don't mind being wrong? The work is never done? I like open playing areas instead of full natural sets or lots of furniture on stage? My artist statement says that I incorporate controlled whimsy in my work. Come see the show and tell me what you think. Be gentle with me though.
Review Fix: What's special about the cast?
Miniño: Where to begin! I'm working with some extraordinary actors that I've had the honor of collaborating with in the past and have been part of the development of this play.
Amanda Jones who plays Claire did multiple private readings of the play. Her interpretation of a very complex character is hard to put into words. She just gets her, and has molded her into someone beyond what is on the page, which is a director's dream. I've been a fan for the longest time, and once we collaborated on Anais Nin Goes to Hell a couple of years ago, I knew she would knock this role out of the park, and really take care of it. Mel House who plays Shelly was also in Anais Nin Goes to Hell and her character is the newest addition to the script. Her role was written a month before we started rehearsals! She is one of the bravest performers I know. Extremely giving to the play, the character, and her scene partners. Both actors understand David's writing, rhythms and use of subtext very well. Both Leo Goodman who plays Josh (Claire's husband) and Hector Matias who plays Phillip (Damon's husband) were part of the final private developmental readings we did before going into production. Leo brings a strength and quiet compassion that the role requires, a heartbreaking journey that is hard yet delicious to watch. Hector was never in the running since he wasn't going to be in the country during the workshop but he volunteered to be a reader at auditions – we saw some incredible people at auditions. He really captured the essence of a Dominican immigrant who grew up with extreme privilege. A big theme in the play. We know each other from "la isla" but hadn't seen each other in over ten years. Aside from the first presentation of the short play with Original Binding Productions and the most recent reading in Hollywood, I've always played the character of Phillip and I was quite protective of that role. I knew it would be the hardest role to cast for me. I was so pleased when Hector changed his travel plans and said yes to it. Greta Quispe is the only cast member whose work I didn't know and met through auditions. She plays the role of Soledad with extreme inner strength and a childlike quality. I think the audience will fall in love with her. When it came to the role of Damon, I had to beg David Stallings to say yes to it. He's not usually in his plays but it was one of my conditions to directing it. You are either in it or I'm walking. He just IS Damon. Charming, pretentious, well-meaning, delightful, privileged, self-absorbed, loving. It's an extremely well rounded and diverse cast. A true ensemble lifting this play up to new heights.
Review Fix: What did you learn about yourself through this process? 
Miniño: I'm still in the thick of it so it's hard to qualify what I've learned. I've gotten better at knowing what notes to give and what notes to save for later to allow the cast to find things out by themselves. As a producer I've gotten better at delegating certain things.
I have an amazing team that takes care of me. Stage manager Rachel Denise April is a goddess send. We met a while back through playwright Mark Jason Williams and I think twice before producing a show if she's not available. Our assistant director Ty Autry is incredibly perceptive and also part of the community outreach team making sure the word gets out about this play, alongside associate producer Ann Marie Yali who has always been supportive of everything I do, and Lindsy Marie Bissonnette whom I met through the Stage Directors and Choreographers Foundation's Observership program. Lighting designer Kia Rogers saved the day and I cannot wait to see how what she does with this show. Sound designer Jacob Subotnick is also exceptional and we've collaborated many times. This doesn't really answer what I've learned but it does answer who I appreciate it.
Review Fix: What are your ultimate goals for this production or your company for the future?
Miniño: This story is so important right now. It inspires conversations that we should be having with each other. It's very specific but in it's specificity it's quite universal. I would love to see it done on a larger scale and a longer run. I designed it so it can tour. The bilingual aspect of it is also quite exciting.
With Different Translation I want to tell more stories like this one. There are already a couple of plays I'm considering that are timely and needed… and bilingual.
Review Fix: What's next?
Miniño: Hopefully The Baby Monitor 2.0. Can't wait to see what happens next with it.