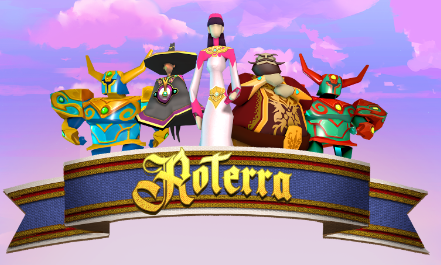 Review Fix chats with Suzi Keehn, Chief Executive Officer, DIG-IT! Games, who discusses the game and the impact she'd like it to have on the industry.
Review Fix: How was Roterra born?
Suzi Keehn: Roterra was born in an internal game jam for an educational game concept. Many ideas were explored during the game jam, but it was the Roterra mechanic that caught the team's attention. After some discussion, it quickly became apparent that the mechanic needed a larger canvas than the educational environment would allow. Our discussions around creating a game environment where the ground literally moved under a character's feet brought up immediate comparisons to M.C. Escher's work – especially "House of Stairs," which informed our puzzle designs and art style. The shifting environment also brought to mind the classic Hero's Journey – with the chaos of the changing environment representing the character's inner turmoil as she overcomes emotional and physical obstacles and emerges from her adventure transformed and empowered.
In particular, the central game mechanic evoked the perspective shifts of the 16th century epic poem "Orlando Furioso" by Ludovico Ariosto, in which stereotypes are turned on their heads – and it is truly the journey that matters … not the destination. The strong female characters in the poem, who repeatedly challenge medieval perceptions of women as mere accessories, resonated with the team; this resulted in Angelica – the fearless central character of Roterra who overcomes the betrayal of her beloved brother and numerous environmental challenges to regain her rightful place as Roterra's Queen. Themes are woven throughout "Orlando Furioso" that repeatedly force the reader to question what they believe to be true: A story told from one perspective turns out to be remarkably different when seen from another character's point of view; the line between hero and villain is constantly in flux. Our designers internalized these forced shifts of perception as they worked to create the world of Roterra – where orientation changes at the push of a button.
Review Fix: What was development like?
Keehn: The development of Roterra was extremely iterative as we explored the potential of the game mechanic. Roterra is a true team effort: The whole team – from developers, artists and producers to interns and management – was involved in the evolution of Roterra from a mechanic concept to where it is today. There were very lively discussions and many differences of opinion as the project evolved. The perspective shifts of "Orlando Furioso" were central to our development process. Roterra is one of our largest projects – so keeping the team engaged through the entire process was essential. Rather than work on everything at once, we broke development into different phases so the team could focus on specific items such as camera movement, puzzle development, and story.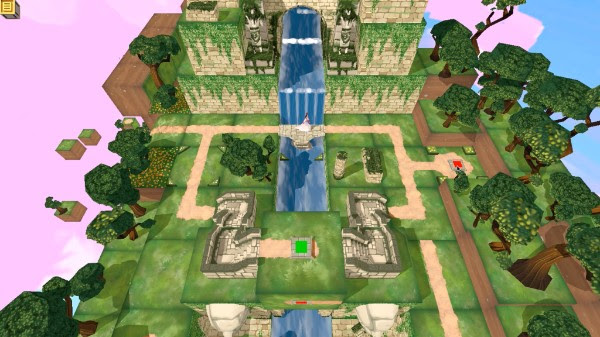 Review Fix:Â What makes Roterra special?
Keehn: There are many aspects of Roterra that make it unique – including its strong female protagonist, detailed environments, and core game mechanic. Roterra is a world with no "up": When a character walks over the edge of a board, gravity shifts with that character – and parts of the environment pop up and down. The result is a perception-challenging world where things are rarely as they seem and the correct path is often not the most obvious one. There are numerous pathfinding maze games. What sets Roterra apart is the use of all possible orientations with puzzles and character movement on all faces of the cube. Characters are able to walk over the edge of the world to find new areas and challenges.
Review Fix: What games influenced this one the most?
Keehn: Although Roterra was mostly influenced by the "Orlando Furioso" poem and the classic Hero's Journey, it would be impossible not to acknowledge the impact of Monument Valley on the "relaxing puzzle" genre.
Review Fix:Â Any fun stories or wild moments during development?
Keehn: We had a team meeting where we baked a bunch of brownies and cut them up into cubes to build some puzzles. The teams had candy, sprinkles, and colored fondant to use with the brownies to create Roterra world puzzles.  Everyone had a blast – and we actually played some of the puzzles created with food!
Review Fix: How was it different from your previous games?
Keehn: The majority of our previous games were designed for education – which comes with strict limitations on content, user interface, performance, etc. With Roterra, we were able to explore and create without restrictions. Roterra pushed our technical and artistic capabilities to the limit – requiring us to think creatively, learn new skills, and use old skills in new ways. To be honest, building Roterra has been far more fun than our educational projects – and this is reflected in the interesting gameplay, attention to detail, and overall entertainment value of the game.
Review Fix: Do you think preserving older gameplay mechanics in new games is important?
Keehn: Yes – when they serve a purpose. For the longest time, the isometric perspective was the only way to give players a "bird's eye" view of the action. God simulators such as Populous made isometric graphics popular; they would eventually be adopted by strategy games like Civilization and Age of Empires as well. With today's 3D graphics, we can enjoy the benefits of the isometric perspective with virtually none of the cons – allowing for full camera movement, for example.
Review Fix: What's your favorite memory as a gamer?

Keehn: My favorite memory is from one of the first games I ever played: Hammurabi, a text-based strategy game that I played on an Apple IIe (dating myself here); in the game, you were the title character and had to allocate resources for your kingdom. I'm a history geek, so I loved the concept. There was just something about this simple resource management game that I will always remember. Sitting in the basement, staring at the green text, and feeling so frustrated when rats ate all my grain – or elated when I managed to feed all the people. I was hooked on games from then on!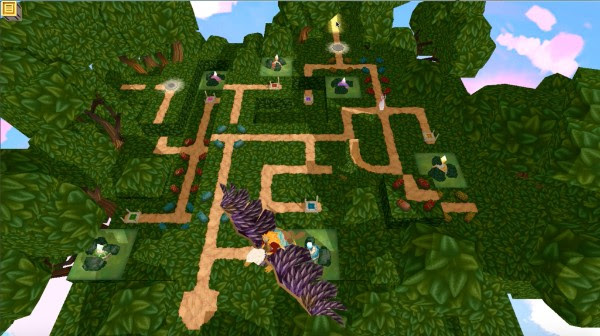 Review Fix: Who will enjoy Roterra the most?
Keehn: One of the best things about Roterra is that it appeals to many different types of gamers. Casual gamers like the relaxing ambiance, beautiful environments, and thoughtful gameplay. Hardcore gamers enjoy the challenge of the puzzles – some of which are extremely difficult. Even folks who don't play many games are drawn to Roterra's unique graphic style and gameplay.
Review Fix: Bottom line, why must someone play this game?
Keehn: It's fun! The core mechanic itself is incredibly fun, and the puzzles are just the right level of challenge: Even when you get frustrated, you know there's a solution right around the next corner!
Review Fix: How do you want Roterra to be remembered?
Keehn: I hope that people will remember the strength of Angelica as she overcomes the obstacles that are put in her way, the beauty and artistic skill of the environments, and the value of changing perspectives to solve problems. But most of all, I want Roterra to be remembered as a fun, mentally-stimulating experience.
[embedyt] https://www.youtube.com/watch?v=_GTTxAsMK7g[/embedyt]