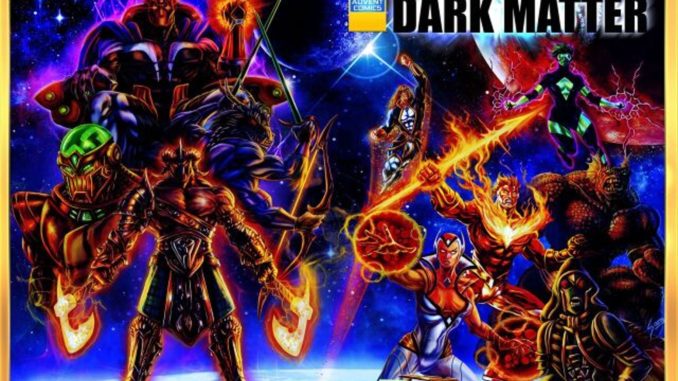 The cover of 'Dark Matter: Rise of the Lexicons' reveals a large cast of impressive super beings. You see every player who's involved in this first comic-book issue where everyone seems to be rushing for an apocalyptic prophesy to swiftly happen. Several galaxies away king Blas tells an upstart about the heroism of his father and how it led to a long, peaceful rule. But things may not be shining as bright for the present rulers. Although Blas is a good king, there seems to be rumblings of a cue. His wife Prima seems ever-ready for battle, while his daughter just wants to escape from her responsibilities and be with her boyfriend. The other family members of the realm seem loyal, but there are those who believe Blas doesn't deserve to be leader of their world. After all he is the second son, yet, his father settled on Blas to run the kingdom. Strife seems to be accruing in unexpected places. But part of the fun is attempting to figure out who the traitor is.

Still, you won't be able to put this comic-book down for the narrative alone. The artwork done by Samuel Santos and his team have a set of characters illustrated with clean lines that show how these are powerful beings with abilities they're not afraid of using. On a page, in a series of panels Queen Prima is taking an audience with a nefarious man offering his sword to the crown. He's come to stir the pot. But look at Prima's face, the royal guards behind her and the woman standing to her left. Prima shines from her golden skin as if she's constantly radiating the sun. The reader knows she's a fierce warrior from her posture and the annoyance on her face. And though the guards are in shadows, they don't bleed into the background. You can tell their rank by their helmets. As well as the designs on the blonde woman's battle-axe are the same as the ones on Prima's throne. Detail like that encapsulates every aspect of the story making it a true comic experience.

In the end we find out the traitor, but it only deepens the mystery. Then there's that end of the world situation hanging over the planet's head. You can't pass up Advent Comics, Dark Matter. Tony Kittrell has created and written a storyline with staying power and room for expansion. You want every character to have their own comic. If for nothing else than to find out why Blas was given the kingdom. And what's up with the guy with two heads? Is he in constant disagreement with himself, or what?