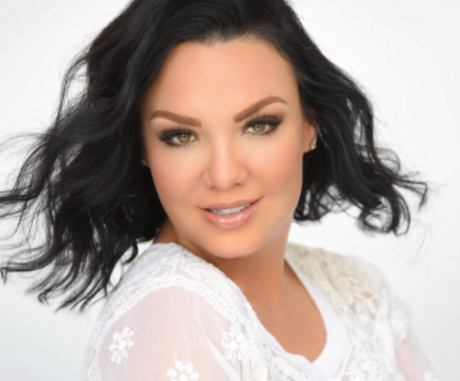 Review Fix chats with podcaster Katie Boyd, who discusses the inspiration behind her "Ambitchious" podcast, as well as her goals for 2019.
About Katie Boyd:
Hell yes! World renowned fitness, nutrition, spiritual and lifestyle coach Katie Boyd's here to tell you not only that it's okay, but the word is something you should embrace with every fiber of your being. Struggling for years with insecurity any time someone called her that, Katie dug deep and remembered a defining moment in her childhood. She came home crying one day, complaining that a boy at her Catholic school had called her a bitch. Her wise grandmother calmed her told her that the word was an acronym for "Being in Total Control of Herself."
"I spent years trying to fix myself to try to become more likeable, sweeter, kinder and not as brash and aggressive in the way I look and am," she says, "but finally I saw it as a source of strength. It meant not bending to other people's wants and whims when someone tells you you're not living up to their standards. It means you have boundaries, you're strong and powerful, and you stick up for what you believe and what makes you happy. Sometimes disrupters can be the best teachers. I'm trying to create a movement that says, 'I am proud to be a bitch!'"
Review Fix: How was this podcast born?
Katie Boyd: I feel like everyone is drowning in thoughtless content and is over saturated with bland, watered down information with no depth, entertainment or pizazz. Never mind any action steps that the consumer of this content could implement to change their lives. In my opinion a lot of podcasters just want to hear themselves talk. There are only a handful of podcasts that educate but they can either be an absolute snooze fest, or they are super entertaining but the host gives no actionable steps to help evolve the listener. Honestly, I knew it was my time to shake up the podcast world with my sometimes hard to swallow truth pills, overly open mind, brash language and insane stories from my early years… but it had to be done. Each week I force myself to be exposed and hot damn it is liberating and scary all in the same breath. I was so bored with all the same cookie cutter, lackadaisical substance free podcasts out there so I said to myself…Katie…you gotta do this and that was in July of 2018. I have never missed a week since because in my opinion consistency is key in the land of Podcasting. We drop Ambitchious every Tuesday at 11 AM EST.
Review Fix: Why is it ok to be a bitch?
Boyd: It is more than "ok" , it is imperative for survival. I think the word bitch has gotten such a bad wrap. I think bitch should not be viewed as a derogatory term but rather, the acronym "being in total control of her or himself." I think we need to use the stones thrown at us as the building blocks of a magical life. We need to use this word as the fuel to forge ahead. We need to use the energy to build our ultimate empires.
Review Fix: What does it mean to be a bitch?
Boyd: My meaning is of course "being in total control of her or himself." Deeper than that though is some examples. Standing firm in the fact that no is a complete sentence. To live free of guilt . To protect yourself and your family at all costs. To only do what makes your heart sing. Knowing that continuing to go to the same 9-5 job day after day that is sucking your soul is not a life and therefore taking a huge leap even if it scares you half to death. Not allowing yourself to be pressured into celebrating the Hallmark holidays because it triggers your childhood issues. Saying no to late nights out and trading them in for baths and self care. Saying no to doing favors for coworkers even though your desk is piled high with work. Saying no to save your sanity. Like my Nana always said, "if you stand for nothing you will fall for anything." So if being a bitch is how I achieve this then so be it.
Review Fix: Can anyone be a bitch?
Boyd: Absofreakinglutely! I know so and I think more people should try it. Even men get called "little bitches" if they are acting "soft." It really gets my Spanxin a bunch because the reason why other people call us bitches is because we are not succumbing to the wants and whims of what that person expects from us. It is because we know that inevitably if we say yes to them, even though we don't want to, that we are chipping away at our souls…sooner or later there will be nothing more than a pile of rubble where the human that you used to be stood. Basically, we are left only as the shell of who we once were and as you know, living in the zombie apocalyptic world of 2019 most of us have been pushed to our limits. If more humans would adopt my method, I promise you, there wouldn't be so many depressed, confused, resentful, sad and anxiety stricken people walking this planet. They would feel liberated and powerful. You just have to have to will and the courage to make it happen.
Review Fix: How has your life been improved by being a bitch?
Boyd: I have fierce boundaries. I live the life of my dreams. No one tells me what to do, how to think and who to be. It feels fantastic. I don't spend time with people I do not like. I do not spend money on things I do not need and I protect my energy like a fierce Lioness.
Review Fix: What are your goals for this podcast?
Boyd: I aspire to be top five in the self help space and top ten in overall podcasts on iTunes. But my number one goal is to help, inspire, awaken and serve as many humans as I can. I want them to know that they too can live life "Ambitchiously."
Review Fix: What's next?
Boyd: "Ambitchious" the book which will be available for pre-sale in the Fall of 2019 and launched January 1st, 2020. My goal is to also have there 8 other subset books that come from the Mother ship book Ambitchious. They will be based on my "six life makers and breakers" which include 1. Health and wellness, 2. Relationships, 3. Environment 4. Money mindset 5. Non-negotiable spirit practices 6. Mental health. These subset books will be broken down into highly detailed plans of actions and then will round off with a cook book and last but not least "Ambitchious Motherhood."