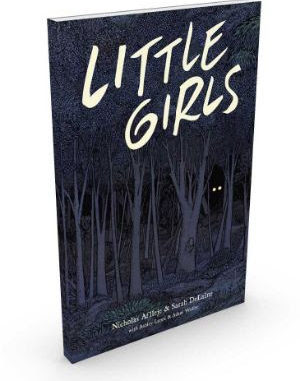 In celebration of Little Girls hitting shelves, debut creators Nicholas Aflleje and Sarah DeLaine will go on a 12 city national book tour this May—with events featuring live band performances—to promote the release of this haunting new standalone graphic novel.
Little Girls tour dates and locations:
April 27 – Jacksonville, Florida
Coliseum of Comics – Riverside
featuring Sleepless and Glazed

May, 6 – Orlando, Florida
BAMF! Comics & Collectibles
featuring Vivian K and Body Heat

May, 7 – Charlotte, North Carolina
Heroes Aren't Hard To Find
featuring Petrov and more

May, 8 – Washington, D.C.
Fantom Comics
featuring BRNDA and more

May, 9 – Philadelphia, Pennsylvania
Brave New Worlds – Old City
[bands TBA]

May, 11 – Brooklyn, New York
Anyone Comics
[bands TBA]

May, 12 – Pittsburgh, Pennsylvania
New Dimension Comics – Waterfront
at 3 Rivers Comicon

May, 13 – Chicago, Illinois
Challengers Comics + Conversation
featuring KACHI the BAND and Gentle Heat

May, 14 – St. Louis, Missouri
Apotheosis Comics & Lounge
featuring Jr. Clooney and more

May, 16 – Dallas, Texas
Red Pegasus Games & Comics
featuring Two Knights and more

May, 17 – Austin, Texas
Austin Books & Comics
featuring Luvweb and Mean Girls

May, 18 – New Orleans, Louisiana
Crescent City Comics
[bands TBA]

About the Little Girls graphic novel:
Something hunts people on the outskirts of town…
Sam and Lielet are two new friends living in Ethiopia. They're dealing with the kind of problems that all kids have: judgmental social cliques, condescending adults, alienation… and a legendary brain-eating monster straight out of folklore. Sure, it's not going to be easy, but all they have to do is live through it. Showcasing a quietly unsettling plot and building tension similar to Nick Drnaso's Sabrina and Adrian Tomine's Killing and Dying, Aflleje and DeLaine construct a poignant story of otherness and mystery.

Little Girls (ISBN: 9781534310599, Diamond Code: FEB190018) hits comic shops on Wednesday, April 24 and bookstores on Tuesday, April 30. You can pre-order your copy now at your local comic shop, Amazon, Barnes & Noble, Books-a-Million, IndieBound, Indigo.

For digital readers, Little Girls will be available for purchase across many digital platforms, including the official Image Comics iOS app, Amazon Kindle, Apple Books, comiXology, and Google Play.