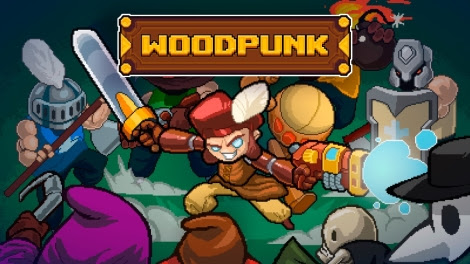 Old School Gamer Magazine chats with Phil Gonzáles, Co-Founder of Meteorbyte Studios, who gives us an update on the nifty roguelike and what's next for it in 2019.
About Woodpunk:
Woodpunk is a fast-paced roguelike retro shooter, set in an alternate Medieval Era with futuristic inventions and warfare. Players take over the role of Aquinas, a genius inventor. His weapons are randomly assembled from independent modules, allowing for wild combinations like ice-shotguns, wooden chainsaws or bomb-firing machineguns – over 1400 unique weapons are possible with this system, helping greatly in the fighting off the hordes of enemies swarming the screen, as well as the gigantic bosses.
Old School Gamer Magazine: What has the early reception of the game been like so far?
Phil Gonzáles: WOODPUNK had sort of a soft launch, and the game has been slowly gaining traction as we continue developing content for it. Since its release, the community has bombarded us with feedback that has helped us extensively when deciding what changes to implement, or what content to develop. This feedback has been key to making the WOODPUNK a better game.
One part of the community was happy with the state of the game and didn't have many issues, but the Chinese community especially disliked a couple features WOODPUNK had, mainly that weapons could be not saved between rounds.
After receiving this type of feedback we decided to change WOODPUNK's core mechanic of weapons been given at random at the start of each stage. We spent a complete month developing a new system where weapons can be saved between stages and they have a degradation system which makes break down after extensive use.
Now that these changes are implemented, we believe that WOODPUNK is at a better state than when we launched it!
Continue Reading on Old School Gamer