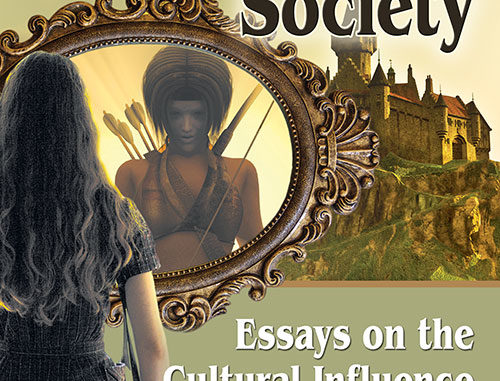 Review Fix chats with The Role-Playing Society: Essays on the Cultural Influence of RPGs co-editor Andrew Byers to find out why RPGs are a special genre in gaming and more.
About the Book:
Since the release of Dungeons & Dragons in 1974, role-playing games (RPGs) have spawned a vibrant industry and subculture whose characteristics and player experiences have been well explored. Yet little attention has been devoted to the ways RPGs have shaped society at large over the last four decades.
Role-playing games influenced video game design, have been widely represented in film, television and other media, and have made their mark on education, social media, corporate training and the military.
This collection of new essays illustrates the broad appeal and impact of RPGs. Topics range from a critical reexamination of the Satanic Panic of the 1980s, to the growing significance of RPGs in education, to the potential for "serious" RPGs to provoke awareness and social change. The contributors discuss the myriad subtle (and not-so-subtle) ways in which the values, concepts and mechanics of RPGs have infiltrated popular culture.
About the Author:
Andrew Byers is a visiting assistant professor of history at Duke University. His research interests include popular culture, biopolitics, and the history of geek culture. He lives in Fairfax, Virginia.
Review Fix: What inspired the creation of this book?
Andrew Byers: When my co-editor, Francesco Crocco, and I initially conceived of the book, we were academics as well as tabletop role-playing gamers and we wanted to create a project that would give us a chance to write about role-playing games in an academic venue but in an approachable way that captured for the games we've been playing for decades. As we started doing some research into other academic forays into role-playing games, we realized that while there is a considerable (and growing) body of academic research into RPGs, most of those efforts have sought to explore the practices of gaming and look inside gaming culture. That's extremely valuable, and there are some great books and articles out there, but we wanted to reverse that idea: instead of looking inside gaming as a subculture, we wanted to look outside gaming and examine all of the social and cultural influences and impacts that RPGs have had on society. That was an untapped niche.
Review Fix: What makes the role playing community worthy of a book like this in your opinion?
Byers: I'm hopelessly biased on this one: I've been playing RPGs since 1981. Other than reading and book collecting, RPGs have been my #1 hobby for as long as I can remember. I've made lifelong friends gaming and I've filled countless hours reading and playing RPGs. So I'm a gamer first and an academic second. It was only natural for me to see RPGs as worthy of a book like this.
Review Fix: What was the writing process like?
Byers: The writing process for my own article went really smoothly: it was a topic I already knew a good deal about, and the additional research required was a pleasure. Drafting my chapter in the book and my contributions to the introduction (along with my co-editor Francesco Crocco) were fun and without any particular problems. Editing the collection as a whole—wrangling the various chapter submissions, putting them through an intensive peer review process, getting them edited and revised—was more time-consuming and challenging. Managing a group of a dozen or more academics (who are also passionate gamers) was akin to herding the proverbial cats, but everyone was professional and a pleasure to work with. It just took more time and effort than anticipated, which is probably always the case for any book-length project.
Review Fix: What did you learn through the writing process that you weren't expecting?
Byers: The full breadth of the impact of RPGs on society and culture. I expected that we would get a lot of chapter submissions on references to RPGs in movies and TV shows, and maybe a piece or two that talked about how they have come to influence computer games. We got some of those, but I didn't expect that we'd see so many stories about how RPGs have been used in the classroom, as tools for teaching and motivating students. Gamification has become an important component of many enterprises, and that's a direct result of the pervasiveness of RPGs and RPG elements in our society. That was really unexpected for me. It was great to learn about those things, I just didn't realize that RPGs had been used for such important and meaningful purposes.
Review Fix: What are your goals for the book?
Byers: To educate and entertain. Each of the chapters is written by a gamer who also happens to be an academic. The book is useful for academics, but my hope is that it will also be of interest for gamers who aren't academics as well. If you're interested in taking a "serious" look at how influential your favorite RPGs have been, I think this book would be of interest.
Review Fix: How would you like it to be remembered?
Byers: Well, I think we'd obviously like the book to be read and reach an audience. In the case of my chapter in the book on the Satanic panic, I would hope that we can use this as a cautionary tale and all agree that we should never allow this kind of moral panic to take hold and cause so much harm, but sadly I still see small-minded calls for censorship and hand-wringing over Magic: The Gathering, Harry Potter, etc., so these ideas are still out there in some circles—we obviously didn't learn our lessons from the D&D experience.
Review Fix: What's next?
Byers: I'd love to continue studying RPGs as an academic, but I'd also really like to do more gaming! Here's hoping I can get in more gaming in 2019!
For More on the Book, Click Below: