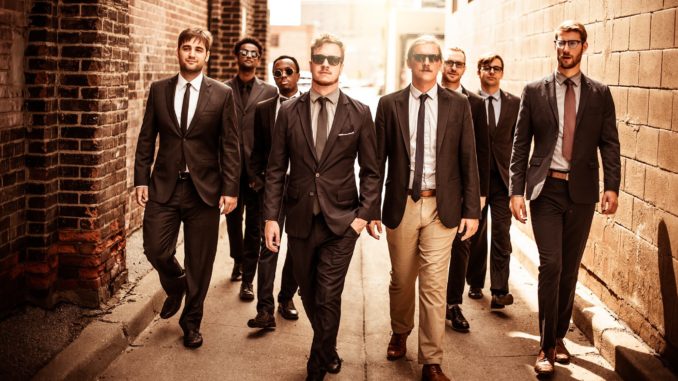 BReview Fix chats with Gold Complex's Andrew Dawson, who discusses the band's origin, creative process, goals for 2019 and new album, "New Soul."
Review Fix: How did the band get together?
Andrew Dawson: The band was initially formed by a group of friends from the music schools Etobicoke School for the Arts and Humber College. After the first time playing together at what we thought was a one-off gig, we all knew that we had to continue making music together. The vibes between us on stage, and the reaction of the crowd to our (one) original song really cemented that realization. Once we began writing more of our own songs, we couldn't stop!
Review Fix: What makes 'New Soul' different?
Dawson: The album has a distinct sound that is defined by rich vocal harmonies, a smooth 3 piece horn section, irresistibly catchy melodies and a relentlessly tight groove. New Soul tells a story of the progression of multiple romantic relationships from different perspectives along the way. By recording the rhythm section (drums, bass, keys, guitar) live-off-the-floor, we were able to capture the raw energy and natural dynamics of a live show on the record. This wasn't uncommon 30 or 40 years ago, but these it's becoming more rare. The vocals and horns were overdubbed in subsequent sessions, and through meticulous production we were able to create an ultra-polished studio record with all the intensity of the live experience.
Review Fix: What single has the best story behind it?
Dawson: "Not Another Love Song" tells a dark story of a toxic relationship driving someone to madness. Musically, the composition plays into the story with its smooth and mysterious verses, explosive choruses and a time signature change in the bridge that feels like a rapid descent towards insanity. It's definitely the most progressive song on the album.
Review Fix: How do you want this album to affect people?
Dawson: I hope that this is the kind of album people will want to listen to over and over again, taking something different away with each listen. My favourite albums are the ones that have depth, in the sense that you can choose to focus on one piece of the "puzzle" at a time, or step back and see the full picture. I hope people do some deep listening and get something new from this record with every spin.
Review Fix: What's your creative process like?
Dawson: Our creative process really varies from song to song. Some were brought to the studio as fully formed songs, with just enough room for every musician to put their stamp on it. Others started as a hook, riff or chord progression, evolving from a jam into the shell of a song and becoming what you hear on the record.
Review Fix: What inspires you?
Dawson: Personally — nature, surfing, and of course music. I enjoy listening to (and analyzing) ALL styles of music, especially music that pushes the boundaries of harmony and rhythm. Surfing for me is the ultimate form of meditation, and is truly the only thing that lets me shut off my brain and not think about anything but the task at hand. I would love to be able to achieve that level of zen when writing music.
Review Fix: How would you describe your sound to someone who has never heard you?
Dawson: Our sound is very layered — smooth and accessible on the outside, harmonically dense and rhythmically challenging on the inside. Gold Complex is a powerhouse band, both on stage and in the studio, comprised of some of the best musicians in Toronto. We now perform live with 10 people (including a 3 piece horn section and 2 fantastic female backup singers) so there's a striking visual aesthetic on stage to match the size of our sound. Really we just look like a classic R&B band, but our music pushes boundaries and bends genres in many directions. Not trying to toot any horns here but we like making music that is easy to listen and dance to, but is really hard to play.
Review Fix: How are your live shows different from your studio work?
Dawson: We bring a lot of energy to our shows, and while we do try to replicate the essence of the record, there is a lot of improv happening on stage. I think we captured that spontaneous energy pretty well in the studio, but nothing compares to seeing 10 people on stage bring it to life!
Review Fix: What are your goals for 2019?
Dawson: Our main goal is to get this album into the ears of as many listeners as possible. We really just want to know what people think of this record! Hopefully our music wins some ear-hearts over and we can start to break into new markets. We would absolutely love to tour Europe!
Review Fix: What's next?
Dawson: Touring this record as much as possible! We have written most of the material for our next record, but having spent the past 3 years cooped up in the studio…we'd very much like to spend some time on the road before going down that road just yet.
Review Fix: Anything else you'd like to add?
Dawson: We hope this record makes you feel things we never thought possible. We're looking forward to hearing the feedback and hope to see you dancing at a show!