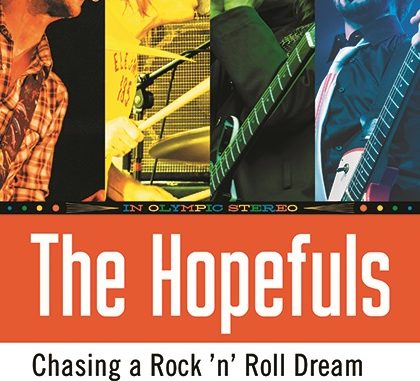 Review Fix chats with "The Hopefuls: Chasing a Rock 'n' Roll Dream in the Minnesota Music Scene" author Paul V. Allen to find out what inspired the book and what he's up to next.
About the Book:
Songwriters, performers and producers Erik Appelwick, Eric Fawcett, John Hermanson and Darren Jackson were important players in an early 2000s musical collective. This collective included genres such as folk, power pop, R & B, electro-funk and indie rock. Well-known bands Storyhill, Spymob, Alva Star, Kid Dakota, Vicious Vicious, Tapes 'n Tapes, Olympic Hopefuls and others were part of this movement. These four men worked for their rock n' roll dreams, producing well-crafted albums and exciting live performances along the way. Their shared biography draws from dozens of new interviews and hundreds of articles to document their intersecting musical journeys—from playing air guitar to KISS records to rocking gyms in high school cover bands to touring the world with some of pop music's biggest names. Equal parts celebration and cautionary tale, this book discusses both the rewards and difficulties of life as an independent musician.
About the Author:
Paul V. Allen is an early literacy specialist. He lives in Normal, Illinois.
Review Fix: What inspired the creation of this book?
Paul V. Allen: I'd been a big fan of the music of Erik Appelwick, Eric Fawcett, John Hermanson, and Darren Jackson when I was living in Minneapolis in the 2000s, and had always been fascinated by the way they had a collective that worked together on these really stylistically different projects. They had a handful of years at the top of the local scene and it really looked like they were going go national, but then things just dissipated. So I was interested in revisiting those glory years, learning how it all started, and finding out why it didn't last.
Review Fix: What makes the Minnesota music scene worthy of a book like this in your opinion?
Allen: The Minnesota music scene has produced an inordinate number of national acts with very distinctive and influential sounds – artists like Prince, The Replacements, Husker Du, Soul Asylum, The Jayhawks, Semisonic. At the same time there's this whole other aspect of the scene where independent musicians can become prominent there and sometimes even make a living off their music without touring or getting national attention. I wanted to explore that, because that's the story that doesn't typically get told.
Review Fix: What was the writing process like?
Allen: It was two solid years of work. I did over 30 interviews, read hundreds of articles from local papers, listened to a ton of albums, and scoured dozens of old websites on the Internet Archive. It's a complex story, so it was a fun challenge to weave all of the different strands together into a coherent narrative. But it was also tricky trying balance all the different perspectives, especially when they differed from one another.
Review Fix: How do you feel the music scene in Minn. will be looked at in a few decades?
Allen: I think what happens over time, for better or worse, is that the bigger stories get bigger and the smaller ones fade away. The actual complexity of a place or time period gets forgotten as the decades pass. So when it comes to Minnesota's music scene it's going to always be about Prince.
Review Fix: What did you learn through the writing process that you weren't expecting?
Allen: There were a lot of surprises and twists related to their story, mostly because I went in only knowing the very basics. One of those surprises was the fact of why the musical collective fell apart, which was a culmination of interpersonal issues between some of the guys that are still simmering. That led me to my biggest lesson, which is that writing about living people is a minefield.
Review Fix: What are your goals for the book?
Allen: My primary goal was to get it in the hands of people like myself who were fans of the various musicians and bands it's about. But, as I said earlier, I also hope I've recorded for posterity this great time in the Minnsesota music scene that would essentially be forgotten if it wasn't documented.
Review Fix: How would you like it to be remembered?
Allen: I hope it survives as a record of that time in Minnesota music, both for those who lived it and those in the future who are interested in the history of the scene. I also hope it will lead more people to discover these guys' music, because they really are great songwriters and performers.
Review Fix: What's next?
Allen: I'm finishing up writing a history of Random House's Beginner Books early reading series that started with 1957's The Cat in the Hat. I've been working on it since I finished primary work The Hopefuls in the summer of 2017, and now just have a few loose ends to tie up before I start looking for a publisher.
Review Fix: Anything else you'd like to add?
Allen: You can buy The Hopefuls in paperback directly from McFarland, from Amazon and Barnes & Noble, or ask your favorite independent bookstore to order you a copy. It's also available as an ebook. You can learn more about the books and musicians at www.thehopefulsmusic.info.
I also have a website (www.paulvallen.com) and a Twitter account (@UnrealPaulAllen) if you'd like to keep up with my work.