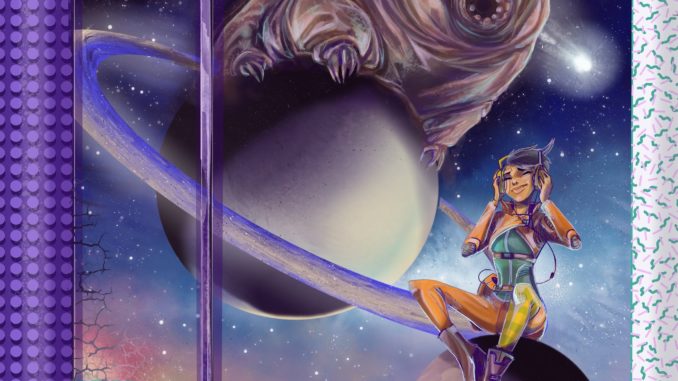 When you're careening towards a frosty death among the stars, hitch a ride with a spacefaring tardigrade! At least, that's how rebellious teenager Vess does it in Star Pig– the totally radical new comic book from New York Times bestseller Delilah S. Dawson. Illustrated by Francesco Gaston and debuting this July, IDW Publishing's latest sci-fi masterpiece is filled with nostalgic humor and fiery spirit – just what fans would expect from the writer of Star Wars: Forces of Destiny and Marvel Action: Spider-Man!
Like many late-21st-century teens, geeky 16-year-old Vess gets packed off to spend her summer at Space Camp — which is literally in space. Tragically, a shuttle accident sends her and the rest of the passengers careening into the vacuum. But when a gigantic, space-faring water bear miraculously rescues Vess and her beloved retro Discman, it's the beginning of an extraordinary friendship and an incredible journey, all set to the tunes of Vess's 1990s-heavy playlist.
"Star Pig is the story of a lost girl and a giant space tardigrade, just trying to get back home. No, Star Pig is actually a love song to nostalgia and growing up, to the bone-deep knowledge that you can never go back to the way things were. NO! Star Pig is really about what happens when the rest of the universe is as obsessed with American Earth culture as we are, and the first human to make contact with aliens finds that they're cloning Laika, collecting pogs, jamming out to Weezer, and using words like tubular," says Dawson. "It's a mish-mash of the '80s, '90s, and '00s through the lens of a teen girl who never really felt at home in her own time – but who might yet find her place among the stars."
"When I started working with Delilah a couple years ago, her storytelling talent and work ethic were evident immediately. Soon we were discussing what she might like to create from scratch, and thus a Star Pig was born," says Group Editor Denton J. Tipton. "The story is a retro-chic road trip through pop culture, but it's also packed with new ideas and universal themes that resonate. Plus, giant tardigrade!"
The debut issue of Star Pig will be available with covers by Sara Richard (My Little Pony) and Francesco Gaston (Hulk), with subsequent issue covers featuring the talents of Paulina Ganucheau(Zodiac Starforce), Nicoletta Baldari (Star Wars: Forces of Destiny), and Sara Alfageeh (Star Wars: Women of the Galaxy).
For information on how to purchase Star Pig #1 – 4, please contact your local comic shop or visit www.comicshoplocator.com to find a store near you.