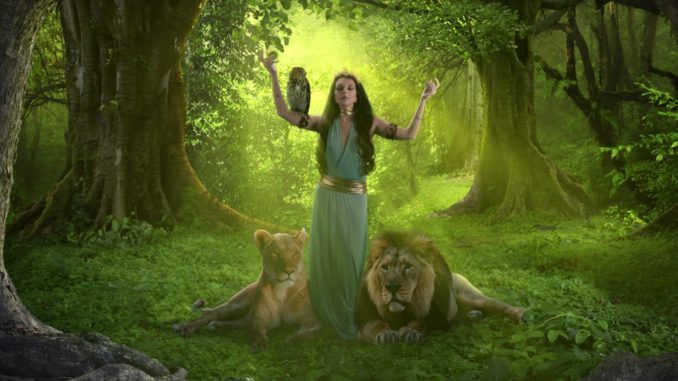 Review Fix chats with singer/songwriter Inanna, who discusses her origins in music and sexy new single, "NEFERTITI XXI."
About Inanna:
With her innovative, genre-bending new project, "Where We Belong" Inanna asks the question, "If Mother Earth had a voice, what would she sing?". The answer comes in the form of the atmospheric fusion of modern electro rock-pop and Middle Eastern influence that makes up "NEFERTITI XXI." The single, with its pulsating rhythm, hypnotic vocals, and luminous quality is the embodiment of feminine energy designed to bring balance and harmony into a world desperately lacking it. Written by Inanna and produced by Joshua F. Williams, it's vibrating with electro bellydancer sounds and earth-shaking beats. On a track about living a more balanced and planet-nurturing life, she creates an energetic shift towards change with each soul-lifting chorus.
Review Fix: How did you get involved in music?
Inanna: Music has always been there for me. I started singing and dancing when I was very little and I never stopped since then. I performed with several bands and acoustic duos/trios before becoming a solo singer in 2011. Music, dance and animals are the things that make me feel most alive.
Review Fix: What's your creative process like?
Inanna: It's not definite. Sometimes I scribble lyrics first and then I work on a demo on my own, other times I start with a basic track and I add lyrics and instruments later. I had always worked either in a band or with a producer to create the songs, but since last year I make demos on my own and get them produced later. This has given me a lot of creative freedom in terms of finding my own voice and style.
Review Fix: What inspires you?
Inanna: Nature, animals, the perfection of bodies and life cycles and people who understand their value.
Review Fix: How would you describe your sound to someone who has never heard you?
Inanna: That's tricky, as the Middle Eastern elements are not often mixed with electro-pop or electro-rock in the West. I would say something between Bjork, Madonna and Natacha Atlas.
Review Fix: How was your new single written?
Inanna: In day day, after reading a book about the most powerful Egyptian queens and their legacy. I wanted to write a song about the importance of a female perspective in politics and society in these times of environmental change.
Review Fix: How are your live shows different from your studio work?
Inanna: We will be preparing live shows later on, as they will require quite a big setup. Hopefully by 2020 we will start a tour and I hope the live dimension will be even more impactful than the digital one.
Review Fix: What are your goals for the rest of 2019?
Inanna: We are releasing the music video for my first single Nefertiti XXI in late June. After that we'll release a couple of singles more before the album, which will be completely dedicated to environmental topics. I am very excited about the rest of 2019!
Review Fix: What's next?
Inanna: More and more music that can create impact in people's ways of thinking and approaching our environment, the planet and the future.
Review Fix: Anything else you'd like to add?
Inanna: The aim of this new project is first and foremost to contribute to bring the environmental issues to the center of culture. I think that music, like all the other art forms, is a very powerful instrument to create awareness and emotion towards contemporary aspects of society.
I hope that my followers will become my allies for a hopeful and greener future on Earth.