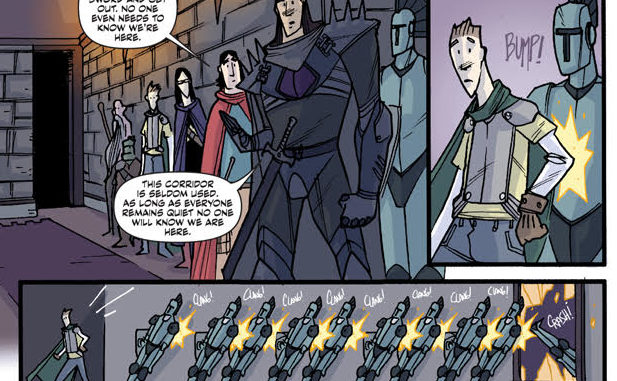 Review Fix chats with "Long Ago & Far Away" writer Chris Mancini who breaks down the action in a huge issue of the awesome indie comic.
Review Fix: How is this a turning point for the series?
Chris Mancini: This is the turning point where we realize that the journey has always been a personal one. Jason has made this personal journey, and it's always been about him embracing the heroism, optimism and growth from his childhood. Characteristics he abandoned when he grew up, as manifested as a younger version of himself who was abandoned and killing the old world tree. It's a metaphor for how we often abandon and kill our own dreams, and how that can cause us to give up on everything. But it's also a metaphor for hope, and that it's never too late, and that you can always course correct to be a better person, to do good, and to dream again.
Review Fix: What was the creation process like for this one?
Mancini: Honestly, it was really difficult. I rewrote the section where Jason is confronted with his younger self many, many times. I felt it was really important, and the core to the entire story. I wanted to get it just right. I also went back and forth with Artist Fernando Pinto on this issue a lot. Sometimes we expanded a few panels to pages.
Review Fix: How do you think it'll affect the series?
Mancini: It's the issue where everything falls into place, and there's no going back from it.
Review Fix: How do you want this issue to be remembered?
Mancini: See question one. Ha. It's the turning point in the series, and it's where we learn how everything is connected. It's how we learn how Jason is the true hero and villain of Elvenwood and his own story, as is often true with ourselves.
Review Fix: What's next?
Mancini: We pivot back to an external conflict now that the internal one is resolved. How can we have an epic fantasy story without an epic final battle? The Witch Queen still has a few tricks up her sleeve. Now that Jason is the hero he was always supposed to be, it's time to finally embrace that call to action in both worlds.
Review Fix: Anything else you'd like to add?
Mancini: Thanks to everyone for buying the comics!