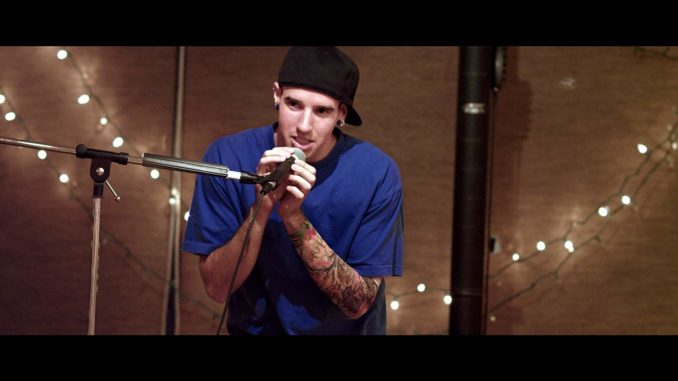 Review Fix chats with filmmaker Joseph McGovern, who lets us know why his new film "All Over Again" is a special one.
Review Fix: What inspired this film?
Joseph McGovern: I've been heavily involved with the spoken word poetry scene since college and working with musicians around the country – writing lyrics for their music and crafting songs. "All Over Again" fit perfectly into the scene between spoken word poetry and songwriting. I love dramas, especially inspirational pieces where characters pursue passions and achieve their dreams.
Review Fix: How difficult was this film to put together?
McGovern: Since this was my first short film I wrote, produced and directed myself – the most difficult aspect was self teaching post-production at the time and figuring out the different components to the post-production process as I edited the piece in preparation for its film festival run. I've been producing for years prior to "All Over Again" – running and working on sets and making sure projects are completed in a timely manner but these were more dslr independent film projects. "All Over Again" was my first cinema independent film project. Since I was learning the post process as I went – I was studying along the way all the steps involved with post-production: color grading RAW footage due to shooting on RED cameras and learning the DaVinci Resolve program too. Understanding the process – sound design with pro-tools and outsourcing this work to a professional sound designer who also provided his talents in composing the music for the film and DCP creations with Simple DCP. This was the most time consuming aspect to the project.
Review Fix: What films have inspired it the most?
McGovern: The most influential films for this piece would be a mix between "Love Jones" with the open mic night poetry feel, "August Rush" with the musician vibes and never stop searching and achieving what you're seeking. The inspirational vibe derived from "Dead Poets Society" not on the teacher student level but more so the pursuit of dreams because we only have one life to live and one-hundred years isn't all that long if you think about it – as Robin Williams so truthfully pronounced, "Carpe Diem!" Loudly, "Seize the day. Make your life extraordinary!" I'm a poet – I truly do believe words can make a person form questions, and questions are the seeds to unacknowledged changes yet to form. Poetry and the pursuit of dreams are important and can change lives – it did for me.
Review Fix: What was the feeling like on set?
McGovern: Production for "All Over Again" took about two years to complete filming and another six months after for post-production: editing, color grading, sound design, and scoring. The feel on set for most of the film was positive and productive. After half of the footage was lost due to computer issues from my director of photography who was planning to edit the piece, it grew difficult to find reliable crew members to help me finish re-filming the lost scenes. Most of the second half of filming I was lighting, operating the camera in one hand and taking sound in the other, while directing the actors. This was the best learning experience I could have received so early in the journey.
Review Fix: What have you learned about yourself through this entire process?
McGovern: Through the entire process creating this film and making sure it was completed correctly – I self taught the entire production process including post-production working with different editing softwares. I was terrified of the post-production process – computers and I never saw eye to eye. I persevered everyday breaking down all the mistakes needed to be corrected from production (being my first short film for the festival circuit and a learning experience). After I broke down everything needed to be completed and speaking with Hollywood editors and colorists, guiding me, I was able to successfully complete the film. I learned through hard work, determination, never giving up even when it's difficult – I was able to complete the film and realized the process is nonstop critical thinking and problem solving. Although I'm learning new methods with editing, and new techniques to enhance my visions with the projects – "All Over Again" is probably my most proud project. Not only being my first short film; but, "All Over Again" was the film that was almost lost and I was able to rescue it from the ashes and mold it into something special to watch with a meaningful inspirational message for everyone to enjoy.
Review Fix: Why is the topic of this film important today to you?
McGovern: The theme to "All Over Again" is important from the inspirational message to never give up on your dreams. When life seems to overwhelm or dreams begin to fade; reminisce back on the passion you experienced when the fire burned its brightest. If not, even on a professional level pursue passions for personal growth and development – this is more important than any monetary gain.
Review Fix: What's next?
McGovern: "All Over Again" is still making its rounds on the festival circuit garnering nominations and winning awards. The second film I just wrapped up for 2018 is "Hush" which is on the festival circuit too – garnering nominations and winning awards, such as a People's Choice Telly Award. I'm currently color grading my new lgbtq short film "Is this the bed we lie in?" for a 2019 release in the next couple months and sound design and scoring is being completed for my fourth short film, "Inside Jonathan Fox" for a 2020 release onto the festival circuit.
Review Fix: Anything else you'd like to add?
McGovern: Independent creators keep creating – it's important! Cinema today is in full capacity with mainstream stories flooding the market. It's up to us as independent artists – filmmakers, writers, artists, etc – to be the difference. We need to keep bringing new stories to the table with imaginations bringing new subjects and topics to light for discussion and more importantly delivering these stories in creative structures and forms. Don't stop – even when it's difficult, see everything through to the end. If you feel you can't make it happen, don't take the easy way out; be persistent and persevere through the darkness, there will be light at the end and you will be happy you conquered this part of the journey. Most importantly you'll see the obstacles you made it through ready to go for the next piece of work.