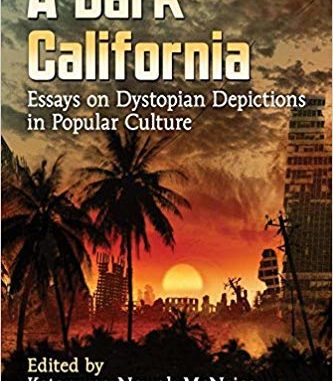 Review Fix chats with "A Dark California: Essays on Dystopian Depictions in Popular Culture" authors Katarzyna Nowak-McNeice and Agata Zarzycka, who discuss the creation process behind the book and how McFarland helped make their vision possible.
About the Book:
Focusing on portrayals of California in popular culture, this collection of new essays traces a central theme of darkness through literature (Toby Barlow, Angela Carter, Joan Didion, Thomas Pynchon, and Claire Vaye Watkins), video games (L.A. Noire), music (Death Grips, Lana Del Rey, and the Red Hot Chili Peppers), TV (True Detective and American Horror Story), and film (Starry Eyes, Southland Tales and A Girl Walks Home Alone at Night).
Providing insight into the significance of Californian icons, the contributors explore the interplay between positive stereotypes connected to the myth of the Golden State and ambivalent responses to the myth based on social and political power, the consequences of consumerism, transformations of the landscape and the dominance of hyperreality.
Review Fix: How did this project start for you?
Katarzyna Nowak-McNeice: One day we were having coffee in a café close to the university where we both worked at the time, and we were talking about student paper grading, and administrative work, and conferences, and all the mundane things that academics do. And we had this moment when we started talking about what we would really like to do, which was to work on ideas that hold a firm grip on us, and never cease to fascinate us. We both agreed that these ideas are California and popular culture. That's how the idea was born. It took us several years to actually get this project off the ground: the ideas germinate slowly, but when they come to bloom, it's very satisfying.

Review Fix: Any challenges during the writing process?
Agata Zarzycka: We were at opposite ends of Europe, and we were working with contributors from different parts of the world, so at times it was challenging to coordinate time zones and carve out time to work when other matters (work and family life) needed attending to.

Review Fix: What inspired this book for you?
Nowak-McNeice: We were struck by the omnipresence of references to California in texts of popular culture not only coming from different parts of the world, but also representing different genres and aesthetic conventions. We were fascinated with the changeability of California's fictional depictions and flexibility of its meanings as a popcultural icon; and how, despite their variety, they allow an identification of California as a more or less tangible concept.
In other words, we felt there was a gap in scholarship about California in popular culture, and we thought that our book would fill this gap. We have always been excited about California in its darker aspects, so it really feels like the idea has been with us forever, and we just needed to find time to realize it.

Review Fix: What's your background in? How do you think it prepared you for this?
Nowak-McNeice: We both have a background in English studies and literary theory. Agata is into all things pop cultural, and I am interested in California literature and history, so these two aspects – popular culture and California studies – gave us a unique combination of perspectives, perfectly suited to our project.

Review Fix: What makes this book unique?
Zarzycka: One thing is that California is very often presented as a sunny, care-free, maybe a bit of a freakish state. Not many books focus on the dark underbelly of California's representations in popular culture, which is precisely what our book does. The second thing is that we wanted to discuss certain aspects of California that are hidden from the view of a lot of English-speaking audiences, especially in the States. We co-wrote the final remarks to the book in which we talk about the Californias imagined and represented in popular culture products in other parts of the world, such as Poland (which is where we come from). This has never been done before, and it was very satisfying to expose these ideas to view.

Review Fix: Who do you think will enjoy it the most?
Nowak-McNeice: Popular culture enthusiasts, both academics and students, and anybody interested in seeing a different face of California, the darker, less advertised, but more complex one.

Review Fix: What did you learn about yourself through writing this?
Zarzycka: We learned that it is crucial to be friends with the person you are collaborating on the book with. We are still friends, not just colleagues or collaborators, and it counts.
Nowak-McNeice: We also met wonderful people along the way: primarily the contributors, but also various specialists at McFarland who made this book possible. Needless to say, perhaps, that it was very gratifying to read reviews from busy specialists who carefully read our manuscript and spent time and energy giving us remarks that not only helped shape the book, but also made us believe that what we were doing was, in some way, important.

Review Fix: What are your goals for the book?
Nowak-McNeice: We were very happy with the quality of the individual chapters. We are hoping that this book can not only be enjoyed by readers in academia and outside of it, but also that the group of scholars we gathered for this project will not be just ephemeral, and it will result in further collaborative projects.

Review Fix: What's next?
Zarzycka: We are thinking of editing a second volume. There is still so much to be said about California in popular culture that we think it would be amazing to continue working on these ideas.