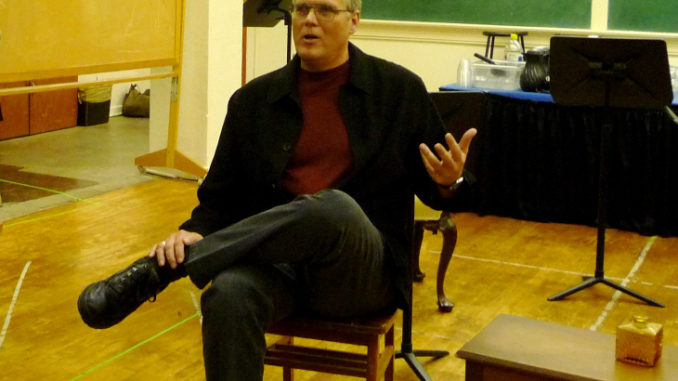 Review Fix chats with "Dangerous to Dance With" playwright Bill Rogers, who lets us know what makes the upcoming production a special one.
About the Production:
William Roger's play, "Dangerous to Dance With," directed by Gerald vanHeerden, is a featured event of DREAM UP FESTIVAL 2019, presented by Theater For The New City, Crystal Field, Artistic Director. Performing at the theater's Johnson Space at 155 First Avenue (between 9th and 10th Streets), NYC, for five showings: 8/30 Friday, 9pm; 09/01 Saturday, 8pm; 09/02 Sunday, 6:30pm; 09/04 Wednesday, 9pm; and 09/05 Thursday, 6:30pm is a dark comedy in the tradition of Pretty Little Lies begs the question, What's funnier than a play about SEX, GREED, AND SELF-DECEPTION?
In Rogers' tome we meet a paranoid playwright, a broken acrobat, a porn star, a neurotic farmer, and a plumber (who may be a hitman). The play premiered as part of the 2014 Kansas City Fringe Festival at the Off Center Theater in Kansas City's Crown Center. This is its New York premiere. Learn more at https://rogersbill.com/plays/dangerous-to-dance-with
About Rogers: Bill Rogers is a writer and educator who has won several awards as a playwright and for teaching history and English in colleges in the United States and Australia. He has written four full-length plays, the book and lyrics for a full-length musical, two sixty-minute plays, and four ten-minute plays and is currently writing his first novel.
Review Fix: What was the inspiration for this project?
William Rogers: Several years ago, I was playing around with ideas for two very different plays. One involved a successful, but paranoid playwright and his psychological manipulation of two artists he was mentoring. The other involved a neurotic, immigrant farmer who felt like an abject failure despite having achieved every one of his goals in life. As I tried to decide which story to tell first, the characters took over. They took me in surprising directions that led to merging what I thought were two plays into one. So, I suppose it is fair to say that character development inspires my story telling more than anything else. Unfortunately, once they start talking, it's hard to get them to shut up. Some of their best lines pop out in the middle of the night. They have no respect for a playwright's need to sleep.
Review Fix: What's your creative process like?
Rogers: I tend to write a short first draft as quickly as possible. That experience gives me a general plot with a beginning, a middle and an end. It also introduces me to the characters and their possibilities. After that first draft, revision is the name of the game. I keep honing and polishing the plot, themes, and dialogue until a smooth tale emerges. Inspiration starts the ball rolling, but it takes careful revision to blend all the elements into a coherent and compelling play.
Review Fix: What makes this different or special from other musical events of this genre?
Rogers: Dangerous to Dance With offers probing, but atypical perspectives into the modern human condition. In his poem, London, William Blake refers to "mind-forg'd manacles" that impose shackles upon the human spirit. Dangerous to Dance Withexplores these manacles by examining an array of concerns that inhibit its unusually diverse and eccentric group of characters from living productive, authentic lives. Among the issues this dark comedy explores are depression, machismo, paranoia, self-inflicted tragedy, co-dependence, alcoholism, suicide and the difficulties of creating art and of surviving sexual assault.
Review Fix: What did you learn/are learning about yourself through this process?
Rogers: This play, more than anything else I've written, forced me to let the story unfold to its logical conclusion rather than to a predetermined outcome. The process surprised me several times and led to an ending I didn't anticipate when I started writing. So, as I continue to evolve as a playwright, I'm finding that my best work comes when I drop the reins and let the process take me where it needs to go.
Review Fix: What are your ultimate goals for this for the future?
Rogers: I would like to get the work in front of as many people as possible. I'm very pleased to be part of the "Dream Up" Festival in New York City, and I would like to see Dangerous to Dance Withon regional stages, as well.
Review Fix: What's next?
Rogers: I hope to finish my first novel before the end of the year. As I polish off the novel, new ideas for plays are germinating.