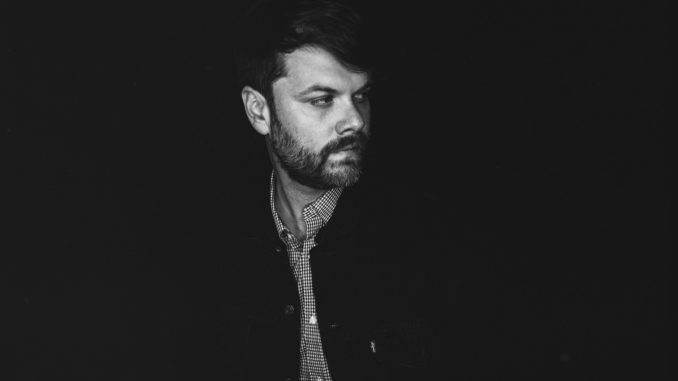 Review Fix chats with Johnny Stranger's Peter Anthony, who discusses the band's origin, goals and new single, "Follow in my Footsteps."
Review Fix: How did you get involved in music?
Peter Anthony: I began writing songs before I could play any sort of instrument. My parents were both musicians, so I convinced my dad to make tracks that I could write vocals to. I still have those recordings, from the age of 10 or so. Around 13 or 14, I began teaching myself how to use my dad's equipment. ADAT tapes and MIDI sequencers were state-of-the-art. I began to learn guitar and bass and saxophone and took drum lessons. My parents were always very supportive and encouraged me to do my own thing. I attended a very avant-garde college that allowed me to draft up my own curriculum… which became all about recording music digitally. Johnny Stranger began in 2005, my last year of college, and that was the last record I tracked on those same ADAT tapes I grew up recording on.
Review Fix: What's your creative process like?
Anthony: Johnny Stranger has been a unique process for me. The first four albums (which I will eventually re-release), were written and recored back to back, without much time in between. I wrote the songs, came up with the concepts of each record, and brought in musicians to track their parts and contribute ideas. In 2009/2010, I put the project on hiatus and moved to Los Angeles. But although I wasn't active with the band, I was still writing. Now, with our 5th album nearly out, I have enough material to fill 12 albums… all of which I have mapped out. I write, I track demos, I bring in musicians to fill in their parts, I mix, and then I master… it's a very personal work for me. But it's creatively so, so rewarding.
Review Fix: What inspires you?
Anthony: Inspiration can come from just about anywhere, but I think you'll hear – in Johnny Stranger – that those inspirations get focused in particular ways…
Aside from being a musician, I am also a writer. I have a real love for epic sci-fi/fantasy series. I have been writing a series since my childhood actually. I think that the way these sagas get structured has really affected the way I look at structuring my albums (ex. the 12 album series is meant to flow like a big, epic story… although the records aren't connected by a single narrative). I'm not trying to be clever about it, it's just how I naturally sequence things. A lot of that comes from fiction.
A major foundational element of Johnny Stranger is also the lyric style. Growing up, I wrote a lot of songs from my own point of view. Being 16, they were oftentimes about girls and other teenager-related subjects. But around the time I turned 18, I got really into Steely Dan. I was struck by their lyrics, because they would occupy different characters – oftentimes unsavory types – in each song, which really opened me up to the idea of telling stories through songs. Johnny Stranger does this all the time.
Review Fix: You've been to a ton of places. How has it affected you musically?
Anthony: Seattle, Boston, and Los Angeles have all had significant impacts on Johnny Stranger. Seattle was where the idea was born, and it was a totally open environment where the project developed a personality that wasn't forced but was absolutely unique. Boston taught me about perseverance. Those days were a definite struggle, but I learned to pick myself up even when the world seemed to collapse around me. Los Angeles has taught me a lot about the way the music industry actually works and I have invested a lot of time into improving my producing/recording skills. It has also provided me with many different experiences outside of Johnny Stranger, which have stretched me as an artist and have made me a better musician. I wouldn't be able to make these records if not for all three of those places and the influence they had.
Review Fix: Favorite road trip?
Anthony: Visiting the moon.
Review Fix: Coolest person you've opened up for or played with?
Anthony: We've opened up for a few bigger names over the years… but my favorite band that we've ever opened for was a Boston band called Kid:Nap:kin. They broke up a long time ago, but I still listen to their records all the time.
Review Fix: How would you describe your sound to someone who has never heard you?
Anthony: Hard rock with a tinge of sci-fi and fusion.
Review Fix: How are your live shows different from your studio work?
Anthony: Since the band has reformed, we have been getting into using video to better illustrate what the songs are about. We put out a lot of energy and focus on the songs from our back catalogue that are sort of the 'crowd favorites' of old. Our new record – "Valkyrie" – is about power and demagoguery, so a lot of our visuals have been dark and menacing. It's like a giant art project for us. The songs we are choosing to play right now are also on the heavier side. Over the coming years, it will evolve and the tone will change… but it will be undeniably us.
Review Fix: What inspired your latest single?
Anthony: "Follow in my Footsteps" was actually written back in 2007, as the Afghanistan and Iraq wars were slogging along. I wrote it from the point of view of a young boy watching his father leaving to war and the boy's vow to take up his father's crusade. I wanted the song to be universal and culturally ambivalent. It could be a young boy in Afghanistan or a boy in the USA. My point was that war is passed down through the generations. Violence is inherited.
Review Fix: What are your goals for the rest of 2019?
Anthony: Lots of new music coming out, accumulating in the album release for "Valkyrie" in January 2020.
Review Fix: What's next?
Anthony: The rest of this year will be spent releasing music and building. Next year, we will be focusing on playing live and recording the 6th album.
Review Fix: Anything else you'd like to add?
Anthony: Follow us on Instagram or Facebook. Lots of news coming soon. Also, check out JohnnyStranger.com to see our blog.