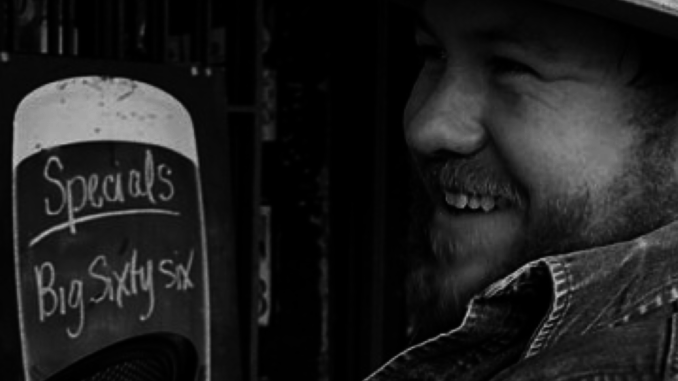 Review Fix chats with singer/songwriter Jesh Yancey, who discusses his creative process and goals for his new EP. "Maybe It's The Drugs."
Review Fix: How did you get involved in music?
Jesh Yancey: Right after I got out of High School (2004) I was working two part-time jobs and every day there was a gap between the two. During that gap in time I would hang out at a friend's house and he had a guitar. Out of boredom I got him to show me a couple of chords and was instantly hooked. I got myself a guitar soon after that, a $40.00 12-string Cort that had 6 of the strings removed and action so high you could almost fit your pinky between the strings and the fingerboard. After a couple of months I had to upgrade to a $150.00 guitar and progress began to speed up! While I was trying to learn all my favorite songs at the time I found out that I wasn't cut out to learn other people's songs. I hope Willie Nelson would forgive me! So I found that it was easier for me to just make up my own tunes, and I've been doing that since around 2005. I got really serious about it around 2007 and then took a break while I was in the Navy. In 2016 I started telling people I was a songwriter and things have gotten way more serious since then!
Review Fix: What's your creative process like?
Yancey: Generally I carry out my day like other folks, except I'm looking and listening for something that needs to be said or spoken out against. I don't have a lot of half-finished songs lying around. I generally wait to start the whole process until I find something with enough depth to be worthy of putting pen to paper or, in some cases, thumb to glass. From there I think a lot about the canvas and what vibe my statement fits best in, or what groove I can make the best impact with.
Review Fix: What inspires you?
Yancey: I'd like to say something profound but essentially what really inspires me is anything John Bell, Todd Snider, Kris Kristofferson or John Prine might have been thinking when they were thinking about saying something.
Review Fix: How would you describe your sound to someone who has never heard you?
Yancey: The easy answer is PsycheDeltaFolk. But If I have to elaborate, which I don't mind, I'd say that I'm reaching for a delta groove, a folk singer's protest and the absence of boundaries of psychedelic rock. But the psychedelic part is really being overused these days as consciousness becomes more mainstream so I may have to figure something else out on that last part. If everything is psychedelic then nothing is psychedelic. I guess.
Review Fix: How are your live shows different from your studio work?
Yancey: Sometimes it differs by the amount of people in the room but I've played live shows where the bartender helped keep the beat while making margaritas for us because there was no one else in the bar. It's tough playing shows during Mardi Gras on the Gulf Coast. Speaking of margaritas, the best one I ever had was at the Julep Room. Elvis played there a long time ago.
Review Fix: What inspired your latest single?
Yancey: Me, my wife and some friends took a little trip down to a place called AJ's in Destin, FL and before I knew it, I was in the middle of a whole bunch of people that I had nothing in common with. I was scoping out the scene and noticed that everyone was wearing golf shirts, pounding light beers and goin' nuts over their football games. They didn't even care about my buddy that was playing songs for them. He played Wagon Wheel and I don't think they even noticed and that's saying something for a bunch of vacationers on the Gulf Coast. But a couple of weeks later I was still thinking about that trip and how odd the whole thing was and so I wrote When in Rome about that. 
Review Fix: What are your goals for the rest of 2019?
Yancey: I have to make it until the end of the year and see how things pan out. I'm playing a few pretty cool shows around Denver, I've got my Gulf Coast tour coming up. Think I'm going to call it the Comin' Down tour. I'm really excited about that, the only thing I've ever wanted to do is to leave one place and then go to the next place to play more music.
Review Fix: What's next?
Yancey: After the dust settles from Maybe it's the Drugs I'll start piecing together what I'm calling my "songwriter record." I guess I'll work on it sometime next year as long as I'm able. I have a good batch of songs I've been keeping hidden and out of the live shows that I want to put out. Some of them were written around the same time as these "Drug" songs.
Review Fix: Anything else you'd like to add?
Yancey: I'm not a drug addict. These songs are protest songs! Except for Ridin' High, that one's about feelin' good about feelin' good.