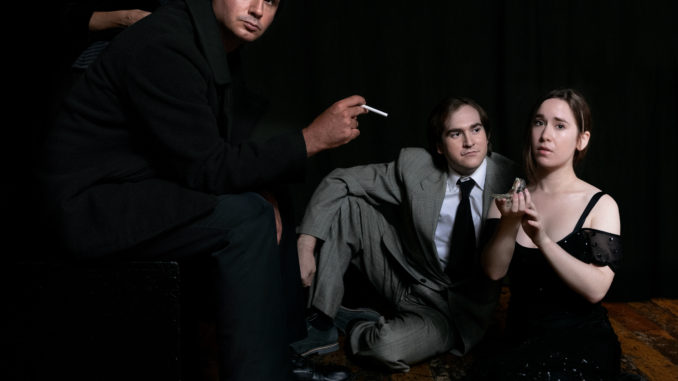 Review Fix chats with actor Spencer Scott about his role as The Gentlemen Caller in the upcoming production of "The Glass Menagerie."
Bio:
Spencer Scott (Jim O'Connor) is a proud member of The Greenhouse Ensemble. Recently he starred as "Romeo" in Romeo & Juliet. Some other credits include, "Anthony" in The House of Yes, "Demetrius" in A Midsummer Night's Dream, and "Barry" in The Boys Next Door.
About the Production:
After two critically acclaimed runs in 2018 of Wars of the Roses, directors Austin Pendleton and Peter Bloch reunite with actor Matt de Rogatis to take on the American classic, The Glass Menagerie. In this disquieting production, the tormented Tom relives the story of his time in the Wingfield's St. Louis apartment, circa 1939, as if he were remembering it through the lens of a spooky dream.
The cast, led by Ginger Grace as the iconic Amanda Wingfield, consists of Matt de Rogatis as her son Tom Wingfield, Alexandra Rose as Laura Wingfield, and Spencer Scott as The Gentlemen Caller.
Set designer Jessie Bonaventure, who was the assistant Set designer on the Broadway musicalHadestown, which garnered four Tony Awards, including Best Scenic Design, collaborates with lighting designer Steven Wolf to create a version of Tennessee Williams' masterpiece that borders on horror.
Dimly lit and surrealistic, the set itself will consist of props made of glass and the actors will live in a chilling, dreamlike world. Taking inspiration from The Exorcist soundtrack, Sean Hagerty writes the score for this "Wes Craven meets Tennessee Williams" production. Jesse Meckl designs the sound for the Wingfield house of horrors.
Review Fix: Although you got started late in acting, you've been busy ever since. What has this whole experience been like for you?
Spencer Scott: Getting into the world of acting has been a real dream come true. It's definitely had its ups and downs, for sure. But there is not a time I would trade all of it for something maybe a bit more stable. The people I've gotten to meet, the work I've been a part of, and the feeling of performing, either on stage or on camera is exactly where I want to be and hope to stay.
Review Fix: How did you get involved in this project?
Scott: This show kind of came out of nowhere for me. A real pleasant surprise! I had been working with Austin (Pendleton) for years, both in a couple of productions as well as a student in his class, when he approached me about working on this project. Needless to say I was more than excited to get started working on this piece of classic American theater.
Review Fix: What do you like about this character?
Scott: Jim is a really wonderful character to play for a few reasons. His compassion and sensitivity is something to be admired. He doesn't see Laura the way any of the other characters see her. He sees a beautiful and unique person even with all that troubles her. He's also had his share of disappointments in life with which we can all relate. You could say he peaked in high school, but unlike some other cliches of that troupe, he didn't expect heaven and earth to move aside for him after he graduated. He worked hard, but the Great Depression was in full swing and so his dreams like so many during that time were stifled just to make endsmeat.
Review Fix: What has it been like to work with Matt de Rogatis?
Scott: Working with Matt is truly an awesome experience. His dedication, ambition, and attitude is a big part of what makes this production special. It's also the major reason this production is happening in the first place. I only really just met him when we started working on this, but alright there is a sync in how we work and strive to be better. He's my brother in the pursuit of the truth in the work.
Review Fix: What's the feeling like on set?
Scott: The feeling we have on set is a supportive and expressive one. Much like a little family. We are free to try things, encouraged to go further, and never fearful of making the "wrong" choice. It's such a pleasure to be in rehearsal with everyone. There is always some interesting new idea happening or some wonderfully fresh moment being explored.
I think personally, my only goal is to really dive into the character of Jim and find the essence of him as I see it and translate that into a performance worth watching. Tennessee wrote a great character that deserves justice done to him.
Review Fix: Why is this production a special one for you?
Scott: Getting to be a part of The Glass Menagerie in a production in NYC is very very special in and of itself. But more than that, these people I'm working with are so dedicated and talented that it's impossible not be swept up in the joy and depth of this project. I can't wait for people to come and see this cast make magic together.
Review Fix: What's next?
Scott: Next, I'll be working with Matt again when we do Cat on a Hot Tin Roof. I'll also be reprising my role as Romeo in Romeo & Juliet when it's restaged after a successful limited engagement this summer. And also I'll be playing Eddie in David Rabe's Hurly Burly next year. Depending on the timeline of things I'm not sure which is coming first, so it's a pretty exciting time!
Review Fix: Anything else you'd like to add?
Scott: Just that this cast and production are special. I treasure working with them and I am so excited for us to share this work with Audiences in October.