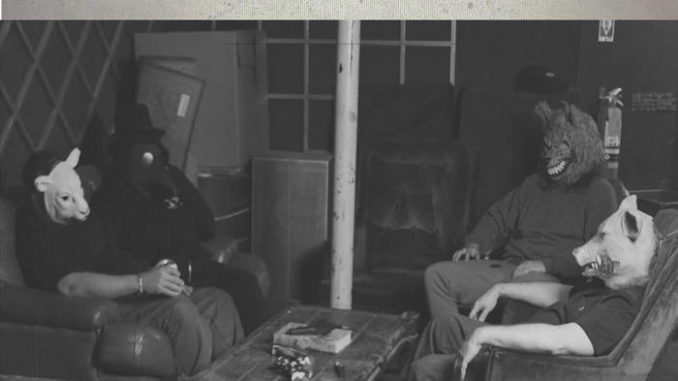 Rock music has taken a new life this year, without a doubt. With critically acclaimed releases by big names such as Slipknot and Tool, the genre is riding high with listeners new and old looking for more to grind their ears to. In the Next Life seeks to ride this wave with their 4 Friends in a Room with a Gun EP. Described as a labor of love, the gap between this and their last release is quite a long one with previous album KARMA released in 2017. 4 Friends in a Room with a Gun paints a more heartfelt and experimental vibe than anything else.

The starting track Manica Satanica is a stand-out one. The heavy guitar and deep, groovy bass give the track its attitude alongside the punky and brash vocal performance. It is a fast, shredding track that lends itself to handbanging more than any other here. The trippy waviness around the 2 minute mark feels like it radiates around the "who you wanna kill? It's gonna get gory!" lyrics as they repeat, keeping the track out of the gutter in terms of its aesthetic. The track that immediately follows is an acoustic rendition of the final track on the EP, Hope Dies. This acoustic rendition is a stand out track because it highlights the powerful vocals at the heart of In the Next Life. The deep, harmonious and emotional performance is complimented perfectly by guitar work on this acoustic rendition, as it allows the vocal performance to hit hard when it needs to. The percussion on the guitar as she cries "hope dies" gives the words punch.

4 Friends in a Room with a Gun is an interesting and impressive EP. The stand out tracks on here offer two very different and fantastic qualities from one another. Manica Satanica does well to speak to the influences of the thrashy and heavier kind, which are executed with quick and deadly charm. Hope Dies acoustic gives the fantastic vocals to show their robust nature alongside guitar work that perfectly compliments it. Other tracks such as Living in the Moment or the "plugged" version of Hope Dies are solid, but are much rougher around the edges than their counterparts. This does nothing to detract from the robust display of talent on this EP, and might encourage one to give the full album a listen.