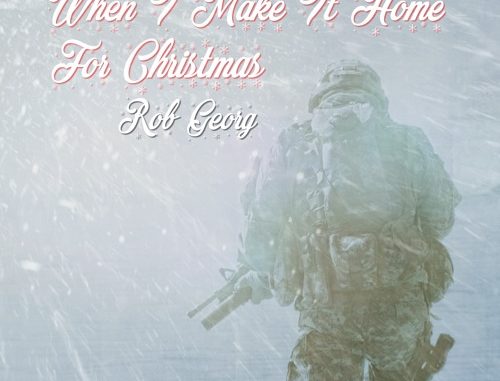 The holidays are a busy time. From rushing to various stores, to planning bountiful feasts to the family, to carefully considering those closest to you and their needs or desires, the spirit of it all can sometimes get lost in the madness. Rob Georg wants you to remember the heart of Christmas and those who risk their lives to give it to you in his new single. "When I Make it Home For Christmas" is a song for everyone who has loved ones locked in military combat, giving them a song of hope in an emotionally trying time.
The track begins with a classic country guitar twang before going into the somber vocals of Rob Georg. His performance feels like a sorrowful, or longing one as his raspy voice feels like it struggles to utter the words "Feels like I'm half a world away." The bass is deep and cradles the rest of the instruments in its slow, somber tone. This gives way for the stringy guitar to fade thoughtfully in and out while the drums march on to keep the beat. The chorus is very heartfelt and sticks with you when he describes the joy of returning home from military conflict. "You will find all your wishes, right here in my heart" is just one of the lovingly crafted lines you will hear in this track. It is also the point in which Georg's voice perks up and his vocal chops begin to show. The aesthetic here is very warm and tender balanced with feelings of longing and uncertainty. Though it may not have jingle bells or children laughing, the track is definitely likeable and is easily one that will fit into the collection of any country fan.
When I Make it Home For Christmas is a song for the American military family. It is a love letter to those who serve their military and risk their lives to make sure those at home can celebrate the traditions they love to share. It is also heavily rooted in the country genre, making its appeal apparent up-front. While there are those who will prefer Mariah Carey or Michael Buble, Rob Georg may become a preference for the Country fan. It may also serve as a song to look to for those longing to be with a loved one who is currently fighting for their freedom.