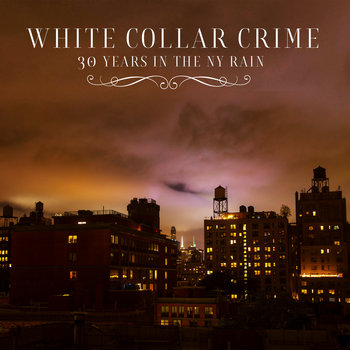 The first step to mastery is experience and White Collar Crime's newest release is a testament to theirs. "30 Years in the New York Rain" is their latest release, and is a celebration of their pedigree. The full album will contain everything from remasters to brand new tracks, but the EP contains two tracks. These tracks are full of heart and are positively dripping with personality.

The first track, "To Be Real," begins with a nice piano intro. From here we dive into an eclectic instrumental arrangement, with a head-bobbing percussion and a smooth rhythm guitar. The vocal performances are full of charm and heart, with each vocalist propping each other up from the first chorus. A song of reflection and life direction, you can feel the emotion as he sings "you get that feelin' there was something more. Do you sit and wonder 'did you play all your cards all right?'" The next track is "Dream the Dream," and while decidedly different in sound, it is still a stand out track.

"Dream the Dream" is much more of a duet than the first track. The heavier percussion props up the instrumentals. Everything can be heard in this track, from the deep and swinging bass to the rhythmic guitar, which really shines during the guitar solo that starts around 2:20. It adds a hard-rockin' element to the track that really makes it pop, with a killer bass groove underneath. "Your words roll over and over" is a line delivered with such emotion you can feel it, which kicks off an inspired verse that really adds a soul to the track home. These tracks leave a memorable impression. 

White Collar Crime's "30 Years in the NY Rain" EP is a fun and inspired listen. Both vocalists show amazing chemistry and charm in their performances in front of rock-solid instrumentals. The musical style is robust and eclectic, rooted in traditional rock and roll with a Counting Crows style aesthetic. Each track brings palpable emotion and heart to the forefront, making these tracks leave a memorable impression. With great beats, an inspired sound and a ton of charm, "30 Years in the NY Rain" is an EP that you want on your playlist.