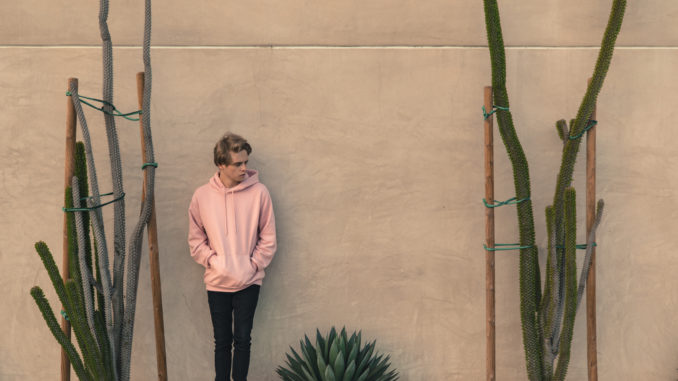 Rising, singer-songwriter talent Devin Kennedy is making his dreams a reality with his first EP, "You & Me, That's Enough." His laid-back sound and heartfelt approach to writing and performing have captured many hearts far and wide. He has a soulful, swoony voice and a charismatic way of speaking. Aside from that, his songs are full of meaning with a widely universal appeal. Each song he produces is calming, blissful, and soothing to the ears. 
Most of his love for music came from his family, and the way they've brought him up. They shaped his character and had a huge role in him creating his first-ever EP. 
"I grew up with it [music] around my house, musical family, my grandpa was a pianist, my dad did film and TV music a lot growing up. So, I was in and out in a lot of studios, met a lot of producers and writers at a young age. I guess I was just always around it," says Kennedy. "Music truly is a part of my life, I think it inspired me so much at a young age and it was what shaped the fabric of who I was when I was young so, it was really like the only option for me."
Growing up, Kennedy was heavily influenced by his father. From seeing his father running a brand design company, he used to create logos and websites until he noticed that other people were making music for infomercials and were making more money than him. That's when he decided to redirect his business to also create music for infomercials using his guitar. His father also formed a band at 25 years old, and although they never released any albums Devin Kennedy was overall exposed to music throughout his childhood. 
"I grew up with a lot of classic rock, Kansas, like Clapton. First concert was Paul McCartney, I got introduced at a really young age to amazing music. John Mayes is my favorite artist of all time, that was my third concert. I fell in love with like, true musicians, from a young age," said Kennedy. "As I grew up, I started to get more into pop, producing and all that good stuff. Through like middle school and High School I started getting into bands like Fall Out boys and All Time Low, and the world tour scene. I thought I was going on world tour one day, that was my dream. I fell in love with the kind of stuff I started doing and that was the first lane I found, and it made me think, 'I really want be in a pop punk band.'"
It took some time for Devin Kennedy to find his own lane of music. At first, he went into the pop genre, but realized pretty quickly that it wasn't the space for him. It took him a year and a half to find the lane that he is currently in right now. For him, it's having some form of organic musicality to what he's doing, even if it leans towards pop a lot.
One thing for sure is that he prefers to have a guitar, piano or some type of instrument that he can play on stage, and that's more interesting to him than just pressing play on a track during a live show.
For his first EP, "You & Me, That's Enough," he dedicated it to his friends and family. From creating this EP, he learned to have a common thread between each song, and he realized the impact his friends and family had on his musical talents.
"This was the first EP that I put out as a solo artist and it was interesting to see that many songs and look at all of them and say, 'what's the common thread,' What do I want to say? How can I put these together? I can't just take a song about wanting to spend time with my family and then put a song about how I love spending money at the club," says Kennedy. "I have to find what the common thread between them is and what I connect to and what I want to say as an artist in 2019."
The theme of this EP was family and friends, something that is important to him, even though it wasn't the first thing he set out to do when he began this EP.
"It was something that after looking back on all the songs, one of the ones that I really care about were the ones that were really highlighting and reminding me to make time for friends and family," says Kennedy. "And respect the people that you love and feeling grateful to be in the circle that you're involved in, and know the people you know and just remember to take care of them and take care of yourself and spend time with the people you love."
With this theme, the song that resonated with him the most is "No Worries." It's a single that doesn't necessarily have a specific story behind it but has great descriptive lyrics and relates to his personal experiences.
"I'm kind of highlighting some things, I'm guilty of working too much, and writing too much, not sleeping enough, not spending enough time with friends and family and especially earlier this year, I had that impact my personal life," Kennedy said. "I just wasn't thinking about that enough and that song came at a time for me where I wasn't sure what was next for me, sound-wise and also conceptually. I didn't know where I wanted to go this year and when it came along, it was just felt like everything clicked, that's the song, that's the message. That's exactly what I needed to be saying right now."
After releasing "You & Me, That's Enough," he now wants to continue touring and finish a lot of writing at the end of this year. As not only a singer but a songwriter, he wrote upwards of 200 songs this year. He spent two to three months just writing for other people and writing for himself. Now that he's getting bigger, he plans on dropping more music. 
"I love music so much. I think it's the most important art form in my life," Kennedy said. "But I think without it we'd lack a lot of connection, and with it we have a lot to learn from each other. It can definitely bring us together."