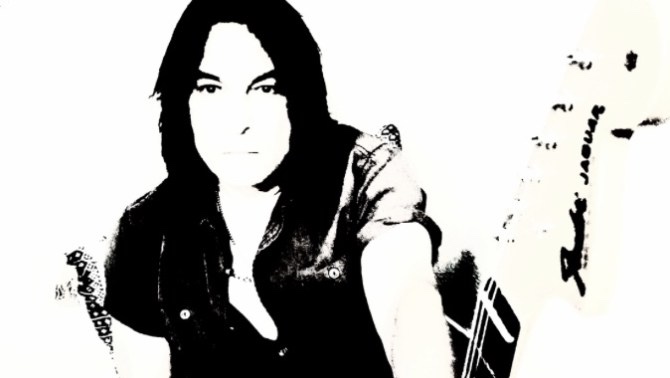 Review Fix chats with singer/songwriter Danny De La Rosa, who discusses his origin in music, goals for the future and new single, "Acid Flame."
Review Fix: How did you get involved in music?
Danny De La Rosa: My dad taught me a few guitar chords at a young age and after listening to AM radio rock, my dad's 8tracks of The Turtles ,my older brothers Alice Cooper, Deep Purple records and seeing neighborhood garage bands practice, I got hooked. I saw KISS lie at the Oakland Coliseum and the rest is Kisstory.
Review Fix: What's your creative process like?
De La Rosa: I don't practice my guitar too much because I like the feeling of rediscovery and freshness every time I pick it up. I put in several hours of practice in my high school years to get enough chops to play lead as well as rhythm guitar which is very important and I was never in a contest to be the fastest guitar player. So, I come from a different place when I feel creative. I constantly hear melodies and riffs in my head with whatever I may be doing, especially walking as it is rhythmic. I love to golf and golf entails a lot of walking during a five hour round so my cell phone has tons of ideas recorded on it from these opportune times. I pick an idea and get to recording on my recorder.
Review Fix: What inspires you?
De La Rosa: Literally everything inspires me. Food, pets, puns, emotions, cars, relationships etc.
Review Fix: How would you describe your sound to someone who has never heard you?
De La Rosa: Hard Rock Pop with mostly tongue in cheek themes and a hint of '60s, '70s and '80s rock sound.
Review Fix: How are your live shows different from your studio work?
De La Rosa: I haven't played the albums song live yet but I do have a band and will start rehearsing soon. I am guessing live will sound heavier than on recording.
Review Fix: What inspired your latest single?
De La Rosa: ACID FLAME was inspired by the countless episodes of fever dreams and hangovers…
Review Fix: What are your goals for the rest of 2020?
De La Rosa: My goal for 2020 is to release my entire album 12 Weekends, play some live shows and to hopefully start recording another album.
Review Fix: What's next?
De La Rosa: Next for me is to rehearse with my new band and to play some live shows!
Review Fix: Anything else you'd like to add?
De La Rosa: I would like to add that I have never sang a song before making the demos and recording my album. I had an extreme case of obstructive sleep apnea which led me to the risky surgery of Uvulopalatopharyngoplasty (UPPP) which is where they remove the soft palette in the throat. When I woke from the surgery, I immediately knew the difference and knew I was fixed! There were a few surprises after the surgery. The best surprise was I felt an opening in my throat and I was able to sleep, it took a while but I was also able to carry a melody vocally for the first time in my life. The worst surprise was I had to learn how to swallow, eat, drink, talk and now sing without coughing and choking. Recording vocals is not a problem as I can sing sections at a time however singing for any extended length of time is yet to be seen. One mis swallow and I'm out for several minutes where I can't even talk let alone sing-but I'm an optimist.