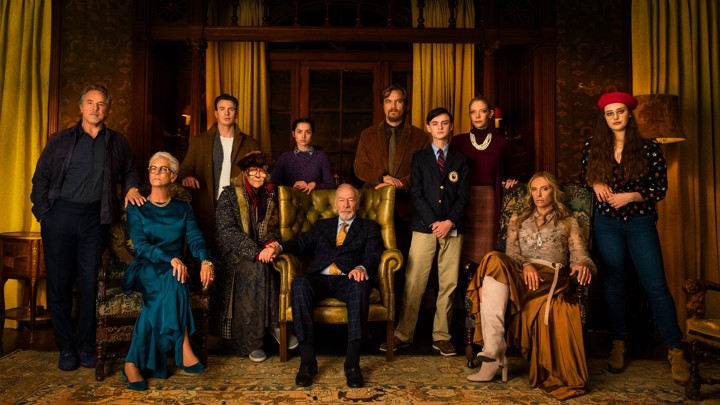 After receiving much criticism for his work on Star Wars The Last Jedi, Director Rian Johnson returns to form in this dramatic comedy mystery about the murder of an elderly author named Harlan Thrombey (Christopher Plummer) and the true nature of greed and wealth in a dysfunctional family. Everything about the film is extraordinarily placed together, from Johnson's witty dialogue to the plot twists that help to uncover more about the truth of Plummer's unusual death. Knives Out is by far one of the most unique film's of 2019 and its great casting choices, depth of casting choices, and colorful visual style, all serve to keep the audience hooked for its more than two hours of screen time.
The Pros
Absolutely the most stand out aspects of this work are the relationships between the characters and how they play out amongst the backdrop of a family torn apart by self-interests. Jamie Lee Curtis (Lynda Drysdale) is both warm and cunning in her relationship with her father. There are times when the viewer begins teeter to the brink of compassion for Curtis and then is immediately revolted by her avarice. Everyone is out for Plummer's estate and all of the Thrombey children step on each other's toes for the big inheritance.
Don Johnson (Richard Drysdale) is pitch perfect in his portrayal as the sleazy hypocritical husband of Curtis. His character is purely parasitic and his persona is ensconced in his mendacity. The flashback sequences intercut brilliantly with each character and help to flesh out the familial relations that existed prior to Plummer's death. Through these flashbacks, one sees how the perception of truth and the motivations behind the human condition help shape its inner nature.
Richard becomes even more of a figure of revulsion through these flashbacks and one easily sees the craftsmanship the director placed in these thought provoking segments. Rian Johnson does not simply reveal more information regarding the murder of Thrombey but also about the characters that surround him. Such use of these segments are truly magnificent form of exposition and is a wonderful addition to the mystery milieu. The soundtrack brilliantly uses both modern and classic rock scores that propel the action forward while also evoking the meaning behind each characters motives. 

But one of the best performances of the film comes from British born actor Daniel Craig   (Benoit Blanc) whose laconic southern drawl is a call back to the glory days of a Tennessee Williams gothic play. Blanc is the standout protagonist who provides both comic relief and plot propulsion to the film. Not a single moment of screen time is wasted by Craig as he humorously tries to piece the puzzle together of Thrombey's unnatural death in a series of well-written vintage detective southern gothic charm. Everything from the writing, to the mind-boggling plot twists, and the whimsical score is brought to an altogether satisfying conclusion by the end of the film's final act.
The Cons
Some of the segments, especially during the second act, tend to drag out. The final twist, while satisfying, is easily deconstructed through rudimentary logic that audiences can put together way before the final act. Some portions of the dialogue are too numerous for a mystery thriller and almost turn the nature of the piece into an outright comedy. Regardless, Knives Out is a wonderful film that is worthy of praise in the face of modern blockbusters and high octane action films. 

The Verdict

Rian Johnson returns to form in this delightful work of art that evokes the true essence of classic mysteries but with a modern twist. Each character is carefully written with enough empathy and a twinge of disgust that viewers are torn between their interpretations of each protagonist in this chamber piece. Purely cinematic without being lavish, Knives Out is a witty take on a genre that rarely overcomes its own shortcomings. Â