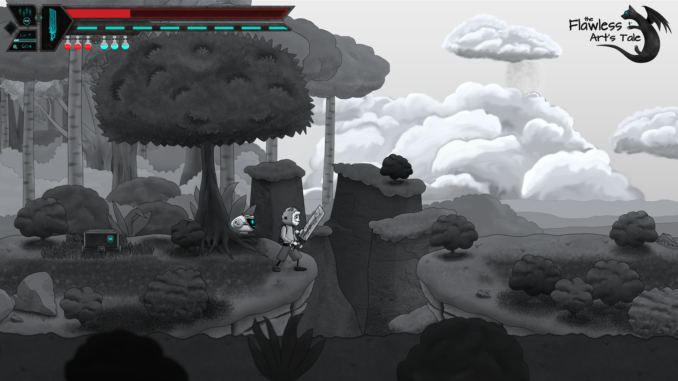 Review Fix chats with Steve Wilson, who discusses the development process behind his upcoming game, "The Flawless: Art's Tale."
About the Game:
The Flawless: Art's Tale is a metroidvania, hack 'n' shoot, action-RPG set in a brutal world of cats. Join our young hero, Art, and his droid sidekick for some epic hack 'n' shoot battles, an endearing cast of characters, an unforgettable coming of age story, and a gorgeous hand-drawn art style.
You take control of Art, a twelve year old boy who awakens to find himself alone in a brutal and monochrome world of cats. He is catapulted into an extraordinary adventure where he must save his pet cat, 'Mr Dirty Paws', and bring colour back to the surreal feline world. Along the way he meets all manner of cats. Some try to use him to do their bidding, some want him dead and use all manner of deception to end his life. Others befriend him and try to help him save Dirty Paws and unleash his Flawless powers. As he is drawn deeper into this strange and complex world it becomes clear that saving Dirty Paws may involve saving the world but is our young hero up to the task!
Review Fix: How did you get involved in this project?
Wilson: I've been programming and making little games since I was a kid. From text-based games programmed in Basic in the 80's to flash games in the early 2000's. While I was working as a teacher in Thailand I started learning Unity and C# in my spare time. After a few years I decided to make a full game with my fiancée Tony. She has a love for cats that's verging on obsession. She came up with the idea that because cats sleep for so much of their lives they must go somewhere good when they do. It was from this idea that the game, The Flawless: Art's Tale was born. We went on to develop the story, create the cat world of Typha where very few 'fur and clawless' humans have ever travelled to and develop a prototype build which we tested with the kids that we were teaching. As with my previous game, Super Mega Space Blaster Special Turbo, I'll be doing most of the artwork, programming and sound with Tony taking on the writing and media side of things.
Review Fix: What did you play as a kid? Was gaming always your ideal career destination?
Wilson: As a kid I played everything I could get my hands on. Between my brothers, my friends and myself we had most gaming systems from a green screen Amstrad CPC-464 to a Sega Master System and Mega Drive, to a NES and SNES, to an Amiga we played most games on most platforms. I loved games like Dizzy on the Amstrad, the puzzles really got you thinking as a kid. When I finally got a colour system, a Sega Mega Drive, I was blown away by the graphics. I fell in love with games like Sonic the Hedgehog, Super Fantasy Zone, and Mega Lo Mania. My brothers and I would play them for hours taking turns, life by life, until we completed the games.
I dreamt of one day making a video game. I planned out numerous games with my brothers hoping that one day I'd develop the skills to make them. I would pick up Amstrad Action magazine each month and type in the game they had in Basic. I'd then play around with the code changing variables like 'MovementSpeed' and 'FireRate' learning how the mechanics worked. After a while I started coding some small text-based games in Basic. By my teenage years I had 3 passions, gaming, making music, and travelling. I remember telling the career advisor at high school that I wanted to be a video game developer. Even though I had good grades in IT, Science, and Art he laughed at me and told me it wasn't a real job. He went on to input my data into an IBM-386 and handed me a dot-matrix print-out saying I should be a veterinarian or a retail manager. I specifically remember thinking "Why are you printing on that old machine and dot-matrix in 1996?". I guess my out-in-the-sticks school didn't have the best budget.
I went on to get a Biology degree, play in bands and travel around the world as a teacher, all the while making little games for the web in Flash, HTML, and JavaScript. It wasn't until I was living in Thailand in 2013 that I got into educational management. I realised that even though I loved travelling and my time in the classroom, teaching, and all the bureaucracy that goes with it, wasn't fulfilling me as a job anymore. I started learning Unity and C# and finally having fun making little games. It reignited my passion for game development; something I now wish I pursued when I was younger. If I ever achieve any success in this industry, I hope to go on to help young learners realise that making games is a possibility for them, they just need the right guidance.
Review Fix: Any fun/interesting stories about the development cycle so far?
Wilson: There's an interesting story behind the hero's name. One of my elementary 2nd grade students in Thailand was obsessed with cats, swords, and superheroes and his name was Art. Every day he'd find a way to cheer up the class. From his superhero impressions, to pulling-out a plastic sword from between two desks like it was Excalibur, to randomly curling up in a ball under his desk and meowing for half the lesson. As a teacher I tried to get onboard with the imagination shown by the kids and there was never a shortage of inspiration. All the kids I taught inspired me and added to the game so naturally I named the main character after little Art.
Review Fix: What do you think makes the game special?
Wilson: Every character in the game is inspired by real people and cats that we have met. For example 'Benny' was a family tom cat I grew up with. He was a big rugged fighter out in the cat world but at home he was a snuggly, greedy, fart machine. In real-life he was breast-fed by the family dog, a big Alsatian-cross, and grew-up to think that he was a dog. He broke his leg fighting a badger and chased off a Jack-Russell from his territory (our garden). Honestly, this is a true story he was a legend of a cat. We've tried to capture his personality in The Flawless. The cat called 'Benny' is a brutal beast of a fighter but he's also very kind and lovable. We aim to make a game with solid core-gameplay, a charming art-style, an interesting story, and endearing characters.
Review Fix: What do you hope the legacy of the game will be?
Wilson: With The Flawless: Art's Tale we want to create a game world that resonates with players. We want them to be drawn into the story and the lore and feel compelled to learn more about the characters and plot. If the game achieves the success we hope then it would be nice to create more games set in the cat world that is Typha.
Review Fix: How has this game affected you as a developer? Major lessons learned?
Wilson: The process of developing The Flawless: Art's Tale has taught us a lot, and we are still a long way off finishing the game. It taught us the necessity of prototyping, the need to scope a game in a way that allows for streamlined development, and that a strong media presence is necessary throughout the process. It has also taught us that timelines and release dates need to be flexible especially as a, pretty much, solo developer. We intended to get the game out in summer 2020 but with working on Super Mega Space Blaster Special Turbo and porting it to 3 consoles the date has now been pushed back. We now have no confirmed release date with 2021 looking more likely for the Nintendo Switch and Steam releases. We've decided that The Flawless: Art's Tale needs to be an amazing game, I want to put my all into it, and that is going to take time. As a developer the constant unknowns of "When can I release this?", "Will console platforms accept it?", and "Will people like the game" play one your mind all the time and can easily take you to a dark place.
Review Fix: How would you like it to be remembered?
We hope the game is remembered for its interesting and unusual story, its endearing cast of characters and its core metroidvania gameplay.
Review Fix: Anything else you'd like to add?
Wilson: The game is confirmed for PlayStation, Nintendo Switch, and Steam(Win/Lin/macOS). The release date is still TBC. For more information check out the game's page [http://flawlessthegame.com/] or the developer's website [https://bareknuckledev.com/games/flawless/].