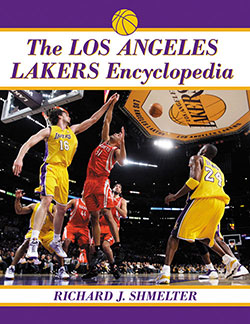 Review Fix chats with The Los Angeles Lakers Encyclopedia author Richard J. Shmelter, who details the project's origin as well as his other work.
About The Los Angeles Lakers Encyclopedia:
Against the backdrop of the glitz and glamour of Hollywood, California, the Los Angeles Lakers have become not only one of professional basketball's most treasured gems, but an internationally-renowned sports icon. With the wizardry of players who require only one name—Elgin, West, Wilt, Kareem, Magic, Shaq, Kobe—the Lakers grew from a promising Midwestern team starting afresh in the City of Angels and becoming one of the most successful corporate giants in the history of athletic competition.
This definitive encyclopedia of the Lakers provides all vital data pertaining to each season of the team's first 50 years in Los Angeles, including biographies of Hall of Famers, other great performers, and coaches; complete rosters; season-by-season schedules and statistics; draft picks; and records and individual accomplishments.
About Richard J. Shmelter:
Richard J. Shmelter is a writer and researcher specializing in sports history, American crime during the Prohibition era, and Hollywood history. A member of the International Association of Crime Writers, the American Crime Writers League, and the Professional Football Researchers Association, he is the author of five previous books and lives in Sagamore Hills, Ohio.
Review Fix: How did this project start for you?
Richard J. Shmelter: I just finished the Oakland/Los Angeles Raiders Encyclopedia celebrating the team's first 50 years back in 2010, and realized that the Lakers were also having a 50th anniversary in Los Angeles coming up. I pitched the idea to McFarland & Co., they loved it, and then I got busy.
Review Fix: What makes the Lakers so special?
Shmelter: Not only are they one of the elite winners in NBA history, but they represent the glam capital of the world.
Review Fix: How's your favorite Laker? Why?
Shmelter: Magic Johnson!!!! He was a great all-around performer that could, and would, do anything needed to win. His five championships and nine trips to the NBA Finals is a true testament to that. LeBron James reminds me so much of Magic, and it is great to see him in Laker colors!!!
Review Fix: What did you learn while writing this?
Shmelter: Just how dominant the Lakers were in the playoffs with Shaquille O'Neal and Kobe Bryant leading the way from 2000 through 2002.
Review Fix: How difficult was it to put all of this together?
Shmelter: I already had the format laid out from my Raiders encyclopedia, and at that stage, I just followed it. That then led to my USC Trojans Football Encyclopedia and a Los Angeles Dodgers Encyclopedia. I imagine you can sense a pattern here in my sports encyclopedias. I just love the above mentioned teams even though I'm from Cleveland, Ohio. I guess my heart will always be in Los Angeles.
Review Fix: Any tips for people who want to do similar work?
Shmelter: Remain steadfast in your concept, enjoy the experience, immerse yourself in the topic, and when you are writing about something you are passionate and knowledgable about, the end result is amazing!!! Trust me, it truly is a rewarding endeavor.
Review Fix: Bottom line- why must someone check this book out?
Shmelter: It truly is the definitive scholarship on the first 50 years of the Lakers in Los Angeles.
Review Fix: What's next?
Shmelter: Well, right now I am completing a project about the growth of professional football in Los Angeles, and totally switching gears, I am also working on a project pertaining to drive-in flicks from the 50's through the early 80's, and having the time of my life with it!!!! I am also laying the groundwork for some projects dealing with Hollywood's Golden Age and more professional sports concepts that will be under my own label. I am very blessed to have these opportunities doing something that I have dreamt about doing for so long, and just want to continue doing it forever!!!!
Review Fix: Anything else you'd like to add?
Shmelter: I hope people can get a chance to check out my projects. I promise that they will not let them down. Also, in addition to my sports and Hollywood projects, I also have a book out on Machine Gun Jack McGurn, Al Capone's top triggerman during Chicago's Beer Wars of the Prohibition Era. It is called Chicago Assassin, and was released in 2008.