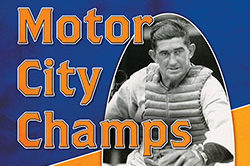 Review Fix chats with "Motor City Champs" author Scott Ferkovich, who discusses the book and why its celebration of two special seasons in Detroit baseball history are important ones.
About Motor City Champs:
In the early 1930s, the Motor City was sputtering from the Great Depression. Then came a talented Detroit Tigers team, steered by player-manager Mickey Cochrane, to inject new pride into the Detroit psyche. It was a cast of colorful characters, with such nicknames as Schoolboy, Goose, Hammerin' Hank and Little Tommy. Over two seasons in 1934 and 1935, the team powered its way to the top of the baseball world, becoming a symbol of a resurgent metropolis and winning the first-ever Tigers championship. This exhaustively researched account provides an in-depth look into a remarkable period in baseball history.
About Scott Ferkovich:
Ferkovich is a member of SABR and writes about the national pastime from his home near Detroit.
For More on the Book, Click Here.
Review Fix: What inspired this book?
Scott Ferkovich: Virtually nothing had been written about the 1934-35 Tigers, and I felt it was an interesting enough (and talented enough) team, that it warranted its own book. But I think it all boiled down to when I was given my first Macmillan Baseball Encyclopedia when I was a kid, and looking up all those players on the roster, and being fascinated by names like Schoolboy Rowe and Cochrane and Goslin and General Crowder. They had a certain mysterious ring to them. I always wanted to learn more about that team, and I don't know who it was, but some famous writer once said that whenever he wanted to read a good book, he had to sit down and write it first. That was pretty much my philosophy here. There was a dearth of anything written about this team, so I decided to pick up the baton, so to speak.
Review Fix: What was the writing and editing experience like for you?
Ferkovich: Writing a work of nonfiction is different from fiction, in that the story is already a given, we all know what the outcome is, so there is no great responsibility on the author to create a plot and a narrative that will not strain credulity. In historical nonfiction, the author is forced to find other ways to drive the story and sustain interest. So I focused on the individual narratives of the players, their stories of failure and success. That involves a lot of research, which was really the most rewarding part of the experience. Anybody who has ever had to browse through old newspapers will agree with me when I say that it is very easy to get distracted. You see an old headline that catches your eye, or an old advertisement, and you spend almost as much time on that crap as on what you were really there to find. That may sound like a waste of time, but it really isn't, because essentially what you are doing is immersing yourself in the time and the place. It's kind of like method acting, only for a writer. In that vein, I thought it would be useful to listen to scratchy old jazz recordings from the 1930's, and watch old movies, and old newsreels on Youtube, figuring this would help to put my conciousness on the same periodic wavelength. It is a very sensory trick of the mind. It can be something as simple as picking up a coin from 1934 and feeling it and imagining that it could have been in the pocket of some schlub who sat in the Navin Field bleachers and hurled tomatoes at Ducky Medwick in the 1934 World Series. That is not as crazy as it sounds. When you write about a particular period in history, you find yourself wanting to steep yourself in it. Since I live in Detroit, I was able to visit the old stomping grounds of the players, even, for example, the old hotel, now abandoned, where Schoolboy Rowe lived during those years. It really helps to put you in the mood of that period and place.
Review Fix: What makes it different from other baseball books?
Ferkovich: The best sports books are about more than just sports. They are also about the world at the time. I wanted to do that with this book. It was as much a love letter to the city of Detroit as it was to a baseball team. I wanted the reader to come away with an appreciation not only for the team, but for Detroit and its fascinating history. When I sat down at the beginning, I wanted to write a book that could be enjoyed by someone who maybe didn't particularly give a damn about baseball. I'm not sure I did that, but that was a goal.
Review Fix: Did you learn anything you weren't expecting?
Ferkovich: Well, yes…There were nightime operatic performances at Navin Field during this time, featuring some big names in the opera world. It was very experimental, much ballyhooed by the press, and mildly successful, but within a few short years it was given up. This was probably the most bizarre thing I learned.
Review Fix: What else makes the Tigers at this time so special?
Ferkovich: Two players on the team, Mickey Cochrane and Schoolboy Rowe, were among the biggest stars at the time. Hell, Cochrane was named Time magazine's man of the year, either in '34 or '35, I can't remember which, and that says something. Rowe was a national story, with his consecutive game win streak, a big deal at the time, but a mark all but forgotten today. Detroit at the time was in the midst of the Depression, and I think the team really helped to give the city something to feel good about. I know that is said about a lot of teams throughout history, but in this case it is very true.
Review Fix: How do you think they'd fare in today's MLB?
Ferkovich: I'm not one of those people who believe the players of yesterday were better than those of today. In fact, there is no arguing that today's players are superior in every way, and I don't think you have to go back 50 or 80 years for that to be the case. Take the 1984 Tigers, for example, a team I loved watching growing up, and have a lot of fond memories of. They would pretty much get their butts kicked in today's game. Sure, they had Trammell and Whitaker, who would be Hall of Famers in any era, but beyond that, they were pretty much one-hit-wonders. It pains me to say that. I know, Jack Morris is in the Hall, and I'm glad for him, but there was never, ever, ever a time when I watched him pitch and would think to myself, "Wow, I'm watching a future Hall of Famer!" Dan Petry as your number two starter? Milt Wilcox as your number three? I love those guys, but please. Juan Berenguer? Seriously? The same could be said of the 1968 Tigers, a team that caught lightening in a bottle. Don Wert at third base hitting .200, Ray Oyler also in the infield, gotta love that. The Tigers of 1934 and 1935, if nothing else, at least repeated as American League Champions, something no Tiger team has done since, but there is no way they would be competitive today. The 1935 Tigers didn't compete against African-Americans, or against Latin Americans, or Asians, they didn't have the training and diet of today's players, they didn't have the analytics at their disposal, they didn't have video to watch themselves and tweak mechanics, they didn't have to play 162 games, most of them at night, they didn't have plane travel, and have to cross time zones, they didn't have to deal with the media of today, it is just a different world in every aspect.
Review Fix: Who do you think will enjoy this book the most?
Ferkovich: Anyone interested in that time in American history, or who appreciates a good story. Tigers fans will like it.
Review Fix: What are your goals for this book?
Ferkovich: Just for folks to pick it up and enjoy the story, the team, and the drama that was involved. It would also be nice to sell some more copies, if only for beer money.
Review Fix: What's next for you?
Ferkovich: That's what everybody keeps asking me. The history of the paper clip? Something tells me that won't be a big seller. I do want to write another book however. I'll never forget the time I gave a talk about the book at the Eddie Lake Society, which is a Tigers fan club, and the wonderful lady who organized it pulled me aside after my speech, and said, "They really loved you. We get a lot of writers come through here to talk, but they only write one book. You have to write another one!" So I don't want to be that guy who only writes one book. What I'd really, really like to do is write a biography of Schoolboy Rowe. I just find his life and career to be fascinating.
Review Fix: Anything else you'd like to add?
Ferkovich: There's nothing quite like the feeling of finishing a book, and then the expectation of seeing the final product, and getting the box in the mail from the publisher will the stack of copies. Authors love that moment. It makes it all worth the effort. I want to experience that feeling again.