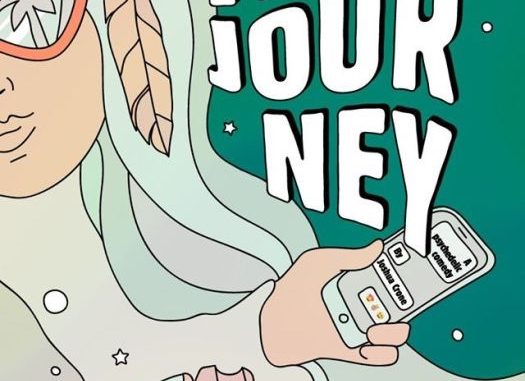 Review Fix chats with playwright Joshua Crone who discusses the creative process behind his new production, "The Journey."
About the Production:
THE TANK and YELLOW BICYCLE COLLECTIVE are pleased to announce the world premiere production of Joshua Crone's THE JOURNEY in a limited engagement at The Tank (312 W 36th St, New York, NY 10018). Performances begin Thursday, February 6 and continue through Sunday, February 23. Opening Night is Saturday, February 8 (7 p.m.). Tickets are $20 and available at thejourneyplay.com.
The story sounds familiar: boy wants to marry girl and needs father's blessing. But in this case, the blessing requires joining the Lieberman family on a journey-the kind you take without leaving the living room. The only problem is the boy has never done drugs before-or "medicine," according to Shanti, the family's therapist and shaman. She and her partner head to the family's Malibu home one Friday to serve ayahuasca in heart-shaped chocolates. Little do they know, the girl's orthodox grandparents are about to arrive unannounced for Shabbat. And that's the least of their problems. Generations clash and worldviews collide as an unlikely cast of characters ring in the Sabbath under the influence of a mind-bending psychedelic. There's a pet psychologist, an up-and-coming pop singer, a rookie cop with a blushing problem, a retired Elvis impersonator and mafia money runner, and a dog named Tom Petty who's possessed by the ghost of Tom Petty. What else could go wrong?
For more information and tickets visit Tickets are $20 and available at thejourneyplay.com.
Review Fix: What was your inspiration behind this project?
Joshua Crone: Before moving to New York in 2019 I spent three years in Southern California. Psychedelics are very much a part of life there, both as recreational drugs and therapeutic medicine. I tried a few substances in both settings, but found the therapeutic scene much more interesting. These underground communities at the intersection of psychotherapy, pharmacology and shamanism are full of colorful characters rife with contradictions, but united by openness, love and a fervent belief in the power of "medicine" to change lives for the better. Are they right? Or are they just the latest iteration of a subculture that, in the words of Hunter S. Thompson, "thought they could buy Peace and Understanding for three bucks a hit"?
It's a tricky question, especially now that the price of a hit has risen to around three hundred. I decided the best way to ask it was to write an ensemble piece centered on a single ayahuasca ceremony performed for a single family. And because ayahuasca "journeys" blur the line between therapy and religious ritual, I decided to introduce orthodox Jewish grandparents to draw out the latent conflict. But even this decision had a personal side. At the time of writing I was attending an orthodox synagogue in Astoria, partly to explore my Jewish roots, and partly to give form to the flood of "religious" feeling the psychedelics had unleashed.
Review Fix: What's your creative process like?
Crone: Writing for me is about building momentum. I spend a long time getting nowhere, researching tangential topics (shamanism in this case), filling marble notebooks with character notes and storylines. Then come the false starts, usually brought on by haste, by trying to write while the voices are thin, the plot underdeveloped. Finally, if I'm lucky, the threads come together, the characters come to life, and I write very quickly, basically taking dictation. The challenge then is to slow down.
Directing is more of a linear process. I step back from the text and break it into manageable blocks. What doesn't work or isn't worth carrying gets fixed or discarded on the march towards opening night. Meanwhile the actors are going through what I went through writing, the same growing pains and false starts, until everything comes together. I make sure we get there, but the route we take is largely up to them.
Review Fix: What did you learn/are learning about yourself through this process/production?
Crone: One valuable thing I've learned from this production is something I've heard before but never taken seriously: casting is everything. The response to the casting call for this show was overwhelming. Thousands of trained, talented actors applied. I'm guessing the response was due in part to the subject matter, but also to a breakdown that made the production sound like fun. And because there were so many hard choices to make during casting, I really started thinking about what exactly I'm looking for in an actor on both a personal and professional level. The result has been a cast that works exceptionally well together and grasps intuitively what I'm going for.
Review Fix: What are your ultimate goals for this for the future?
Crone: I don't have any clear goals for "The Journey" beyond a three-week run. When I wrote the script I had an LA premiere and a screen adaptation in mind. Now that I'm focused on New York and theater, the movie plans have taken a back seat to other theater projects.
Review Fix: What's next?
Crone: Theater for the New City is hosting a three-week run of my new play "Ashes/Ashes" in its 80-seat Chino theater. The world premiere is timed to coincide with the 75th anniversary of the bombing of Hiroshima. Shuttling back and forth between 1985 and 1955, New York and Hiroshima, the play explores imagined encounters between, on the one hand, a Japanese-American reporter and an elderly Paul Tibbets, pilot of the Enola Gay, and, on the other, a survivor-turned-prostitute and a young Robert Lewis, the mission's copilot. Thoroughly researched, formally inventive, and unflinchingly human, "Ashes/Ashes" strives to examine the defining event of the 20th century from all sides, in all of its complexity.