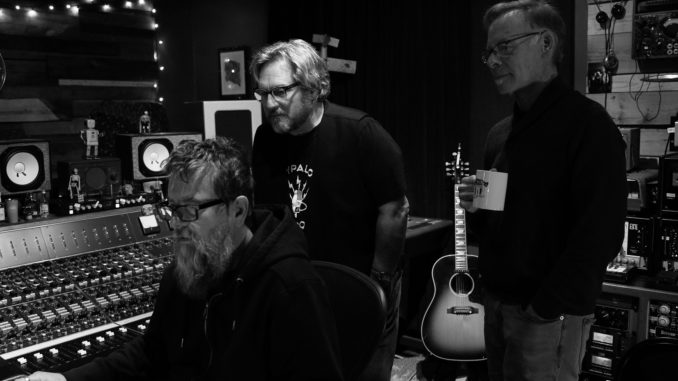 Review Fix chats with Ken Marvin and Brian Gentry about their new video, "Blue Skies," as well as the inspiration behind their 11th studio album.
Review Fix: How did you get involved in music?
Gentry: My father was in the radio business, so I grew up listening to a lot of music in my early teens back in his production room of the radio station. I started playing guitar at age 14 and took lessons where all the cool kids did- a little music store called Chapman Music (from Stephen Curtis Chapman's Dad), across from our high school in Western KY.
MARVIN: I was drawn to all types of music early on. At 5 years of age, I heard "I Wanna Hold Your Hand," and the rest is history.
Review Fix: What's your creative process like?
Gentry: Dan Peek use to call me "The Song-O- Matic, cause I used to be way more prolific in my younger years. Mostly, the creative process for me always involved some form of emotional pain that I was going through that had to come out. Those are the times when songs usually write themselves.
MARVIN: Usually, when I'm alone. A melody will overcome my brain, and I try to find a guitar and a recording device. After the chords (to the melody) are figured out, the lyrics follow soon after.
Review Fix: What makes album 11 different from the first 10?
Gentry Actually, not a lot. It's just what we do.
MARVIN: One or two years of life experience. I don't concisely try to make "music style" changes. If I become boring to the listener, so be it.
Review Fix: What inspires you?
Gentry: I'm drawn to beauty in music, so I love hearing classics like Simon & Garfunkel's "Old Friends" or "Bridge Over Troubled Waters." But I can get inspiration from Rocking out too by listening to full length albums by artists like Tom Petty, Paul Westerberg or The Smithereens.
MARVIN: I have to generally have "peace" in my life. If Im distracted by problems, the guitar stay's in its case.
Review Fix: What does music mean to you?
Gentry: I Heard Van Morrison say once that he didn't make music, but that he WAS the music. To me, listening to music is one way that I cope with life, while the writing, recording and performing is just who I am.
MARVIN: Music is euphoric. If I'm listening to a song that I like, please don't talk to me- I won't hear you anyway.
Review Fix: How would you describe your sound to someone who has never heard you?
Gentry: We get a lot of comparisons to artists like CSN, America and the Byrds. We are certainly cut from that same cloth even though we are much younger that those artists. Even Dan Peek was 10 years older.
MARVIN: Melodic/hooky/lyrics that (must) say something of importance.
Review Fix: How are your live shows different from your studio work?
Gentry: Live is whole different animal than getting it right in the studio We've played with a drummer /bass player to try and get the groove that studio albums feature, but since we mostly do acoustic shows, it differs quite a llot than our studio work.
MARVIN: Our personal live's have usually always been too complicated to have a band on stage. On stage, we give you two acoustic guitars and two vocalists. Would a full-blown band be good? Probably.
Review Fix: What inspired your latest single?
Gentry: Blue Skies, Blue Eyes is a song that has a message of hope even when we are facing dark days. Think Allman Bros. with America vocals-ha! It was a co-write and recorded with Dan Peek, formerly of America after all ;)
MARVIN: Again, life experience. It happens over and over- again and again. We feel fortunate that we can eke out a song about it.
Review Fix: What are your goals for 2020?
Gentry: It's the old saying, do you want to make God laugh?…then tell him your plans. With the coronavirus shutting things down and the recent tornadoes in Nashville, I think the goals are pretty simple: stay healthy and maybe try to be a little more grateful for what we do have. Ultimately, if we can help raise money for the Salvation Army tornado relief fund with this single Blues Skies (donating 100% of the digital download sales), then at the end of the day that will be a goal worthy of attaining.
MARVIN: As John Lennon said, "Just gimme some peace."
Review Fix: What's next?
Gentry: With all that being said, I don't know. Lunch anyone?
MARVIN: A nap!
Review Fix: Anything else you'd like to add?
Gentry: Please download the single "Blue Skies", at marvinandgentry.com and donate today
MARVIN: As I said earlier, if you want to listen to music that is "melodic/hooky/lyrics that (must) say something of importance," give M&G a spin. Jump in, the water's fine.