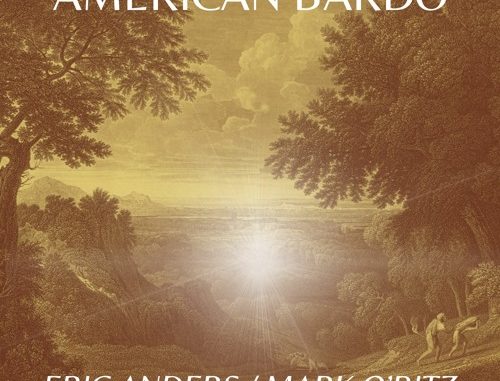 Review Fix chats with Eric Anders, who discusses his collaboration with Mark O'Bitz and their new track, "Matterbloomlight," as well as detailing his origin and music and goals for the rest of the year.
Review Fix: How did you get involved in music?
Eric Anders: Mark was a Classical Guitar major at Cal State Fullerton. After graduating, he was essentially a solo act for many years. Mark and I met at one of Mark's solo shows in Old Town Pasadena in 2002. I had moved to the LA area train as a psychoanalyst. Up to that point in my life, I had not done anything with music. I was 37. I had recently tried recording myself singing and I asked Mark if he could accompany me. After recording some covers, Mark suggested that we try to write some songs together. Not long after that I had released my debut CD, Not At One. Mark and I have written over a hundred songs together, and released more than sixty. So, Mark was instrumental in getting me started with music, literally. We decided to release music as a duo a few years back and our debut release as a duo was Of All These Things, which has a cover which alludes to the cover of Not At One. All of my solo releases before that were mostly Anders/O'Bitz songs. Since we started releasing music as a duo, all of our songs are Anders/O'Bitz songs.
Review Fix: What's your creative process like?
Anders: CV19 has had a major impact on our creative process. We wrote and recorded the songs for American Bardo before CV19–a year ago during the spring of 2019. Our creative process then was for Mark to fly up to my home studio and write as many songs as we could while he was up here. Mark comes up with the music that inspires a melody and lyrics from me. The lyrics for this project were all inspired by George Saunders' Mann-Booker-Prize-winning novel, Lincoln in the Bardo. This novel had inspired "Matterbloomlight," a song Mark and I wrote while we were recording our 2019 album, Ghosts To Ancestors. We liked the demo for this song so much we released it and sent it to George Saunders himself. He liked it a lot and thanked us, writing that he found it "beautiful." I knew that the novel would inspire many more songs, so we continued on that path.
Review Fix: What inspires you?
Anders: This novel inspired me because the characters were so great and because they were mostly ghosts in a "bardo" (in-between place) looking back on their lives. Saunders' brilliant use of this bardo perspective made for some very inspiring themes, as I hope is evidenced by our songs. When Mark and I first started writing songs, my lyrics were mostly inspired by the psychological research I had been doing for years. They were also inspired by a variety of aspects of my life, including a frustrating love life. This is probably why we stopped writing songs for five years after I got married in 2005. In 2011, we were inspired by a 1992 documentary we saw, Michael Apted's Incident at Oglala, which Robert Redford narrates and is about "the Pine Ridge Shootout on an Oglala Sioux reservation in South Dakota. On June 26, 1975, two FBI agents are searching for tribesman Leonard Peltier, wanted in connection with an assault." I released a 5-song EP, Remains In Me, in 2011, which was broadly about the hellish way European-Americans have treated Native Americans over the centuries. The title track is still one of my favorite Anders/O'Bitz songs ever. Mark and I had written several politically inspired songs prior to this. Most of them are my favorite solo release of mine: Tethered to the Ground. Two political songs from that album–"Big World Abide" and "So Wrong"–have been our most successful film-TV placements so far (Man In The Chair, Dirt). In 2017, I released my anti-Trump album, Eleven Nine. Most of these songs were Anders/O'Bitz songs, including what is probably my favorite Anders/O'Bitz song, "How Low and Why." Our debut duo release, Of All These Things, was originally called "True September Songs" and was going to be a concept album about being middle-aged indie artists. A notable song from this Lp is "Found My Way Home," which was a reply to the great song by Blind Faith, "Can't Find My Way Home." Our 2019 LP, Ghosts To Ancestors, kind of went back to my roots of writing a mixture of songs inspired by psychology, history, and politics. "Wounded Son" is my favorite from this collection–a song that dug into my southern roots and critical of the south's white nationalism and its ascendency in the Trump era.

Review Fix: What does music mean to you?
Anders: Too hard to answer … Close to everything?
Review Fix: How would you describe your sound to someone who has never heard you?
Anders: We have a pretty wide variety of sounds. Some of our songs could be considered Americana ("Wounded Son"), some folk ("Matterbloomlight"), some are more indie rock ("Below the Night"), and some are more bluesy ("Love Sums"). Our sound on American Bardo is more a mixture of all of these. I would have a hard time describing what genre our latest single, "Matterbloomlight (Revisited)" would be.
Review Fix: How are your live shows different from your studio work?
Anders: We haven't done a live show since 2005 … so I'd have to say that our studio work has been much more prolific. We hope to do a live album one of these days. We should probably start playing live more before we try to do this.
Review Fix: What inspired your latest single?
Anders: Our latest single, "Matterbloomlight (Revisited)" is the produced version of our fall 2018 single, "Matterbloomlight." Our producer, Mike Butler, did the arrangement and played all of the instruments, so it is very much a "Butler Remix," which is what I wanted to add to the title to differentiate the 2020 single from the 2018 single, which was always intended to be a demo. The vocals on the remix are the same as the demo. Everything else has changed. Heather Nation's backing vocals replaced my daughter's backing vocals on the demo. My daughters didn't mind because they like Heather's backing vocals as much as I do. They are amazing. So, the novel Lincoln in the Bardo inspired the lyrics and the music of the 2018 demo, which then gave us the confidence to let the novel inspire a whole concept album.
Review Fix: What are your goals for the rest of 2020?
Anders: Have our sanity survive CV19 and social distancing.

Review Fix: What's next?
Anders: Mark O'Bitz, Mike Butler, and I are collaborating on our second album project, Sirens Go By: Music in the Time of Coronavirus. We are doing all the writing and recording remotely. We are extremely happy with what we have produced so far. It should be out early 2021. The isolation, economic anxiety, and just the general fear and weirdness of a global pandemic have all been very difficult for all of us, but also inspiring.

Review Fix: Anything else you'd like to add?
Anders: Mark and I have thoroughly enjoyed working with producer/mixer Mike Butler of San Diego. He has an amazing ear and an amazing sound, as you will hear with "Matterbloomlight (Revisited)." We recorded American Bardo at the Singing Serpent Studios in San Diego, which was excellent. Thanks to Glen Galloway, the owner of the Singing Serpent for making our recording experience there fantastic. We would be recording there now if it weren't for CV19.
I'd like to thank my duo partner, Mark O'Bitz, for his fantastic contributions all the way through: writing, recording, acoustic and electric guitar, backing vocals, piano, etc.
I'd especially like to thank the amazing musicians who worked on the album:
Heather Nation – Backing Vocals
Jason Littlefield – Upright and Electric Bass
Tyler Nuffer – Lap Steel
Clinton Ross-Davis – Harmonica, Mandolin, Fiddle
Ben Moore – Keys
Jason Littlefield – Electric Bass
Mike Butler – Electric Guitar, Keys
Matt Lynott – Drums
Erdis Maxhelaku – Cello