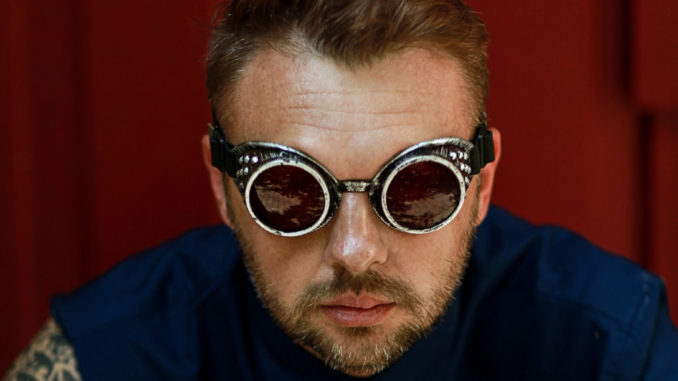 Review Fix chats with the frontman of Ukrainian indie-rock band Joneser, Stas Verechuk, who lets us know how the band formed and what their goals are for 2020.
Review Fix: How did the project start?
Stas Verechuk: I've been just looking for my special sound for almost 6 years. And my music is changing gradually.
First, in 2015, I released the album of funk-rock music with my project Stassa Biomassa (www.stassabiomassa.com). I did it because during 17 years I was the big fan of RHCP. Then, I released 2 albums of rock and pop music in 2016-2017, trying to make some experiments on the way to my sound.
In 2018, I released with Joneser the album «Vilni». It was a long play of 15 songs of indie-pop music in Ukrainian. It was quite important stage of my life when I was trying to follow the lead of the world indie pop culture. To be honest, I created a fairly high-quality product. But it turned out too sweet for me. Why have I done it? I strove for deeper music, more popular music. But it wasn't my way as well.
Afterwards I decided to come back to more alternative sound but at the same time to keep melodic and sensual components of my previous music. I started working on Joneser's second album «Back Two Me». The work lasted for about 2 years and by the autumn of 2019 I had recorded 12 indie-rock songs in English.

In September 2019 Joneser was joined by Alexey Yuriev – guitarist of Kryhitka and hasGotten bands and the drummer Andriy Bogdanov, known for his performances at Mysteries of the Third Planet, Bahroma and Youra (Ukrainian projects).
Review Fix: What's your creative process like?
Verechuk: There are 3 options in my songwriting process. Sometimes I just take a guitar and create something. Sometimes, I suddenly start feeling that now I'm able to create something really interesting. And I take the guitar. There is a third option – when I'm very impressed with something – travel, music, love – then I also take a guitar. So, first I take the guitar.
Then I work on a riff or harmony. I invent them until I have the feeling that something is wrong with them. Then I play this harmony with the guitar, trying to create a vocal tune. After that, I record the harmony with the vocal tune on the recorder. And then, listening to this recording while walking around the city, I write the lyrics. I don't understand what the song will be about until I create the first line that fits perfectly into the vocal tune. Well, after that, my arranger and I make this song in the studio. So, everything is simple
Review Fix: What's your standout song? How was it written?
Verechuk: I'd write about a June song dedicated to my father, who died in 2016 from cancer. I'm really proud that I could write such a light and sensual song in memory of him.
You can listen to it here:
I wrote this song while working on my second album 3 years ago. At that time, after some very tragic events in my life (death of my father, divorce with my wife as well as a very deep midlife crisis), I started to have panic attacks and stopped sleeping at all. Waves of anxiety rolled one after another and I could not do my business. I used to wake up at 5 in the morning, trembling under the blanket and did not understand how I could survive this day.
I realized that the only thing I could do in that state was to do what I really liked. I suspended the work for half a year, bought a motorcycle, installed Cubase 9.0 on my laptop and began to learn how to create sounds online while eating tons of cherries.
After the 2nd Cubase's lesson, I made a demo recording of my first song «Two fucking colours», playing the guitar and singing all the vocal tunes by myself. I was as happy as never before and hopped through the kitchen at 5 a.m. singing along to this demo record.
Within 3 weeks in the same way I wrote an album of 12 songs including June.
Review Fix: What are your goals for 2020?
Verechuk: We released our new album Back Two Me (2020) a couple of months ago. It was my main goal for 2020. You can listen to it on all the platforms below.
Please, find all necessary links inside:
At the same time, we released a video for the song Miraline in the animated short film style. Please, watch it while listening Miraline. You will surely enjoy this dramatic song with appealing vocals over a slow burning instrumentation full of infectious synth lines and dreamy arrangements, with beautiful harmonies and emotional vibes.
And the link to our new video for "MIRALINE":
I was going to have many concerts during 2020. It was my second big goal. But now I think that this year is not for it. Unfortunately.
Review Fix: How do you want your music to affect people?
Verechuk: I want people who listen to my music to feel alive. So that my songs emphasize their emotions, enhance them and give people the opportunity to live them more vividly and fully. I think the essence of any creativity is to lead a person to catharsis and help him live what is difficult to live in ordinary life.
Review Fix: What's next?
Verechuk: In the nearest time we are going to release 2 music videos in the animated short movies style for the songs June and Going (both from the album Back Two Me). It is supposed to happen in June and September 2020. Then, 3-4 singles with some music videos are going to be released till the end of 2020. We're looking forward for the possibility of touring but now the world has much bigger problems then our concerts. So, we are waiting and working on the new material.