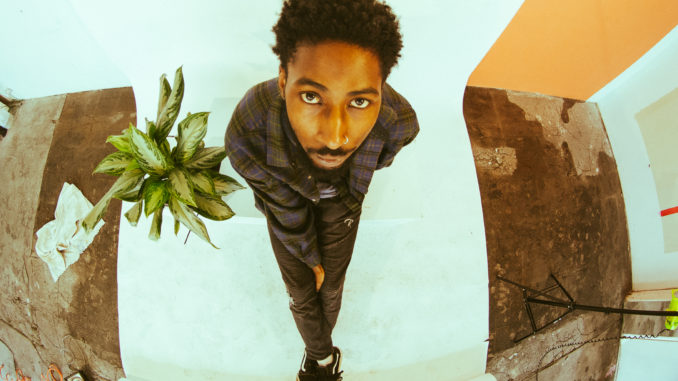 Review Fix chats with singer/songwriter Mikeyy Austin, who details his origin in music, goals, creative process and new single, "Greenhouse."
Review Fix: How did you get involved in music?
Mikeyy Austin: I've been performing since the age of 5-years-old. I come from a family that was heavily into church and the gospel. My weekends were spent in church rehearsals, preparing poems, skits, and songs for different Sunday Youth Events. I hated it as a kid, but as I got older, I began to gravitate towards the musicians and music directors. My interest in drums and keys had me sitting in the musician pit every Sunday taking notes and learning.
In high school, I started a band, combining hip-hop and live instrumentation. That was the framework for what my music would become today. In 2016, I released my first mixtape, 'T I N T E D', and that was the start of my musical journey.

Review Fix: What's your creative process like?
Austin: My creative process usually starts with me relaxing. Smoking and listening to beats. If I'm listening to music, 90% of the time I'm listening to beats.
When I first started recording music, the process was frustrating because of how time-consuming it was. I hated being on other people's time. I thought it was important to teach myself engineering and mixing, so my creative process wouldn't be interrupted.
Now, I am able to begin writing, recording, and mixing the song before it's completely finished. This allows me to see what the song sounds like in the process, as well as listen for what the song needs while I'm writing the rest of it.

Review Fix: What inspires you?
Austin: Good music generally inspires me. I get excited when I hear a good song or sweet chord progressions, or hearing someone passionate about their musical craft. Knowing how excited I get about good music, it inspires me to create that same experience for others that hear my music. Other than music, I'm inspired by people's stories. It's easy to get caught up in what's going on in our every day, that we miss inspiring and encouraging stories from everyday people. I try to take time to have conversations with people because you never know what you'll get from those interactions. I've had so many conversations after concerts, at coffee shops, and in passing that stick with me to this day, or encouraged me in that moment.
Review Fix: What does music mean to you?
Austin: Music to me means expression. Whether it's through telling a story, flexing, or spreading awareness to important issues, music allows you to express who you are, your values, your interest, and your thoughts.
I think it's a powerful thing because people can connect with your expression, even if they can't understand you. I've gotten a lot of messages from individuals that don't speak English but enjoyed my musical expression. To me, music is the only thing that can do that.
Review Fix: How would you describe your sound to someone who has never heard you?

Austin: My sound fuses elements of soul and jazz under a hip-hop sound-bed and is reminiscent of the Soulquarian era. In a lot of my music, I incorporate live instrumentation, bouncy cadences, and chill and soulful production.

Review Fix: How are your live shows different from your studio work?
Austin: I perform live with my band, The Soulcial Club, which includes keys (Austin Tipton), bass (Tyler Jenson), and drums (Deon Gladney II). Live performances are a blast because we're able to create arrangements with the recordings and bring the songs to life. The best way to describe it is a clean jam session.
My second home is the stage, and I love performing. So every show, I challenge myself to add a new element to the performance.

Review Fix: What inspired your latest single?
Austin: My latest single, 'spare change' tells the story of not having much coming up, and having to be resourceful to make ends meet. Whether wearing hand-me-downs or pulling up "in my old thang" to concerts. These experiences, along with others, inspire me every day to make decisions to put me in a better position than the one that I come from.
Review Fix: What are your goals for the rest of 2020/What's next?

Austin: I am putting out my new LP, 'Greenhouse', on May 22nd. I am extremely excited and proud of this project. I feel that this body of work is a great representation of me as an artist, my upbringing, and the direction I am going. My goals for 2020 included a lot of performances, festivals, and touring, but with the COVID-19 Pandemic, those goals will be on hold for the time being. With the extra time at home, I've been able to work on a lot of new records and collaborations, which may mean a new EP in the coming months!