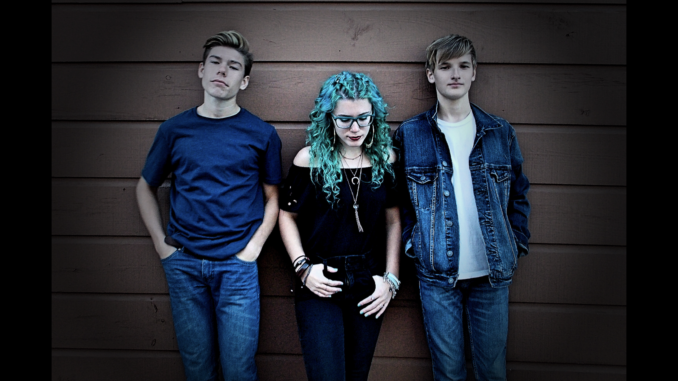 Review Fix chats with singer/songwriter Meredith Dunckel who discusses the origin of her band, Undefeated and their goals for the future.
Review Fix: How did the project start?
Meredith Dunckel: Believe it or not, the host of the Rock N Worship Festival in Dalton, MA, walked up to me. For some unknown reason he was like "hey! I want you to come sing!". I was playing electric guitar for my church's youth band (needless to say, it was a less-than-stellar performance).
So, I went. I had just turned 14. There were all ages and genres at the Rock N Worship Fest; from metal to reggae to gospel. Something clicked. These people were like me! I asked my younger brother (a rockin' drummer) on the 4-hour ride home to start a band, and he said yes! We met bassist Ian through mutual friends. (Truthfully, he literally fell -he says he jumped- out of a tree. But I guess there's worse ways to meet people!)
We played under the banner "Undefeated" for the first time August 5th, 2017 on the lawn of a bookstore. From there, every show has been booked through word of mouth!
Review Fix: What's your creative process like?
Dunckel: I write the initial melody and lyrics, and we all collaborate on the music! Let me tell ya how we come together. Our drummer (Christian) is a die-hard djent/metal/screamo fan. Ian's (bassist) heart was born and raised in classic rock. You know, The Beatles, Zeppelin, the whole thing. Then there's me. I LOVE to sing. You can't take a singer and stick her in one genre. The trick is melding these three sounds without losing what God gave each one. The whole is greater than the piece.
Review Fix: What's your standout song? How was it written?
Dunckel: At the moment we have two singles out. (3 more songs in the coming months to complete our first EP!) Where Are You (https://www.youtube.com/watch?v=dEvEAQkIK0E) and Shadows (https://www.youtube.com/watch?v=62xRoCrGHRg) have very different in styles. We consider both standouts, as they show the two major sides of our band. Shadows goes the classic rock route, and Where Are You is our power ballad! 
Review Fix: What are your goals for 2020?
Dunckel: There's a lot going on in the world with the COVID-19 virus. It has reached every corner. Due to this, all of our shows March through May are on hold. We were booked in New Jersey, Maine, and locally. So, looking forward to rescheduling those. We can't wait to tour. Christian (drummer) has two years of high school left. But, we're ready to try our hand at short tours (3 weeks to 3 months!) And… putting out our EP!
Review Fix: How do you want your music to affect people?
Dunckel: We want people to enter into an arena where they're AWESOME just the way they are! Where they can come together and enjoy some good war music. Life can beat you down, and sometimes it seems like a war to just feel alive. A place where nothing negative or ugly.
Review Fix: What's next?
Dunckel: We're super pumped to play our newest song, Land of the Dead, live. It integrates some punk vocals against a metal backdrop. We can feel ourselves locking into this style!
Connect with us here, we want to say hi!
Facebook: https://www.facebook.com/undefeatedofficialmusic/
Instagram: https://www.instagram.com/undefeated_official/?hl=en
Youtube: https://www.youtube.com/channel/UCrXWbsn9Ey3ft62D4zVSStA