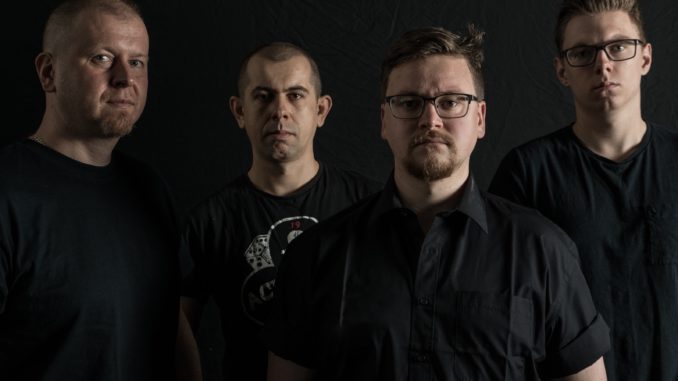 Review Fix chats with Matt Haynes, vocals about the band's inspiration and goals for the future.
Review Fix: How did the project start?
Matt Haynes: The band was originally formed in 2012 by Mariano, our resident guitar wizard. Several line up changes over the past eight years have finally led to the strongest band Dialekt has ever been. Mat joined Mariano quite early on, I followed in 2017, and finally Jamie in 2018.
Review Fix: What's your creative process like?
Haynes: We bring ideas into the practice room rather than hope we're feeling inspired when we get together. Mariano writes a lot of things at home and brings them along. Occasionally another of us will do the same and we write around the original, talking about what we like or don't like and making adjustments. Eventually we get to a point where everyone is happy and we get practicing and polishing before deciding when we should debut it out on the circuit.
Review Fix: What's your standout song? How was it written?
Haynes: Underwater was the first brand new song written after I joined Dialekt. Mariano had had this idea for the longest time but didn't know where to take it. We started playing around with it but we're never 100% satisfied with it. Fast forward a year and a half and we go into the studio to record something that is 90% of the original track. It took us so long to finish because we didn't want to release something we weren't satisfied with. It's been our most popular track, with several thousand views on YouTube. Check it out here:
Review Fix: What are your goals for 2020?
Haynes: Survive, mostly. We have some gigs pencilled in for later in the year when venues can reopen, and are planning on seeing Neil from Parlour Studio in Kettering for some more recording. We have two more in the pipeline to present to you and hopefully none of us have to wait too long
Review Fix: How do you want your music to affect people?
Haynes: Our more recent material is the most mature stuff we've written and I'd really like people to actually think about what they're listening to. Underwater is about not letting society keep you from being who you want to be, and Demons is aimed to open people's eyes to the issue of mental health, and offers a brief but raw insight into the mind of someone suffering heavily with depression.
Review Fix: What's next?
Haynes: Our goals for 2020 are still very much in sight so we'll stick with that for now. Beyond that, the world. We want to see everything and visit fans on every continent. We want to share the love we have for our music with everyone else we meet. It's a long way to go yet but it's the road we've chosen to take and we can't wait to see where it leads.