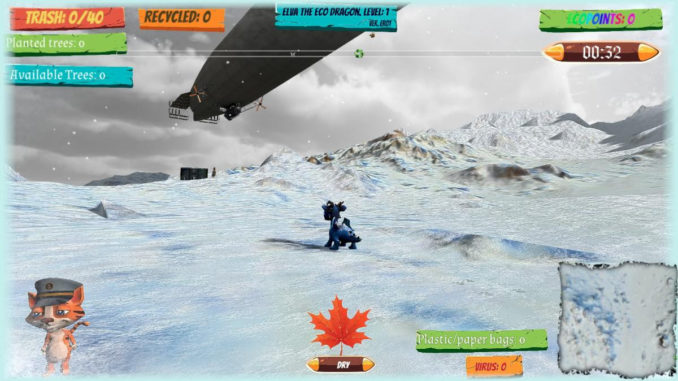 Review Fix chats with "Elva the Eco Dragon" developer Peter Kratky, who details the game's origin, goals and creative process.
About the Game:
Follow Elva, a little dragon concerned about ecology, through four initial levels and three more to come for free, and protect our planet from pollution and waste. Recycle, plant trees and change plastic bags for paper ones as you clean the seas and the atmosphere.
Review Fix: How was this game born?

Peter Kratky: The idea was to create something easy and quick to understand for children aged 6-12 years: the need to protect the planet, and how important is to recycle. Also, trying to show them that cleaning has a lot of advantages for the humanity.

Review Fix: What is your role in the game?

Kratky: You are Elva, a little dragon that came from another galaxy to help humanity saving the world. You must guide her in different sceneries with different tasks in order to clean areas. Now the Moon is also included and you need to get Helium for the fusion reactors on Earth. New sceneries are on the way: debris in space, cleaning seas, and others.
Review Fix: How did you get involved in the industry?
Kratky: I started in the 80s with a Spectravideo 328. I made some simulations of the space and puzzle games. Then I left the industry and came back with games for iOS years ago.

Review Fix:What has development been like?

Kratky: Good, because I have a good experience with Unity. Of course this is a simple game for children, no complicated features, the game is made to be easy so children can enjoy them from the very first moment.
Review Fix: What makes this game special?

Kratky: You won't find many games that try to show the importance of taking care of the planet. Games that want to show how important is to recycle, to clean up the planet, and understand that we have just one planet to live in.

Review Fix: What games influenced this one the most?

Kratky: Nintendo games as a whole of course, also the elements of Disney movies.

Review Fix: Any fun stories or wild moments during development?

Kratky: Yes. some betatesters were annoyed because there were no moments to destroy anything. Hey this is a game for children, we take care of the planet. You have plenty of games to destroy. We love destroying things, I love Doom and GTA, but this is another story.

Review Fix: What were the major lessons learned?

Kratky: Maybe that is hard to reach people to make them understand the importance of thinking of the planet as our home. A game to recycle trash? Who is going to enjoy that? This is a educational game. This is not an arcade, but tries to show something: the planet and the future of humanity.

Review Fix: Do you think preserving older gameplay mechanics in new games is important?

Kratky: Well, if it works, don't touch it. Humans are always the same while thinking about ergonomics. You can make some ergonomic, and if it is, try to make something better, but be careful not to destroy it meanwhile.

Review Fix: What's your favorite memory as a gamer?

Kratky: Flight Simulator of course, and then Civilization. Especially Civilization II. Too many hours playing that game.

Review Fix: How do you want this game to ultimately be remembered?

Kratky: As an opportunity for our children. To let them know we can be happy while cleaning the planet.
Review Fix: What's next?

Kratky: Some new games are in the box, and almost all of them want to think about the planet.

Review Fix: Anything else you'd like to add?

Kratky: Mars is there. And going to Mars will be great. But don't forget where we come from.