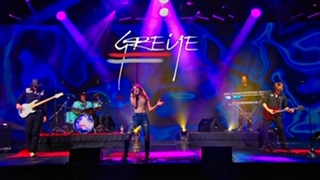 Review Fix chats with Ray Grimard, who discusses the band's new creative process and how COVID has affected their tunes.
Review Fix: What have the past few months been like for the band? You guys obviously put on a great show, live. What has that done to the band?
Ray Grimard: There's no denying that it's been a bizarre couple of months, but we've really taken advantage of all the time we've had off and poured ourselves into this new record. Not only has playing the new material for so many hours helped prepare us to play it live, it has also made us that much tighter as a group.
Review Fix: Have you done anything differently during the pandemic to keep your audience satisfied?
Grimard: Instead of letting the pandemic get us down, we made the best of a tough situation and used the time to write the new record. We fear that without all the time we had at our disposal, we probably wouldn't have written this material at all, or at least not as quickly, so it turned out to be a blessing in disguise! While we were busy writing, we also performed a number of livestreamed concerts to keep connected with fans and give them something to look forward to with our upcoming record release.
Review Fix: What inspired the band's new, edgier sound?
Grimard: The band's new sound is really a product of all of the time we've spent together as a unit. In the beginning, we didn't look at what we wrote with very much of an objective view, rather we wrote for ourselves instead. While I still believe that should be encouraged, I also think that it's important to strike a balance between writing for oneself and writing something that others can relate to and enjoy. That's really what we've tried to do with this new record – write something that's enjoyable for everyone while also remaining true to ourselves.
Review Fix: How was "So Far, So Good" written?
Grimard: "So Far, So Good" sort of rose from the ashes of another song that we didn't feel was working very well. We looked at the parts of the old song and picked out the few pieces we wanted to salvage, starting with the guitar lick that we used for the verses, and from there it grew into the fully-fledged rock tune it is today!
Review Fix: Where do you think it stands in your legacy as a band?
Grimard: This song (and the rest of the record) really stand out as the strongest material in our discography. Where our earlier music was more niche and eclectic, "So Far, So Good" is strong and driving and is very representative of where we are in our journey as a band.
Review Fix: What are your goals for the song?
Grimard: We've been very fortunate that "So Far, So Good" has already had lots of airplay on both FM and digital stations, and we hope for the song to top charts and get as much if not more attention than our most recent single, "Lucky."
Review Fix: What else should fans be on the lookout for?
Grimard: Be on the lookout for the "So Far, So Good" music video, and for the whole new record! There is something on it for everyone to enjoy, and it's probably the best representation of our style and sound that we've released to date. You won't want to miss out on it!
We hope everyone enjoys this single, and we can't wait for you to hear the rest of the record!