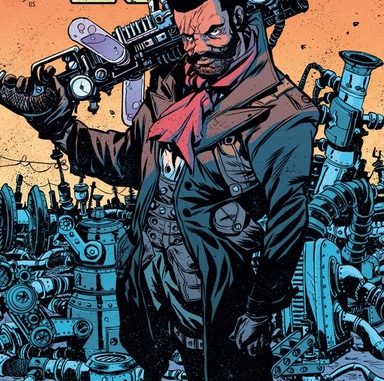 There are few things as certain as change or fire. Scorched earth, the shifting of things we think we know are one of the few factors that's a certainty. And then there's age which Ma Etta has an insurmountable amount of. Yes, she's old but in issue 9 of 'Bitter Root' even with all the experiences of her life Ma Etta has never seen this. Inside the early pages there's a group of what once were people. They're aren't jinoo, monsters twisted by hatred and racism. These literal lost souls are something else and they seem to be either conjuring or waiting for something to come through.
Even with the systemic hatred about monsters and demon hunting 'Bitter Root' is about family. Whether it's Blink and her uncle in Harlem or Berg and other parts of the family trapped by jinoo in Georgia there's unfinished business as well as a lot of hurt. And perhaps that's the point because in another part of Georgia something's coming and it's going to take the entire family to figure out how to fix it. There are alliances too as Blink reminds her uncle how women recently got the right to vote and when Ma Etta was young she was enslaved. There's that change again or better still progress. Still there are these lost souls and the womanish creature who feeds on their despair.
As immeasurable as the dialogue as when Berg says 'Kuze Kube Sekufeni' loosely translated from the Zulu language in South Africa from the Bible, Revelations 2:10 'Be thou faithful unto death, and I will give thee the crown of life' is what brings the world of 'Bitter Root' to life, the artwork. On that same page where Berg is fighting monsters, his large mass together with his fighting movements is akin to a ballet. Also, take a look at one of the variant covers where the character Ford is standing in the midst of machine parts, holding a rather large gun. Another part of the Sangerye family, Ford is a fighter, unapologetically Black and is ready to put anyone and anything down. Inside the comic characters are fluid, moving. Their emotions are real. But it's the fear and distinct types of those terrors from several of the characters that are most exciting. Ma Etta's reserved curiosity, Johnny-Ray, the redheaded white kid who Ford saved in a previous issue appearing to be frightened at what the jinoo are doing, all these looks are different. Art in comics give the complete narrative.
As always, the back matter titled 'Bitter Truths' continues to contribute to the ongoing story in the comic. Damian Duffy discusses the logo in the back of every issue of 'Bitter Root' from its history to how it relates to the horrors of systemic racism, particularly Black oppression. There's also an interview with Brandon Massey, who has written predominantly in the genre of horror.
Reading 'Bitter Root' immerses you in a world where the monsters as well as the hunters must have you be aware of the history of America's past and its impact today. Read, enjoy and maybe learn something along the way.