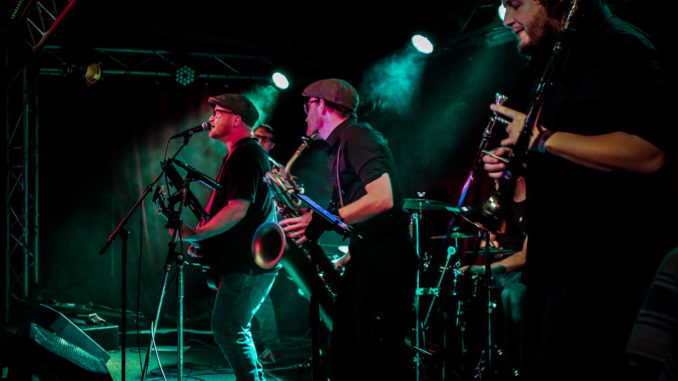 Review Fix chats with Operation Offbeat's Max Beeger, who discusses the band's origin, creative process and goals.
Review Fix: How did the project start?
Max Beeger: A few years ago I was a bit frustrated about my Hamburg band being invited for the odd gig in the UK, but never actually making it. So I put on an ad in UK forums, trying to find musicians for a "London-Hamburg-Ska-Connection"; people who'd be interested in features, mutual gigs and the like. The response was big enough to start a complete new band in London; with me commuting and couch surfing. We gigged in the UK and Germany until we got a deal; but split up over line up issues and general exhaustion my end… So I moved the band back to Hamburg, where we recorded the second half of "Your idea of luck" and are now waiting for the plague to disappear, so we can gig again!
Review Fix: What's your creative process like?
Beeger: It usually starts with a riff or a melody snippet, hitting me out of nowhere. Which often happens shortly before I fall asleep at night; so I whistle the idea on my mobile to remember it next morning. My wife thinks I'm nuts, but that's all for the arts. Then I'd hit my home studio and jam on said snippet until I've got the major song parts, sing along with it until I have a rough idea what I want to write about, then send a demo to the band. If they decide to try it, we'd turn it into a decent version together!
Review Fix: What's your standout song? How was it written?
Beeger: 'Fire'! The exception from the rule in two ways- the first time I've written cheerful lyrics without tongue in cheek. Which I want to do more often in the future.
Second; it wasn't even planned to become a song in the end. I had just bought a mandolin, and a whistle, and adusted my banjo (I'm a huge folk fan!) and just wanted to try out my acoustic gear. 'Fire' was more or less the accidental end result. It's one of my favourites in the set and hasn't worn off to me yet!
Review Fix: What are your goals for 2020?
Beeger: We're making the best out of the situation- no gigs in the diary would leave me more time to write and do some networking, hoping to return stronger than before! I miss the roadtrips and the excitement that comes with it, so the main 2020 outcome I wish for is a proper schedule for 2021!
Review Fix: How do you want your music to affect people?
Beeger: Something we got to hear a lot in the past is "I usually don't listen to Ska, but this is different" and I love that. I absolutely don't think of us as the reinvention of the wheel, but if we add a flavour to the mix that the Ska and the Rock guys both dig, I'm happy.
Review Fix: What's next?
Beeger: We have an album finished in writing, that we'd like to release in spring, also there's another video for "Cross the line" in the making. Also there'll be another collaboration with the fantastic Specialied Project- a great UK charity; if you haven't heard of them, please check them out: https://specializedproject.com