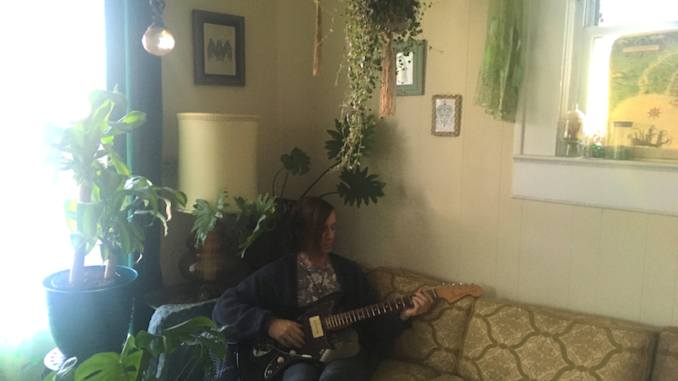 Review Fix chats with Color of Light, the SC-based dream pop project of Sean Neuse about the projects origin and more.
About Color of Light:
Color of Light is the experimental dream pop project of producer and multi-instrumentalist Sean Neuse, formerly of Coma Cinema. Based in the small city of Spartanburg, South Carolina sixty miles outside the mountains of Asheville, Neuse began the project in 2014, releasing his debut album Memory the following year to praise from Noisey.
Taking influence from early 4AD and Kranky artists while finding name inspiration from the iconic prismatic cover of Pink Floyd's Dark Side of The Moon, Color of Light's sound fittingly lands in the shades between dream pop, shoegaze, psychedelia, noise pop and ambient experimentalism. Where Memory served as an emotional reckoning as several loved ones faced the ends of their lives, his new album Daydream Garden comes from a place of acceptance.
Review Fix: How did you get involved in music?
Sean Neuse: I've always had a connection to music as far as I can remember. I started playing drums in bands as a young teenager, and from there I wanted to keep growing so I taught myself guitar and bass so I could write my own songs. Keyboards and learning the recording process was next for me. By age 21, I moved to LA for a little while and quickly became a college drop out from Guitar Institute of Technology. I grew a lot as a person and as an artist from the move. I got into the record Heaven or Las Vegas by Cocteau Twins around this time; that record encapsulates that whole experience for me.
Review Fix: What's your creative process like?
Neuse: I like to write alone in my studio, usually with my guitar and effects pedals straight into Pro Tools to get a rough idea down. A lot of times, I'll completely finish tracking a piece of music, keep the best parts, and throw the rest away to make something completely different out of that. I never want to be too precious about one idea. A lot of Roland Space Echo was used on this new record along with lots of other analog outboard rack effects.
Review Fix: What inspires you?
Neuse: Not taking life for granted. I've lost so many loved ones over the past few years. Life is a fragile flower.
Review Fix: What does music mean to you?
Neuse: Everything, without it I'm a dead soul.
Review Fix: How would you describe your sound to someone who has never heard you?
Neuse: I never really can, to be honest, but I would pretty much tell them the early 4AD catalog had a huge impact on me. I got into it shortly after moving back home from California and it changed the way I made music. Along with that, the Kranky Records catalog and guitarists like Vini Reilly, Robin Guthrie, Dave Fielding and William Reid. My Bloody Valentine and Slowdive changed my world the first time I heard them. The more experimental stuff Bowie and Eno did together. Groups like Harmonia,Cluster and Ash Ra Tempel. A lot of Smashing Pumpkins b-sides from the Gish/Siamese Dream era stuck with me as a teenager. Newer artists like Mj Guider and The Goin' Nowheres inspire me.
Review Fix: How are your live shows different from your studio work?
Neuse: It's all been studio work up to this point, but live shows are a plan for the future.
Review Fix: What inspired "My World Ends"?
Neuse: In the year after the first Color of Light record, Memory, came out in 2015, my mother had unexpectedly died from cancer. Then, in early 2018, my father passed away from having episodes of delirium caused by cardiovascular disease. I also lost other family members and friends between albums. Into the latter part of that year, I started finishing a lot of recordings I had been working on and that song was one of the first for the new album that set the pace. This album deals with loss, including the loss of my parents. I'm simultaneously connecting with nature, beauty and my own mortality on a much deeper level than ever before.
Review Fix: What are your goals for the rest of 2020?
Neuse: Releasing this album in November and moving forward from there.
Review Fix: What's next?
Neuse: I already have a finished 5 song EP called Evergreen set to be released in the early spring of 2021 and I'm also in the early stages of recording a new third record.
Review Fix: Anything else you'd like to add?
Neuse: Check out my music over on Bandcamp! https://coloroflight.bandcamp.com/