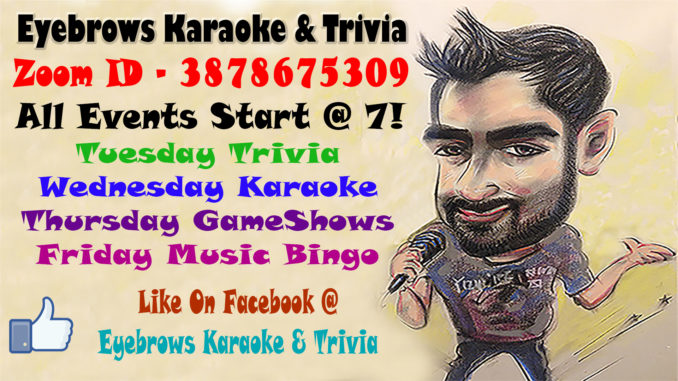 Review Fix chats with Trivia, Karaoke, Game Show Night and Music Bingo host Tommy Kafkalas, who lets us know how he's adapted his business during the COVID pandemic and more.
Review Fix: How'd you get started in the karaoke business?
Tommy Kafkalas: About six years ago a friend of mine who hosted karaoke needed an MC to be on the mic. His partner had moved out of Brooklyn and he needed some help. He said to me, you have a pretty good voice and love to talk, wanna give this a shot? I figure why not!? Fast forward six years and here we are!
Review Fix: What else do you do entertainment based?
Kafkalas: I host Trivia, Karaoke, Game Show Night and Music Bingo with my good friend DJ Tim T. I've done several special events and have hosted countless parties. My biggest gig, I got to MC part of the Nathan's Famous Hot Dog contest a few years ago with the Skyriders. No bigger rust then speaking in front of 6,000 people!
Review Fix: How has COVID affected it?
Kafkalas: Covid has its pros and cons when it come to what I do. The pros is the fact that I don't have to travel anywhere! I have set up my dining room as my "Zoom Room"! It saves so much time not traveling, setting up and breaking down. Cons, not actually having the social interaction with people is a huge factor. Half of my job relies on the energy I get from others which is harder to capture via web cam.
Review Fix: How have you adapted?
Kafkalas: I have tried to create a fun environment that everyone will feel comfortable in. I want to be different, do something more. I want people to come in knowing they can be themselves and share a few laughs as well as win a few bucks. I started hosting new events more often in order to get more of a following.
Review Fix: How can people learn more about what you do?
Kafkalas: You can follow me on Facebook by searching "Eyebrows Karaoke and Trivia" or find me on Instagram at Eyebrowskaraoke. Website eyebrowskaraoke.com. If you want to learn how to do what I do and are interesting in being a host, well Patrick can put you in touch with me. I a big believer in helping each other grow.
Review Fix: What are your goals for the rest of the year?
Kafkalas: With Covid, it's really hard to say! I've had so many ideas but Covid has put a wrench in it. For now, I want to continue to grow my brand and see what it leads to!
Review Fix: What's next?
Kafkalas: I'll probably go grab some ice cream… I've had a craving all day! After that I need to take a shower. I did some yard work today and I'm not smelling so great. I have a long day of making trivia questions up for this coming week and prepping for gameshow night!
Review Fix: Anything else you'd like to add?
Kafkalas: If you want to forget about the outside world for a few hours, come and join me for one of my events! I have an event for everything. Know a lot of things,Tuesday. Like to sing, Wednesday. Wish you could by a vowel, Thursday. Love bingo but calling numbers is boring, Friday!