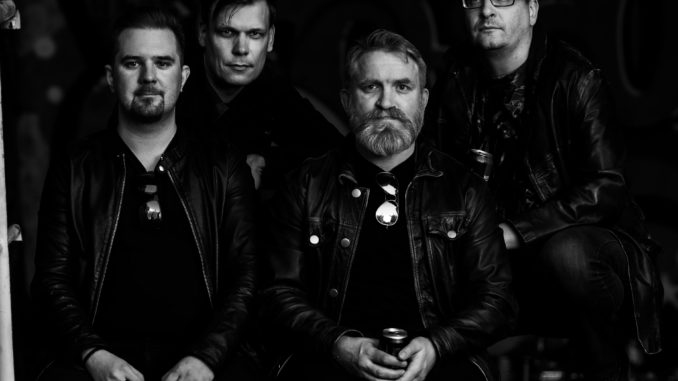 Review Fix chats with Flush's Lasse Girs, who discusses the band's origin, choice tunes and more.
Review Fix: How did the project start?
Lasse Girs: Long, long, long ago, while we were still kids, we figured rock music is pretty cool and it can get you places. Add the discovery of punk rock, which made us realize you don't need to be technically perfect to play. Flush has lived through several iterations and line-ups since, and I would define early 2018 as the start of this current Flush "project". That is when the current line-up was established, and we started taking the band seriously again.
Review Fix:What's your creative process like?
Girs: I write the songs by myself and the inspiration comes from my own experiences and observations. Sometimes I start with a guitar riff, sometimes a lyric line and sometimes I play around with chord progressions until I find something I like. I use an acoustic guitar for almost all song-writing, but if there are specific riffs or guitar sounds elementary to the song, I will bring in the electric guitar and experiment with effects and "noises" too. I've learnt using simple DAWs like Logic so when I have time, I might actually record a proper demo on my own. Some of the songs have been quite ready when I've brought them to band practice, whereas others are just snippets or ideas that we then jointly (de)construct into songs.
Even if the song has a leading lyrical line or theme, I will always wait for the melodies and structures to be in place before I write the full lyrics. I am a terrible procrastinator when it comes to finishing the lyrics, so it helps to have a deadline looming.
Review Fix:What's your standout song? How was it written?
Girs: It's totally unfair to pick a favourite baby, but I'll do it just this one time… As I am writing this, we have just released the third single from our upcoming album, and this track might be one of the standouts. It also has a unique creative process, which completely voids everything I said in the answer above! The song is called 'Two-Minute Punk Song' and is the only co-write on the new album. It started with a riff our bass player Eero had in his drawer from some previous projects. We tried quite a few things with it. I wrote at least two or three different choruses for it, before ending up with the final, very simple one.
Lyrically it is also a collaborative effort, again voiding my earlier description of me writing in solitude. It is built around random ideas collected by a group of people getting drunk at a gig afterparty in Bratislava, Slovakia. Luckily, I made notes and was able to find them sometime after. I then wrote down the opening line "She is a two-minute punk song, she is the queen of fuck offs", and knew that this was The Song. It was destined to be good and I would argue it ended up good in the studio.
Review Fix:What are your goals for 2020?
Girs: The biggest one is about to be achieved as we release our debut album, 'It Began as a Mistake', on October 23rd. It was a long and exhausting project, and we are proud we got it done. 2020 was going to be the year of promoting that album with a ton of live shows, but obviously that is not happening, so we will have to settle with the album itself being this year's achievement. Bring on the vaccine and the 2021 festival summer!
Review Fix:How do you want your music to affect people?
Girs: I want people to find things they can relate to. I am not a springsteen or cohen, but I write about real things, real emotions, and real events. I am hopeful people will find themselves in those stories. There are three bigger thought or emotional processes I would want people to experience: First, the feeling of hope, the last thing we can afford losing on this planet. Second is to have patience, acceptance and understanding of us humans being complex, emotional and sometimes, on the surface, irrational beings. Third, taking the responsibility for your own deliberation, though process and subsequent actions. If that all sounds too deep, then I should add that in a live music environment I hope our music makes people move, jump, punch their fists in the air, dance, drink and have fun!
Review Fix:What's next?
Girs: At the time of writing we have four gigs in our calendar for the next month and a half. That is pretty special given these lockdown times, so we'll see how many of these actually happen. The album comes out on October 23rd and we'll celebrate that in grandiose manner. Next year will hopefully bring bigger stages or stages in new places for us. We live through strange times right now and we'll just try to cope with what is possible and what is given to us.