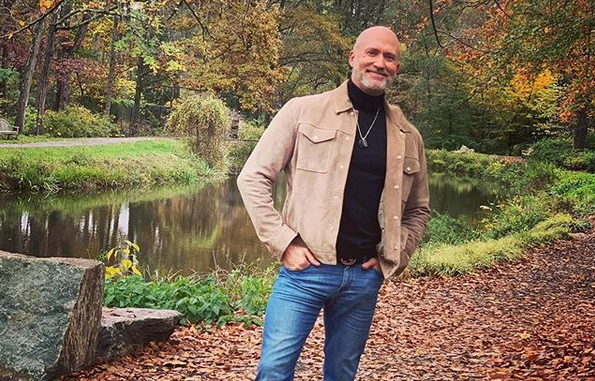 Review Fix chats with Eric North, who talks all about life after 50 and his "The Happiness Warrior" project.
Bio:
Eric North thinks he has a genetic disposition to set things right– and regardless of what's going on in your day to day, no matter how fraught and anxious 2020 may be for you, he wants to help you do something that, once taken to heart, will change your life. He wants you to give yourself permission to be happy. After years of entrepreneurial success with two thriving Washington DC based businesses dedicated to life changing therapies, he's found new purpose and passion leading people to the next level in their emotional and spiritual lives as "The HappinessWarrior." 
Review Fix: What inspired the creation of the Happiness Warrior
Eric North: I'm a highly driven and motivated person but have always felt there are many people out there who need a voice, someone who's on their side. The happiest people are those that help others have better lives and feel good about themselves which is central to my message. Most of my concepts very simple and uncomplicated allowing them to have the most impact. To me, creating better energy is everything and has taken on a very spiritual aspect. In becoming 'The Happiness Warrior,' I'm creating expansion in my life and others to help people give themselves permission to be happy.
Review Fix: How did changing 50 change you?
North: Turning 50 was my chance to show the world that how we age is a choice and not defined by a number and my message is that there is an alternative to "just getting old". I've shared this journey for 6 years as @50redefined on Instragram and it resonated and motivated a lot of people to look at aging in a new light. I say all of the time that my 40s were incredible but my 50s have been truly inspiring!
Review Fix: What are some simple things people can do to feel better physically?
North: Start with a good morning routine, mine has 3 easy steps and I do it every morning upon waking no matter where I might be:
#1 Affirmation set your intention for the day. Mine is always telling myself aloud "It's going to be a great day"…it's easy and it works no matter you are or how important you think you are!
#2 Hydration immediately upon waking up, I'll drink the first of three 8 ounces glasses in the next 15-20 minutes. I'll also do my morning supplement/peptide anti-aging protocol, it works! A hydrated brain is a healthy brain.
#3 Activation15 minutes of stretching, breathing and 100 pushups to get my heartrate pumping and blood flowing to my brain
Review Fix: What's your creative process like?
North: I have a very organic process that usually starts with an idea or inspiration that I think will improve how people live and thrive. From there I will create and build a plan to make it a reality. I love the creative process and I rarely look back, my life is constantly moving forward and changing. Creativity is also a sign of happiness and accessing our creative space is a way to combat negativity.
Review Fix: What inspires you?
North: Making people feel important and valued. Nothing else makes me happier than seeing someone realize their potential value and learn that they had it all along. The happiest people are those that serve the world with intention.
Review Fix: How is Instagram helping you spread your message?
North: Instagram and I have grown together over the years, for 6 years @50redefined for 6 in which I redefined what it meant to turn 50. My current @therealwarriormode shows where I am now in my personal evolution and my passion for creating happiness
Review Fix: How has COVID affected this adventure of yours?
North: I live very closely to my core values and #4 is to have a "ready for anything" mindset. We need people to lead the way as all of together forge our path in this rapidly changing world. The onset of Covid activated my true warrior mindset, sharpened my skills and taught me many lessons. Show up for your life and it will show up for you!
Review Fix: What's next?
North: Continue to go out in the world and spread the message that happiness is a basic human right as well as a necessity if we're all going to move forward together in this world.
Review Fix: Anything else to add?
North: I have so much gratitude for all of the amazing human beings that I've met in the last few years on my journey. I've learned so much from all of you and so proud of everything we've done together. Happiness is about is about choices and we need to listen our greater selves and live the happy lives we deserve.